Tesla has apparently started accepting reservations for the Model S in China. The news comes directly from Kingston Chan, dealer for Tesla on the Chinese mainland, going by the name KC-atlantic on Weibo. The post states that Tesla has 'formally' started accepting reservations, but there is nothing on price.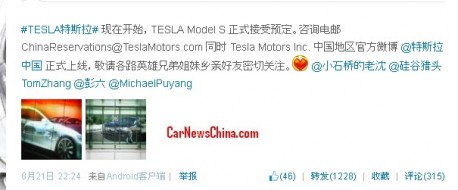 The post asks potential buyers to email to [email protected], an email address connected to Tesla's international website www.teslamotors.com.
Tesla China doesn't have a website yet because a 'creative' Chinese entrepreneur managed to snatch TeslaMotors.cn and TeslaMotors.com.cn away. Whether Tesla will get the addresses back is very unsure.
The post uses the English name 'Tesla' and not a Chinese equivalent. Tesla doesn't have a Chinese name yet because 'creative' entrepreneurs snatched  the best Chinese translations away as well. The latest we heard is that Tesla will go for 'Tuosule', but that hasn't been confirmed by Tesla.
Tesla is currently working hard (photo on top) building its first dealer in central Beijing, and has plans for dealers in Shanghai and Shenzhen. The Tesla S is still expected to have its China-debut on the Chengdu Auto Show in early September.