A Type 05 self propelled howitzer, seen casually mixing with traffic in the great city of Suzhou in Jiangsu Province. The Type 05 is the largest mobile land-based weapon of the People's Liberation Army (PLA). Its giant 155mm gun fires 10 rounds per minute over a distance of 50 kilometer. The Type 05 joined the PLA in 2007, at least 200 units are in service. Most are deployed in China's north east, facing the Chinese-Russian border.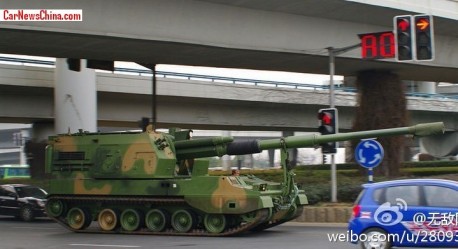 The gun so is not that useful for cleaning up a traffic jam. But it is also equipped with nasty secondary weapons can destroy all those Geely's and Chery's, such as a 12.7 mm machine gun and two sets of 4-barrel grenade launchers. Top speed on the road is about 40km/h.
Seeing one all alone is very strange. This kind of death-machines are usually accompanied by police when transiting crowded cities. Maybe the driver lost his convoy. Chinese army vehicles losing their way, well, it happens.