A very sleek Audi R8 super car, seen in the Beijing Tuning Street in the east of the capital. The arguably awesome Audi was wrapped in a shiny silver wrap of the highest quality, perfectly applied over the bumpers and mirrors. I was at the street yesterday, it was a very dark typical dirty Beijing day, except around the Audi, where there was the Bling light shining.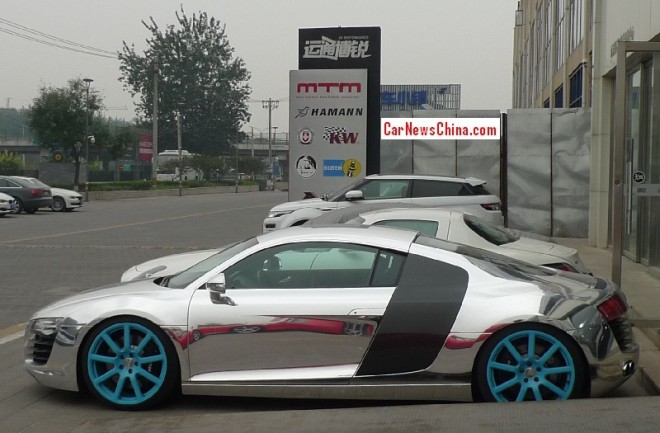 The speedy sliver Audi was further sped up by matte blue nine-spoke alloys and a white Mercedes-Benz SLS. See dark sky, it was around 14:00. See red car mirrored in Audi's Bling. That's a 458 Italia. It is always good to be at the Beijing Tuning street. Much more to come…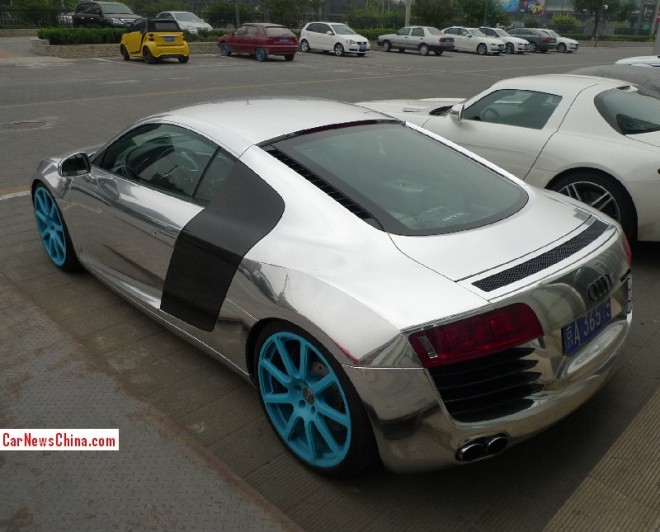 The R8 4.2 is is powered by 4.2 liter V8,  good for 420hp and 430nm. The Audi R8 is a very popular super car in China, selling in great numbers, no matter the ridiculous 2.2 million yuan price tag.  Time now for our Famous China-Audi R8 Collection™: gold GT, matte black & orange, Pink, license (023R8), black alloys, bit of Bling, spyder in Gold, Audi TT, lime green, broken, Bling, China Edition, hits taxi, matte black, ABT Lambo-doors, another matte-black,  hits mail truck, Limited Edition, in blue and in matte army-green.