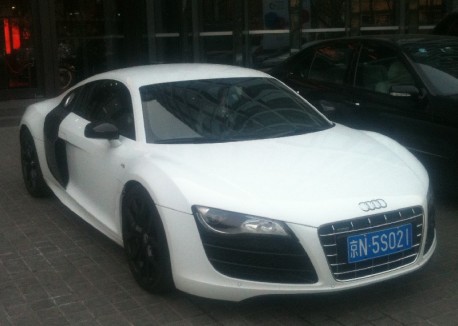 A wondrous white Audi R8 V10 coupe, seen in the Sanlitun beer district in Beijing, very close to the locations where I earlier met a licensed BMW M3 and an orange Audi S5. The Audi R8 was painted is a special kinda white, not shiny but not completely matte either.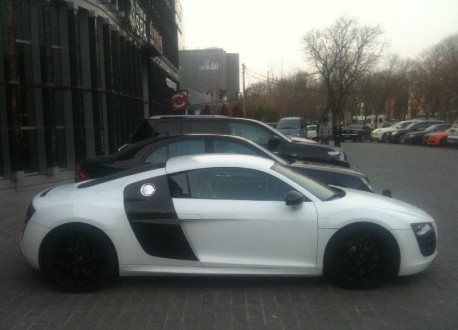 The mirrors, all air vents and alloys are painted in a very dark black for a maximum contrast with the white body work. The vehicle looked just brilliant, especially at that time of the day, around 18:00 when the sun was almost down. The Audi R8 is a very popular sportsmachine in China, price for the V10 version starts at a manic 2.32 million yuan or 373.000 USD.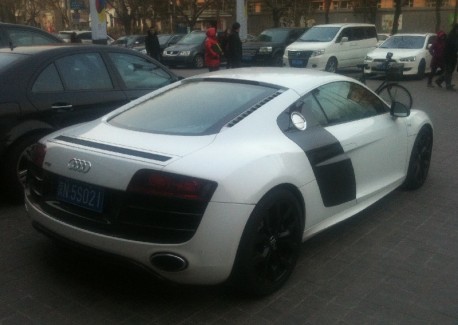 But speed! The Audi R8 V10 Coupe is powered by a 5.2 liter V10 engine that poops out 520hp and 530nm, good for a 316km/h top speed and 0-100 is gone in 3.9 seconds. Time now for our Famous China-Audi R8 Collection™: bit of Bling, spyder in Gold, Audi TT, lime green, broken, Bling, China Edition, hits taxi, matte black, ABT Lambo-doors, another matte-black,  hits mail truck, Limited Edition, in blue and in matte army-green.