October was a good month for Car Sales in China. Sales of passenger cars were up a fat 23% and the expectations for November and December are very good. Time for a quick look at the China Car Sales Top 25™ for the month October, in cooperation with BestSellingCarsBlog.com. The number one spot is yet again for the Wuling Hongguang MPV with 55,150 unites sold, up a mighty 61%.
It is however the second spot were things get interesting. The Ford Focus, including the Ford Focus Classic, pushed the Volkswagen Lavida down to third for the very first time. Volkswagen however recently launched four new Lavida variants and will certainly try to get the second sport back..
The China Car Sales Top 25™ for October: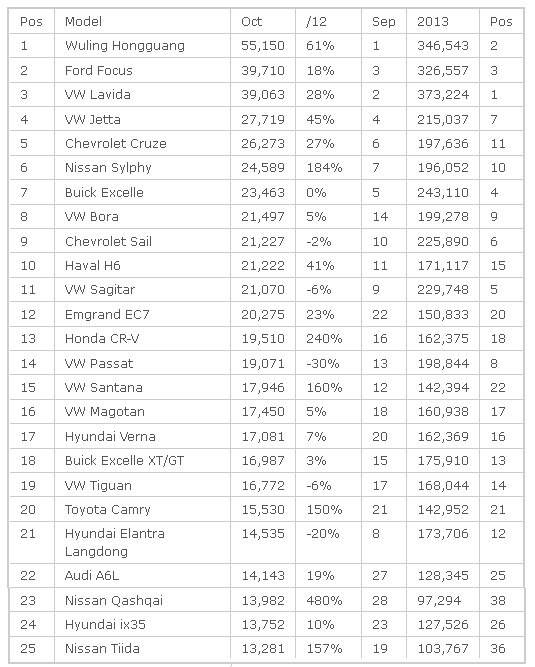 Big winners are the new Volkswagen Jetta, the Nissan Sylphy, the Haval H6, the Honda CR-V, the new Volkswagen Santana, the Toyota Camry, and the Nissan Qashqai which saw a incredible 480% rise thanks to heavy price cuts which will eat profit margins. The Buick brand seems to struggle a bit with only one car in the Top 10 and no significant sales gains for all the others. Buick strong in China? Well, maybe not forever.
For more sales numbers please see the gigantic 'China Car Sales Top 314' at BestSellingCarsBlog.com.