A Lamborghini Gallardo LP 550-2 Balboni super car crashed in the great city of Shenzhen in Guangdong Province. The Lamborghini tried to avoid a BMW 653i convertible and hit the barrier fence in the middle of the road. The front of the Gallardo is heavily damaged. The driver, seen wearing a Pink shirt, was fortunately unhurt.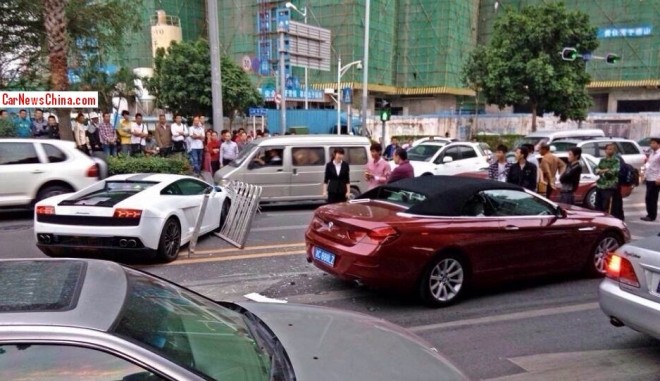 No damage on the back of the Lamborghini. The BMW seems to have only little damage and its occupants, seen here standing left and right of  the Gallardo's driver in his Pink shirt, were completely fine. The Lamborghini Gallardo LP 550-2 Babboni was a limited edition rear-wheel drive Gallardo that debuted in 2010, honoring a test driver called Valentino Balboni. Power came from the 5.0 liter V10 with an output of 542hp.
Only 250 units were built so each serious crash makes the other worth more money.  This particular example however will likely be on the road again in the near future.