The Jeep Wrangler Sundancer Concept debuted on the 2014 Beijing Auto Show, previewing a future special edition Wrangler for the China car market. The Sundancer is painted in a kinky color called 'Chocolate Brown', and further dressed up with gold detailing, bronze-tinted glass, LED-lights in the bumpers, and 20-inch pale gold alloys. The good vehicle was parked on an elevated platform, so sadly the extremely cool gold-plated air vent in the bonnet was invisible.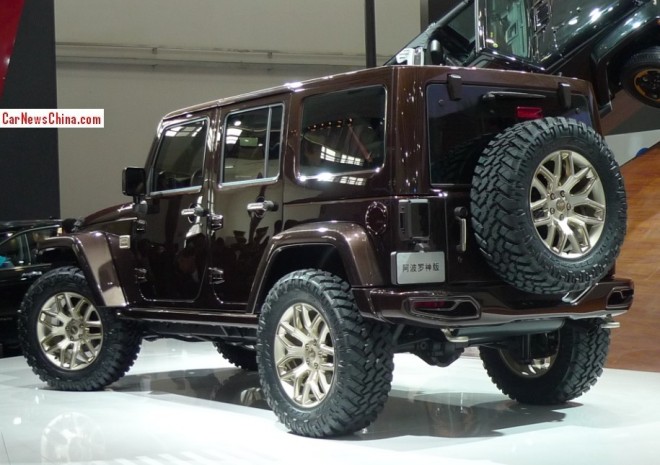 The concept is also meant to showcase Jeep's special styling packages that will become available on the Chinese auto market. Chinese car buyers love to pretty up their cars with Bling and weird special colors. That money now goes to after market shops, and Jeep wants to have some of that.
The Jeep Wrangler is imported into China. Price starts at 429.900 yuan and ends at 568.800 yuan. Engines: 3.6 V6 and the new 3.0 V6. Jeep does not offer any V8 models.