A very bling BMW Z4 sporty car, Spotted in China in central Beijing by Reader Lao Wei, thank you for the pictures! The good Bimmer is wrapped in an eye-slaughtering shiny silver wrap, and further bashed up by wide racy tires fitted with five spoke matte black alloys. The incredible wrap is absorbing  all light of the day, is that a black Benz there in front, or not..?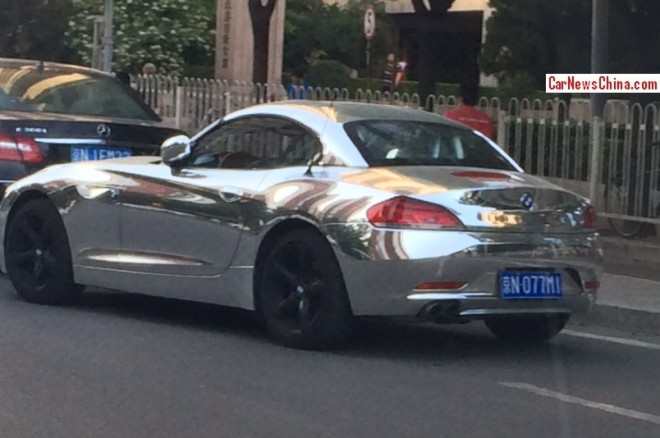 The wrap seems to be of absolute top quality, mirroring the world, be it ugly or beautiful. The wrap is perfectly extended over the bumpers, mirrors, and door handles, just like we like to see it best! Great wrapping work on the convertible roof, that ain't no easy job. Interesting M1 license plate as well.
The BMW Z4 is becoming more popular in China by the year, we are seeing a lot of the things recently. Price starts at 583.000 and ends at 909.000 yuan. Time now, for our Famous China-BMW Z4 Collection™: licensed low rider,  license, shiny red, matte Pink, license (004Z4), matte pink red, matte brown, very Pink, zebra, matte urple with yellow, leopard, pink with babe on bonnet, matte black & pink, matte-lime green, matte black, gray&matte black, bling, crystals & police, pink & babe, lime green & matte black.