A very brawny BMW Z4 Roadster, Spotted in China in the Sanlitun embassy area in Beijing. The beautiful Bimmer is a brilliant low rider with lowered suspension, and further beamed up by a hefty body kit, slick-like tires fitted with BBS multi-spoke gold and silver alloys, and a matching license plate reading 085Z4.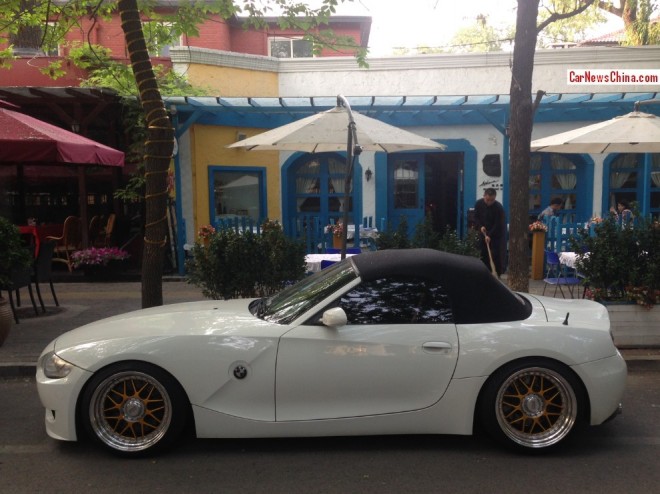 Lowered suspension going very well with the Z4′ timeless design, still a so much more telling car than the current Z4, which is just very big and not very special. The first generation BMW Z4 was manufactured from 2008 until 2008, it was a very popular car in China, especially in Roadster form. This particular example started life as just a standard 3.0i with 215hp, but was subsequently tuned up to 350. The owner, who was having his diner at the restaurant in the background, told me he once did 280km/h on an empty highway… Speedy Z4!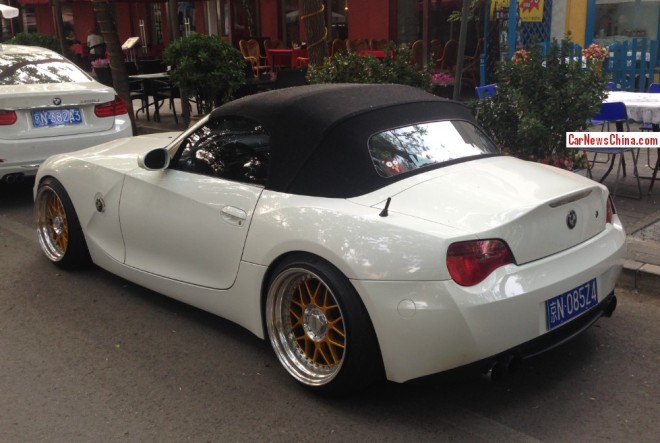 Four large exhaust pipes and a very small antenna.
Time now, for our Famous China-BMW Z4 Collection™: license, shiny red, matte Pink, license (004Z4), matte pink red, matte brown, very Pink, zebra, matte urple with yellow, leopard, pink with babe on bonnet, matte black & pink, matte-lime green, matte black, gray&matte black, bling, crystals & police, pink & babe, lime green & matte black.