A very hip BMW Z4 sporty car, Spotted in China in the arty-farty 798 district in Beijing. They got all kinda 'galleries' there, shops actually, selling mass produced crap as art to stupid tourists from Anhui and America. We do not buy! But we got this Bimmer being more art than all in the whole area combined. Wrapped in a matte Pink wrap and further sexed up by sporty 5-spoke alloys and speedy tires.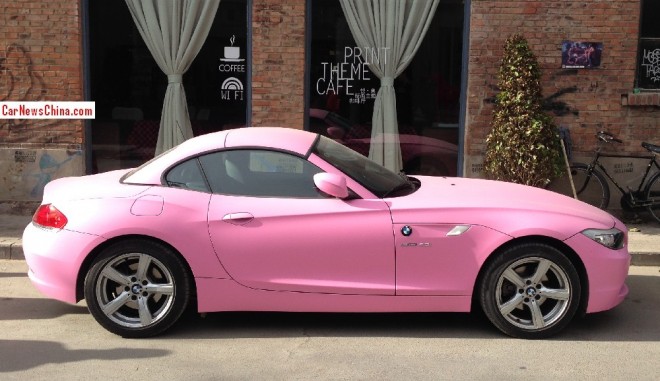 The wrap was of very good quality and neatly covered the bumpers and the mirrors. Behind the BMW an arty farty place. It is called Print Theme Cafe. They have WI FI. They sell coffee for 50 yuan a cup, if you are lucky. The BMW Z4 is a very popular sporty car in China, especially among women. Price starts at 583.000 yuan and ends at 909.000 yuan. This particular Pinky is a sDrive20i, which is the cheapest of the range, powered by a 184hp 2.0.
Time now, for our Famous China-BMW Z4 Collection™: license (004Z4), matte pink red, matte brown, very Pink, zebra, matte urple with yellow, leopard, pink with babe on bonnet, matte black & pink, matte-lime green, matte black, gray&matte black, bling, crystals & police, pink & babe, lime green & matte black.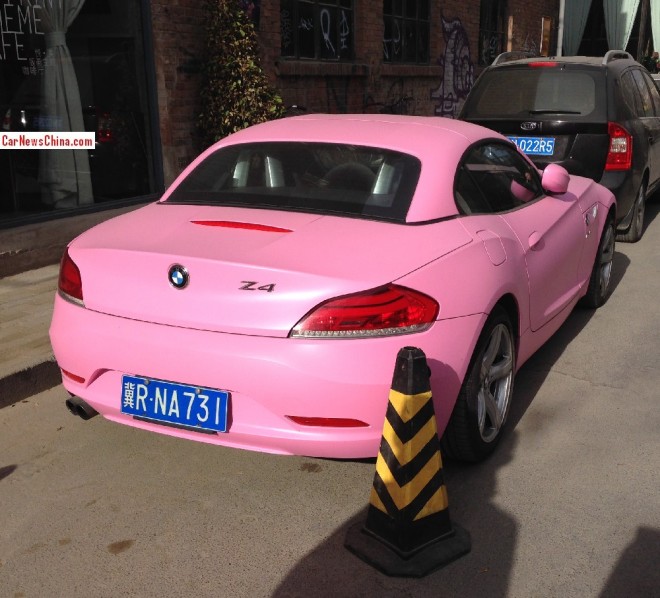 ---