A very babe BMW Z4 sporty car, Spotted in China near the Solana shopping mall in central Beijing. The beautiful Bimmer was wrapped in an eye killing shiny red wrap, and further sexed up by LED-thingies in the bumper, making for a shiny ensemble on a very smoggy day.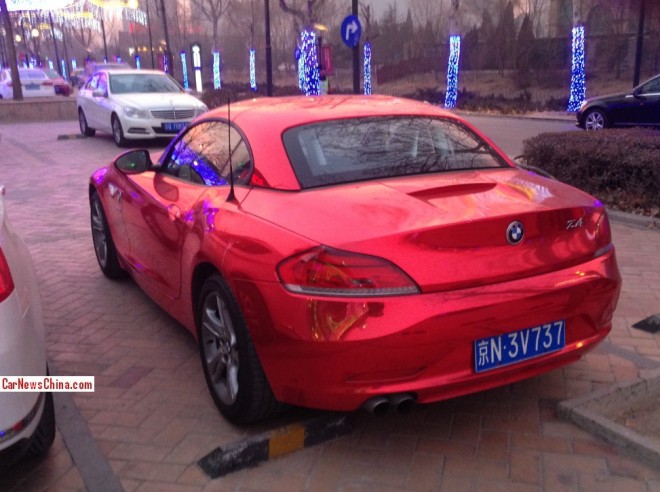 The wrap was a work of art, extending neatly over the bumpers, door handles, mirrors, and roof. The latter ain't no easy thing to to well with a convertible. The car is otherwise bog standard, which is a bit sad. Imagine those exhaust pipes and alloys in shiny chrome!
The BMW Z4 is a very popular sporty car in China, especially among women. Price starts at 583.000 yuan and ends at 909.000 yuan. Time now, for our Famous China-BMW Z4 Collection™: matte Pink, license (004Z4), matte pink red, matte brown, very Pink, zebra, matte urple with yellow, leopard, pink with babe on bonnet, matte black & pink, matte-lime green, matte black, gray&matte black, bling, crystals & police, pink & babe, lime green & matte black.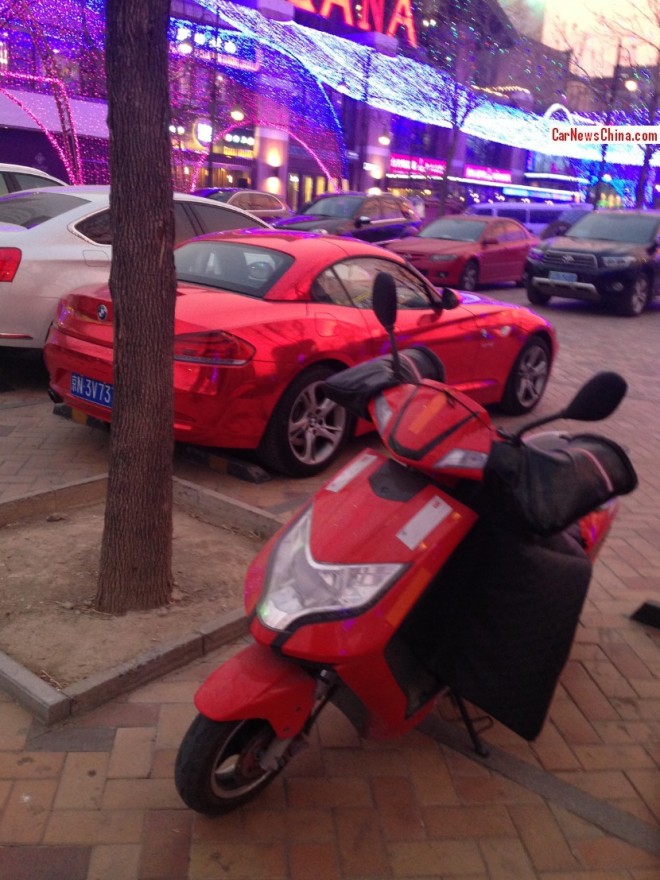 The shiny BMW Z4 with my shiny Luyuan electric scooter in winter dress. The scooter is my daily commute. It tops 50 km/h and has a range of about 60 kilometer. A fantastic machine and by far the fastest way to get around town.
---