A very flashy Chevrolet Malibu sedan, Spotted in China in the great city of Shanghai by Reader Mark, thank you for the pictures! The good Chevy is wrapped in an eye soothing turquoise body kit, and further sexed up by a black grille, a black Chevrolet logo, black windows, and racy matte black five-spoke alloys.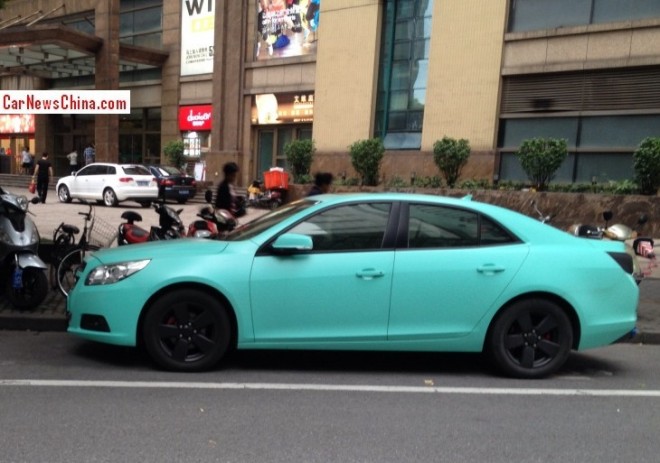 The wrap appears to be of very high quality and neatly covers the bumpers, door handles, and most part of the mirrors. Window frames and B-pillar in black as well for maximum contrast with turquoise body.
The Chevrolet Malibu is manufactured in China by the Shanghai-GM joint venture. Price starts at 169.900 yuan and ends at 236.900 yuan. Engines: 1.6 turbo, 2.0, and 2.4. It is sadly not a very popular car so we seldom see them around, let alone modified examples. So far we only found one carbon fiber bubble, in Shanghai as well.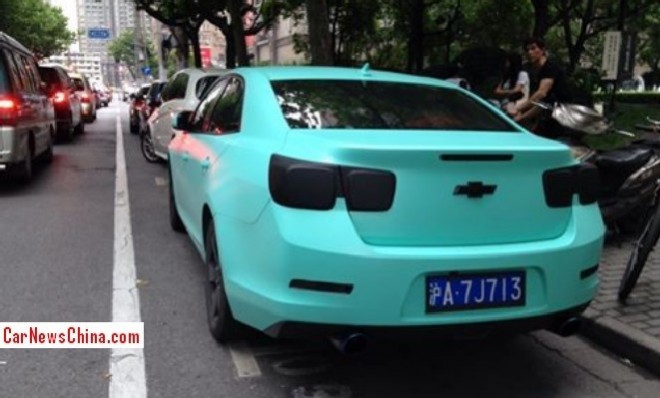 The wrapper had a good eye for detail; even the license plate frame is in the correct black color. Lights won't be very visible at night but look very good. Chevrolet logo in black again.