A very dusty and very dirty Lexus ES300 sedan, Spotted in China in the booming Dongba area in the far-far eastern suburbs of east Beijing. The vehicle sure needs a good clean-up but looked otherwise all right. The second generation 'XV10' Lexus ES300 was manufactured from 1991 until 1996 with a small facelift in 1994, this is a pre-facelift example.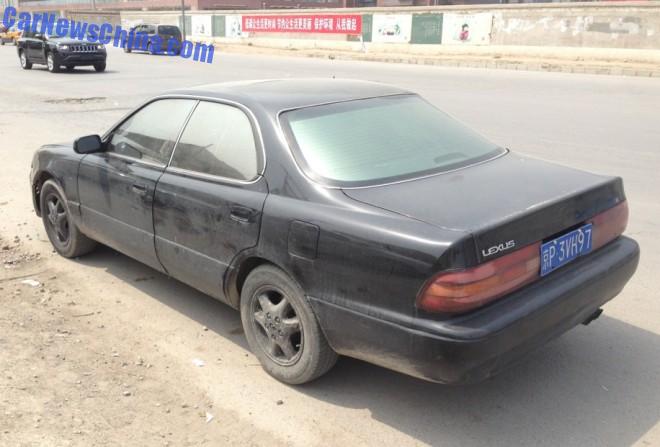 Alloys are original and kinda mad, something seems just not right with the distances between the spokes, but the eyes are deceiving. The ES300 was developed as a a sporty mid-size sedan with swooping low-drag lines, frame-less windows, and an integrated spoiler at the back. Power came from a 3.0 V6 petrol with 185hp mated to a 5-speed manual or a 4-speed automatic. Top speed was a decent 220 km/h and 0-100 was gone in 7.9 seconds.
The XV10 was never officially imported into China but some examples arrived via the gray market and other misty channels. This dirty black car in Dongba is only the second XV10 we meet in country, after a much cleaner shiny black ES300 we saw elsewhere in the capital.
Click or Die: