The infamous Landwind X7 SUV debuted last month on the Guangzhou Auto Show, looking every inch like a near-perfect clone of the Range Rover Evoque. The Landwind X7 will hit the China car market next April and Landwind is currently doing the final tests. Two identical (clones again?) X7 SUV's were seen on a rural highway near the factory in Nanchang City, Jiangxi Province
Check that car across the street! Another X7 or an Evoque?
Landwind is a Chinese car maker jointly owned by Jiangling Motors and Changan Auto. Both companies have joint ventures with Ford, called Jiangling-Ford and Changan-Ford respectively. Ford owned Land Rover-Range Rover until 2008 when they sold it on to TATA.
Price of the X7 will start around 120.000 yuan or $19.600. The X7 is powered by a Mitsubishi-sourced 2.0 liter turbocharged four-cylinder petrol engine with 190hp and 250nm, mated to a six-speed manual or an eight-speed automatic. The X7 is based on a shortened variant of the platform that also underpins the Landwind X8.
Price for the imported Range Rover Evoque starts at 528.000 yuan and ends at 668.000 yuan ($86.300 – 109.200). Price for the China-made Range Rover Evoque will start around 400.000 yuan. Cheaper, but still quite a bit more expensive than the Landwind X7. Some Chinese car buyers might be tempted to give it a try.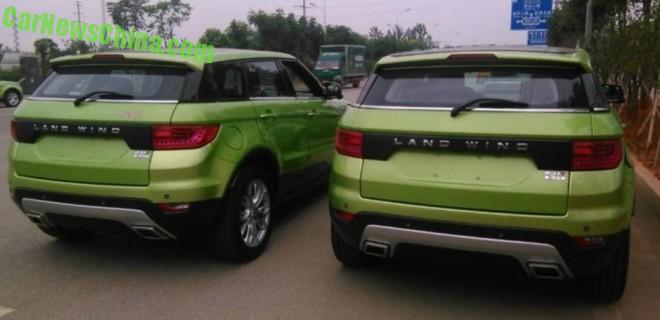 When there is one you could mistake it for an Evoque, but two..? Chinese conversion sets are needed here, and will be available soon without any doubt.
The Landwind X7 is one of our hottest stories of the year, occupying three places in our 2014 top ten, and that in early December. The X7 just fascinates everybody, and normals rules apparently don't apply. Whenever we had a story about a Chinese clone before the reactions would be negative, accusing China of all wrong in the word and the automaker in question was vilified.
In the case of the Landwind X7 however the reactions, comments, and emails are largely positive. Many are saying Land Rover only has itself to blame because it charges far too much for the Evoque. And many more are saying the X7 is a much better looking car than the Evoque. And we have received numerous emails from all over the world asking when the X7 will be available in country X or Y. So maybe this X7 will become something of a worldwide selling thing, conquering lands previously owned by second hand Range Rover cars.