The new Changan Eado EV will be launched on the Chinese EV market in January 2015. The Eado EV is an electric vehicle for China based on the Changan Eado sedan. Price will start around 290.000 yuan before green car subsidies from central and local governments. Subsidies on a vehicle like the Eado EV can be as much as 90.000 yuan ($14.460) so sticker price at the dealer will be some 200.000 yuan ($32.140).
Blue ornament on the front fender. Blue = Green.
The Eado EV is powered by an electric motor with 120 hp and 123 Nm, mated to a 80aAh/320V lithium-ion battery. Top speed is rated at 140 kilometer per hour, and range is rated at 160 kilometer. Charging takes eight hours on 220V for a full charge, or 30 minutes on a fast charger for an 80% charge.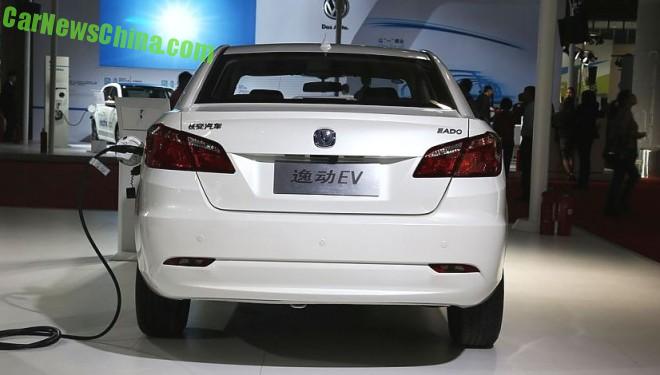 It is interesting to see that more and more Chinese automakers are moving into larger EV sedans, instead of just focusing on mini cars and minivans. The latest generation of batteries apparently good enough to propel the bigger and heavier vehicles around town safely and charged.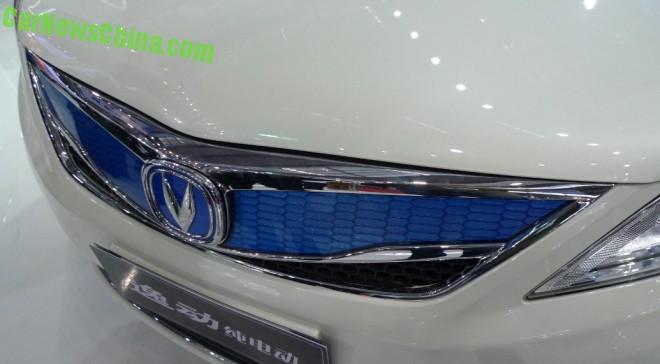 Blue grille will come standard on Eado EV. Blue, it should be remembered, = Green.