This is the new Geely EC7-EV, and electric car for China based on the Geely Emgrand EC7 sedan. The Emgrand name will be phased out so the EC7-EV will be just a Geely. Grille comes with a funky blue line because blue = green.
The Geely EC7-EV will be launched on the Chinese car market in the first quarter. Price will start around 300.000 yuan before green car subsidies from central and local governments. Subsidies on a vehicle like the EC7-EV can be as much as 90.000 yuan ($14.460) so sticker price at the dealer will be some 210.000 yuan ($33.830).
I met this vehicle at a high tech show in Shenzhen. A Geely staff member sat in the driver"s seat, fuzzling with his mobile phone, and refusing to get out of the way, let alone get out of the car. Typical state-owned-company mentality in a privately owned company. Doomed!
The interior looks otherwise pretty nice. Fine materials and an especially strong center tunnel and gear selector. Large screen on the center console with blue detailing (blue = green). Only dissonant ios the instrument binnacle that doesn't look any special EV-tech at all.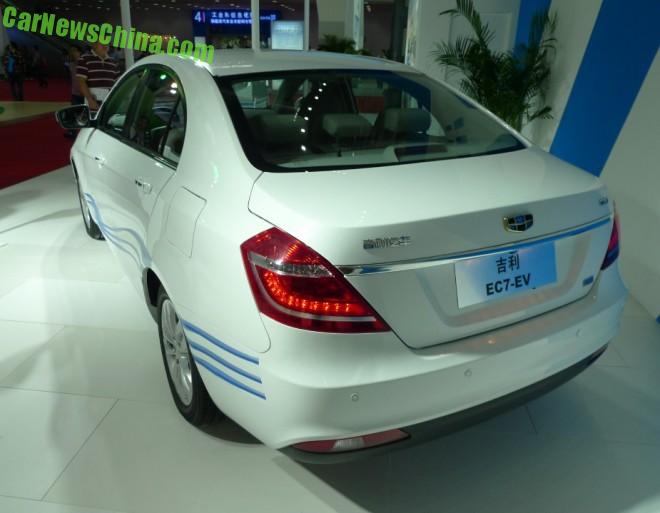 The Geely EC7-EV will be powered by an electric motor with 129hp. Curb weight is 1600 kilo. Range is 150 kilometer, which is on par with other Chinese electric cars of he same size and kind. Top speed is 130 kilometer per hour and 0-100 is gone in 12 seconds. No other specifications available at the moment.
The EC7-EV will be the first mass-produced electric vehicle for Geely. They are a bit late in the game but we hear many more EV is on the way. Most other Chinese automakers are launching as many electrics as they can as well; will the electric car market in China finally take off?