The Ford Mustang has been launched in China, marking the first time the iconic American muscle car of officially available on the Chinese car market. For now, the only available engine is the turbocharged 2.3 liter four-cylinder EcoBoost. The 5.0 V8 GT will be launched later this year, and the 3.7 liter V6 won't be available in China.
The 2.3 liter turbocharged four has an output of 314hp and 434nm, mated to a six-speed manual transmission.
Price for the base car starts at 399.800 yuan and ends at 405.800 yuan ($64.340 – 65.311). Ford also offers the 'Stang with the '50 Years Appearance Package' (car in the pictures), which goes for 429.800 yuan ($69.173).  Price (MSRP) in the United States starts at $25.300. The huge difference is caused in part by China's famously high import tariffs and road taxes, and partly by Ford being very greedy.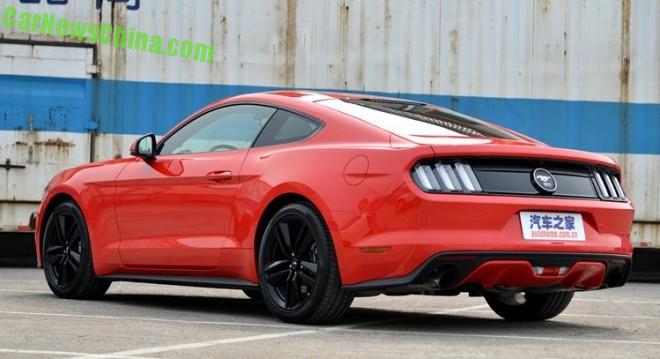 Ford might make a few extra bucks but it isn't a very smart move. With these kind of prices they gray market will continue to supply an alternative, and indeed the gray boys are already doing just that. A dealer in Tianjin offers a whole bunch of brand new 2.3T Mustangs for 358.000 yuan ($57.570). Most gray market muscle cars originate from dealers on the U.S. West Coast.
But even though it is more expensive most buyers will prefer the officially imported car as there will be no problems with warranties and maintenance, which are often problematic with gray imports.