A giant Maybach 62S limousine, Spotted in China in the great city of Shanghai by Reader Pinut 187, thank you for the pictures! The majestic limousine is painted in piano black and wrapped with a dark matte Pink wrap starting just above the front lights, moving all the way over the bonnet and under the windows to the rear lights.
Normally, passenger cars have blue license plates and commercial vehicles yellow license plates. The Maybach 62 however is so long that it is automatically qualified as commercial in some provinces, hence the yellow plates on this car.
The mighty Maybach 62S is 6.2 meters long for a space-like space in the back, enough room there for a wild Chinese party. Power comes from a monster 6.0 liter twin turbo V12, good for 603hp and 1000nm. When still new the 62S was priced at an atmospheric 12.9 million yuan in China, or 2.11 million USD.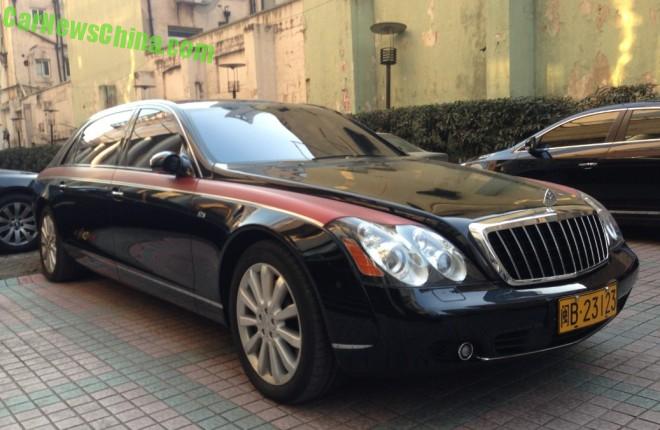 Maybach was a popular brand in China, seriously competing with Rolls-Royce. The Maybach name has returned with a dressed-up S-Class, reactions on in  China are positive and Mercedes-Benz expects China to become the largest Maybach market worldwide, and we expect a lot of new Bling.