This is the fantastic Sikixing M1, a new low-speed electric vehicle (LSEV) from China, seen earlier this week on the Shandong EV Expo  (intro). The M1 immediately became one of my favorite cars on the show, looking impossible cute and cool at the same time. The vehicle comes with big black bumpers for a tiny bit of safety, large truck-like mirrors, chromed doorhandles, an antenna on the A-pillar, and shiny silver multispoke alloys.
The Sikixing M1 is manufactured by a company called Jinan Sikixing Corporation, based in the great city of Jinan in Shandong Province, and thus playing a home match here. The company (web, but not working) started in the bicycle business, moved up to electric bicycles, and then to LSEV's.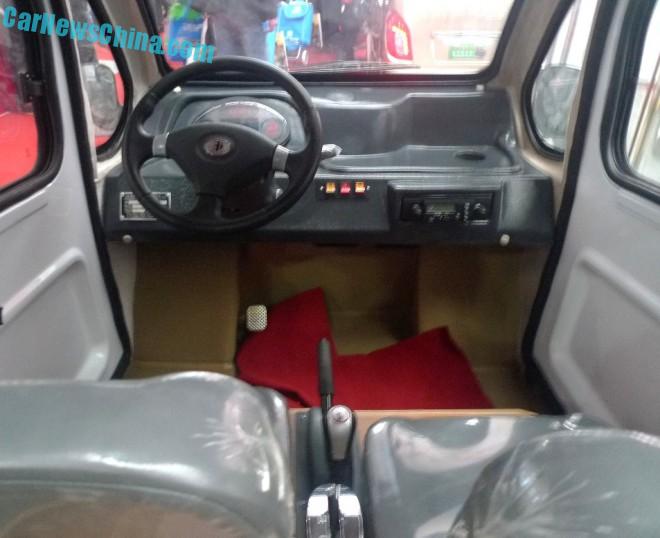 The M1 is a two-seater. The interior is black and basic but it does have a radio with… a CD player. The dials are digital. The steering wheel is a tad too 1982. The drive selector is mounted far back on the center tunnel, behind the handbrake (!) and very hard to reach. The M1 is powered by a tiny electric motor with an output of one (1) kW, mated to a lead-acid battery.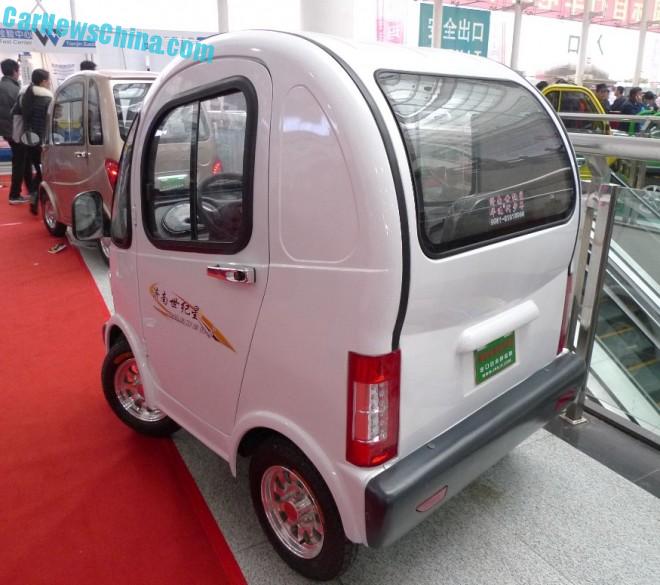 The Sikixing M1 is almost perfectly round, everywhere. The body is polyester, limiting curb weight to a 230kg, leading to a still-respectable top speed of 27 kilometer per hour. It is a small car: 1720/1300/1500, so it will fit in your pocket. Price starts just under 15.000 yuan or 2425 USD.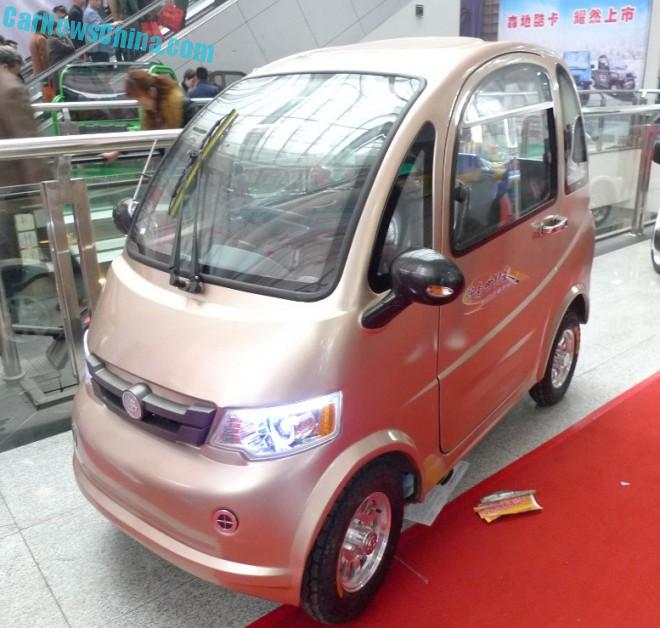 This is the Sikixing M4, a slightly larger and more luxurious variant of the M1.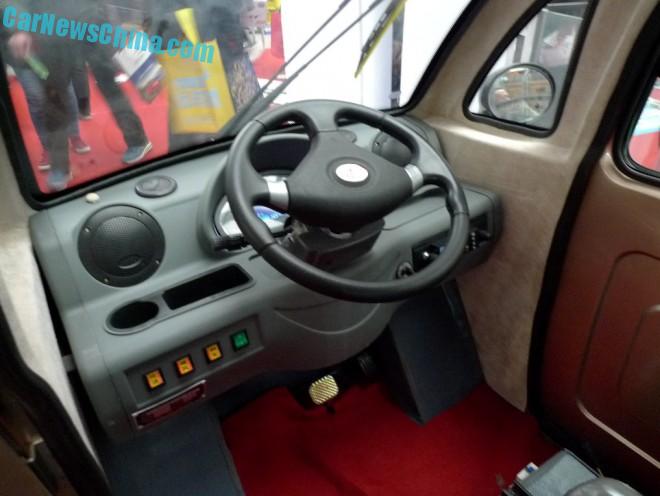 It also comes with a CD player a large speaker on each side of the dash. Staff told me they had an output of 50 watt each, which makes the sound system as powerful than the engine, which is the same as in the M1. Weight stands at 260 kilo, only 30 more than the M1, but Sikixing oddly claims the same 27 km/h top speed. Size: 2200/1150/1550. Price starts just under 16.000 yuan or 2587 USD.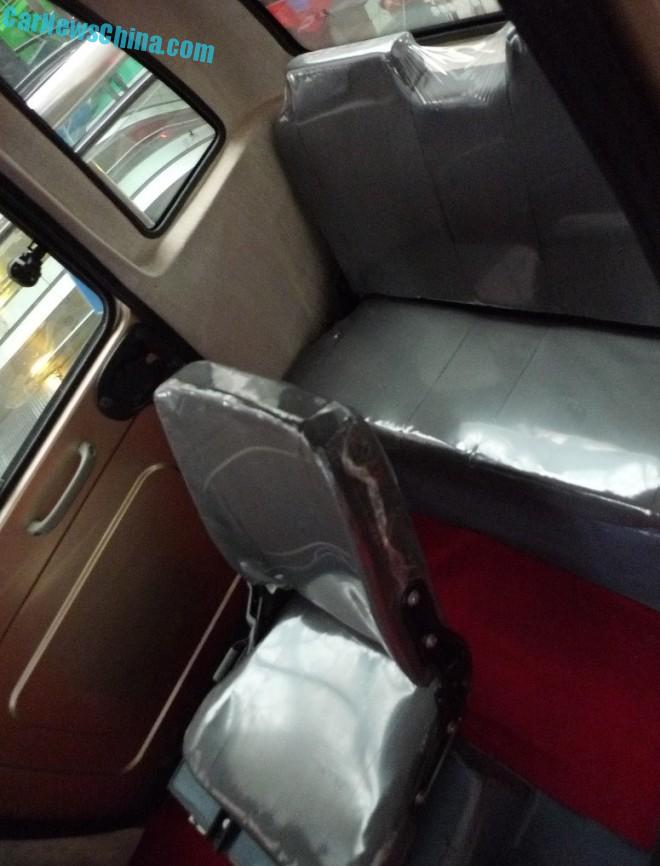 The M4 seats three (not four…) in a 1+2 configuration that one normally finds on tricycles.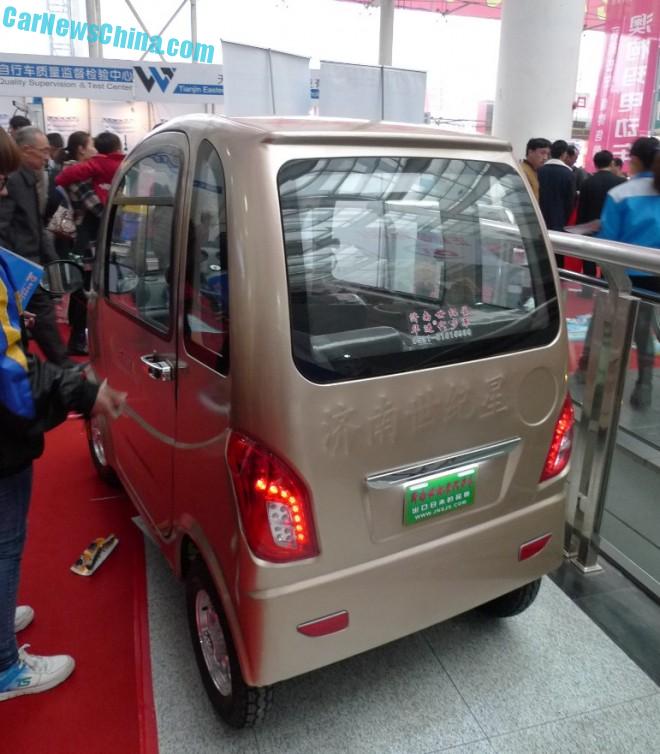 Less of a round thing than the M1 and even fitted with a body-integrated roof-spoiler for down force! Wheels look very tiny, but shiny.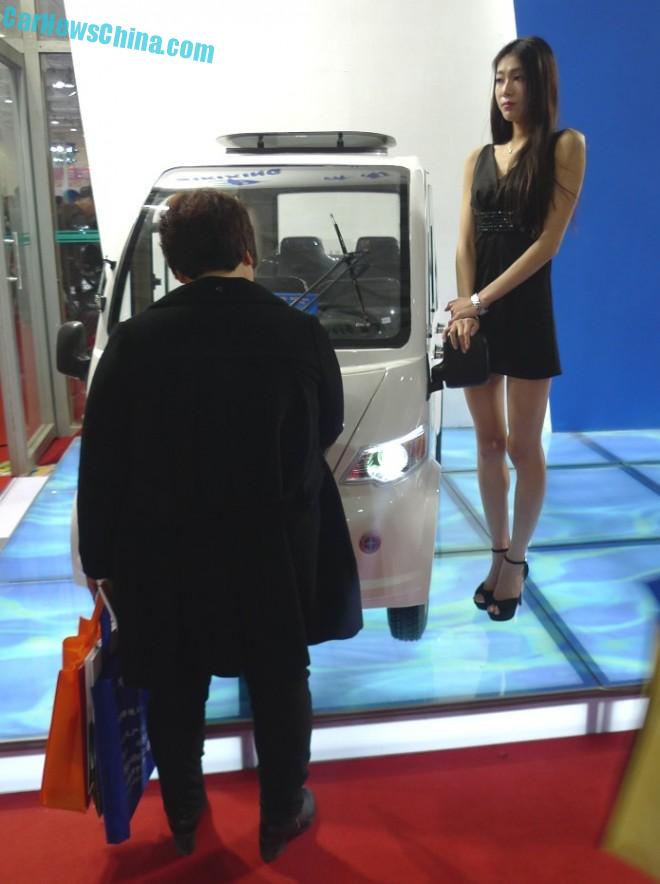 They had another M4, with a sunroof fitted, on stage. A granny was checking the spec sheet while a hot looking model looked on, looking bored to the max. How can someone possibly be bored on the 2015 Shandong EV Expo?!?