This is the funky Qingqi Shoe-i, a new low-speed electric vehicle (LSEV) from China, seen last week on the Shandong EV Expo  (intro). The Qingqi Shoe-i is a mini-mini SUV featuring a two-tone color scheme with a red roof and red mirrors, flashy decals on the sides, side bars, bull bars front and back, and an enormous bling-bling grille. The Chinese name of the Shoe-1 is Xiu Ai, or 'Beautiful Love'.
The Qingqi Shoe-i is manufactured by a company called Qingqi Four-wheel Electric Vehicles (web), which is a subsidiary of Jinan Qingqi Motorcycle Corporation (web), one of the oldest and largest motorcycle makers in China. Both companies are based in the great city of Jinan in Shandong Province, and the brand is thus standing on its home turf here on the show.

The Shoe-i is powered by a tiny electric motor with an output of 1.8Kw, mated to a lead-acid battery. Top speed is 50 kilometer per hour and range is 100 kilometer. It is of medium size for an LSEV: 2820/1360/1650, wheelbase is 1150 and weight is 650 kilo. All specs as claimed by the manufacturer. The vehicle was for sale on the show, you could take it away right there, for a unbelievably cheap 11.900 yuan ($1915), which normally gets you just a tricycle.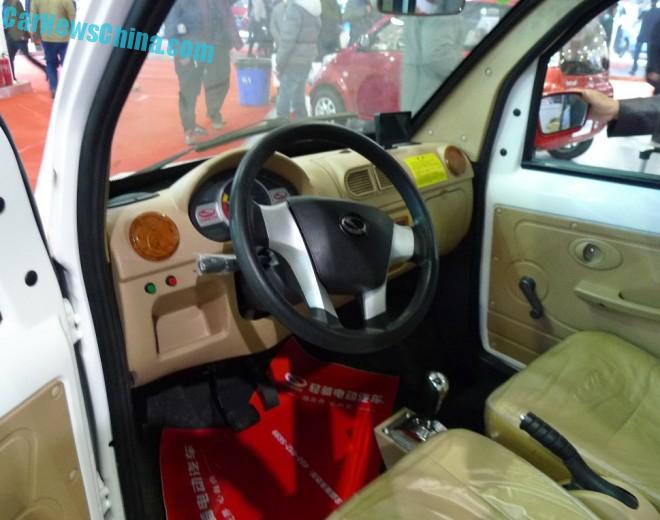 A basic dashboard with a central dial that is part digital and part analogue. Drive selector on the bottom, finished with a silver shiny stick. The air vents are decorated with fake wood panels. The small monitor on the atop the right side plays MP4 video, not GPS or some-like fancy.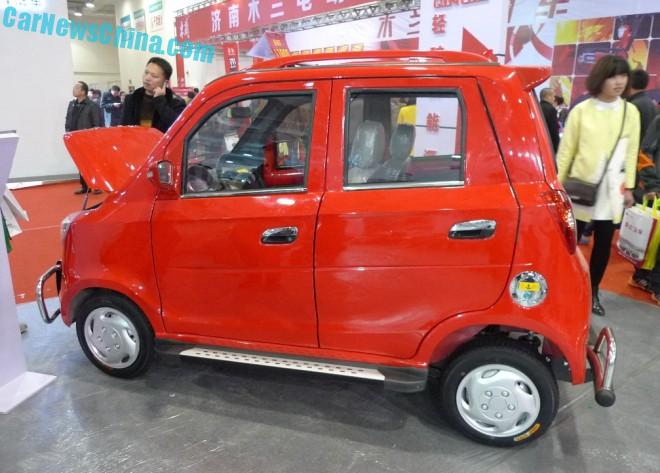 They also had an all-red car on the stand with simple wheel covers. Not bad but a tad too boring.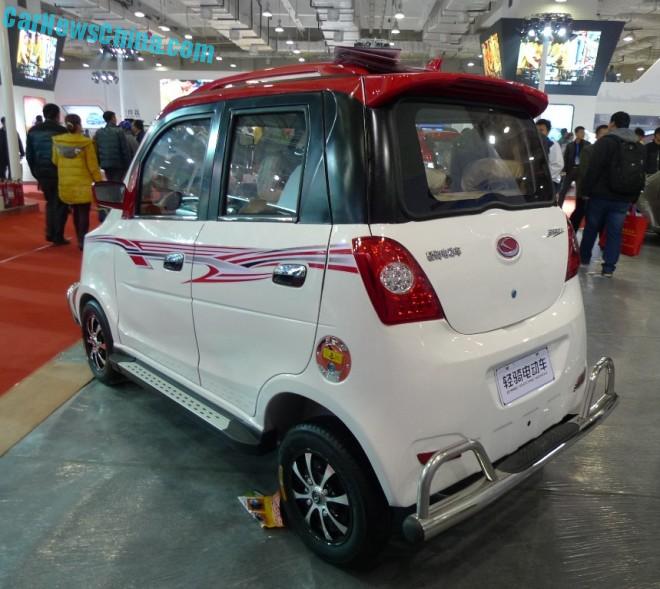 The rear bull bar sits low on the rear bumper, and will be helpful in dealing with bicyclists and pedestrians. Roof comes with roof rails, a shark fin antenna, and an integrated spoiler.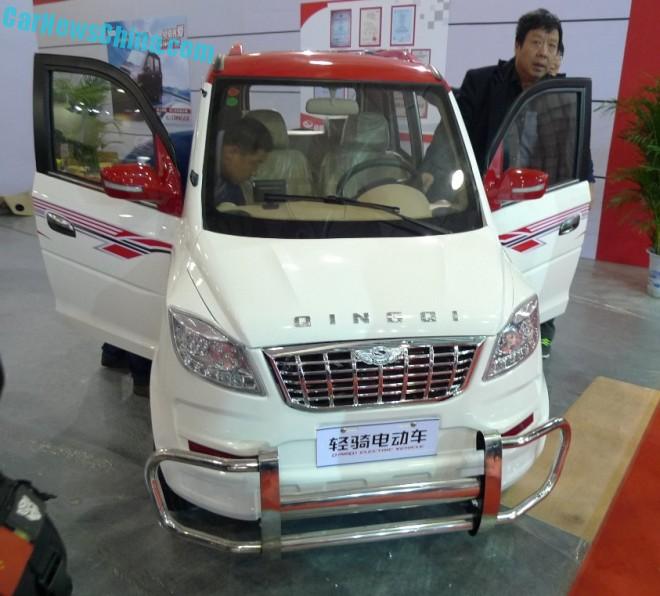 Big men inspecting a small car.