This is the Zhongqi Xiaomi Cute Pickup Truck, a new low-speed electric vehicle (LSEV) from China, seen last week on the Shandong EV Expo  (intro) in Jinan City. The Zhongqi Xiaomi Cute Pickup Truck features an original but somewhat bizarre design with the headlights positioned under the window, then a bonnet, and then a shiny seven-bar grille. The indicators are mounted on stalks flanking the headlights, the mirrors are positioned just behind the A-pillar and oddly angled, and the greenhouse is huge and airy.
The 'Xiaomi' part of the name is nicked from the famous Chinese cellphone maker Xiaomi, the name is exactly the same (小米) and the logo are very similar. The only difference is that the car's logo has a dot on the i whereas the phone's has not.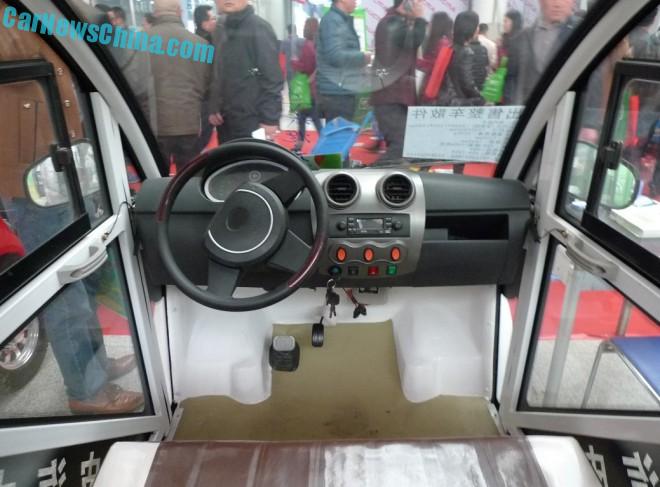 The doors were as tin as paper but visibility was great. Basic black plastic dashboard with a single digital dial. Stero system with USB connectivity for MP3 music, two air vents, and three funky orange buttons for the heater and fan control. The bench can seat two plus a baby.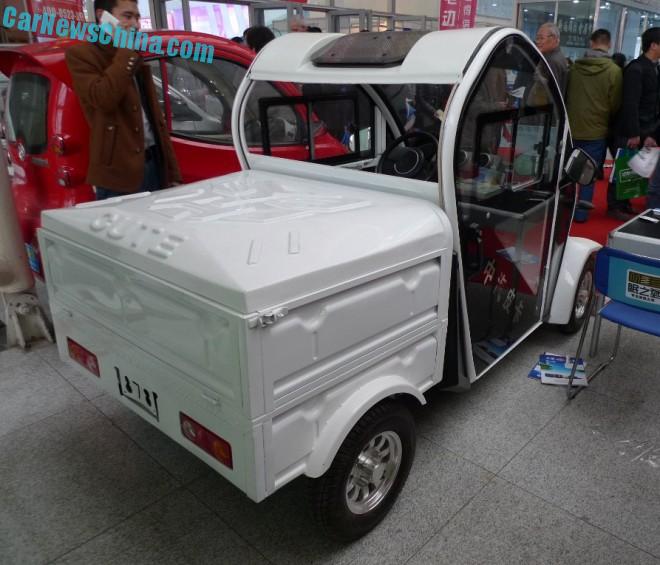 The doors = the side and the rear window = the rear. That all can get very hot and the vehicle is therefore equipped with a standard sunroof. Slant cover over the bed here, saying 'Cute'.
The Zhongqi Xiaomi Cute Pickup Truck is manufactured by a company called Liaocheng Xiaomi New Energy Automobile Corporation, a subsidiary of the Zhongqi Group (web), which owns several small LSEV makers. The company makes an electric car based on the Chery QQ, a mini-mini car, electric mini trucks, and a small four-door hatch.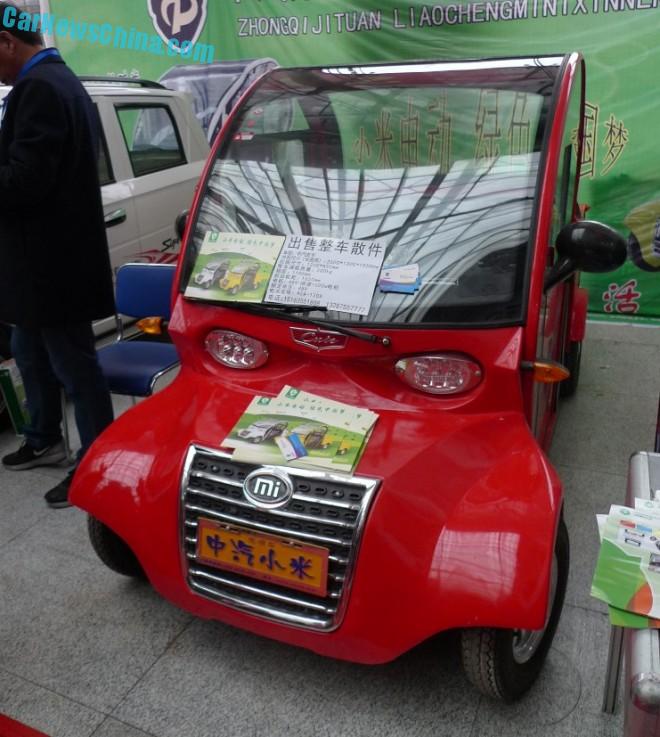 The company says (see text below photo) that the Xiaomi Cute Pickup Truck is ideal for shopping for the elderly, ideal to ferry children (!), perfect for the milkman, and good for sanitation services. Not sure about the children thing but otherwise this seems indeed a handy vehicle, especially in areas where the lanes and distances are small.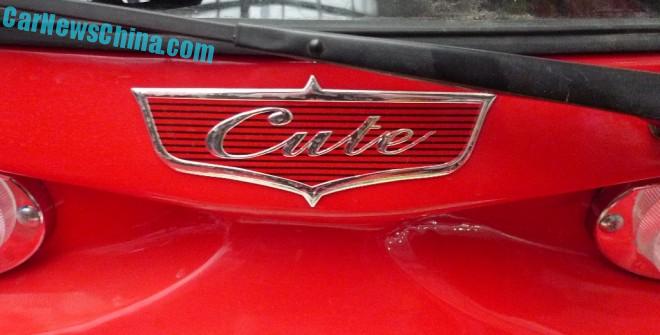 The Cute badge is cute.
The Zhongqi Xiaomi Cute Pickup Truck is powered by a tiny 1 Kw electric motor mated to a lead-acid battery. Top speed is 40 kilometer per hour and range is 80 kilometer. She is Cute but she isn't big: 2600/1300/1550, wheelbase is 1100 and curb weight is only 300 kilo. That might sound like very little but it is entirely believable when you see and feel the vehicle. The whole cabin is made out of plastic and it is all very thin. The bed is made of tin, like a Coke tin but even thinner. Max load is 200 kilo. Price for all this pretty starts at only 18000 yuan or 2900 USD. All specs as claimed by the manufacturer.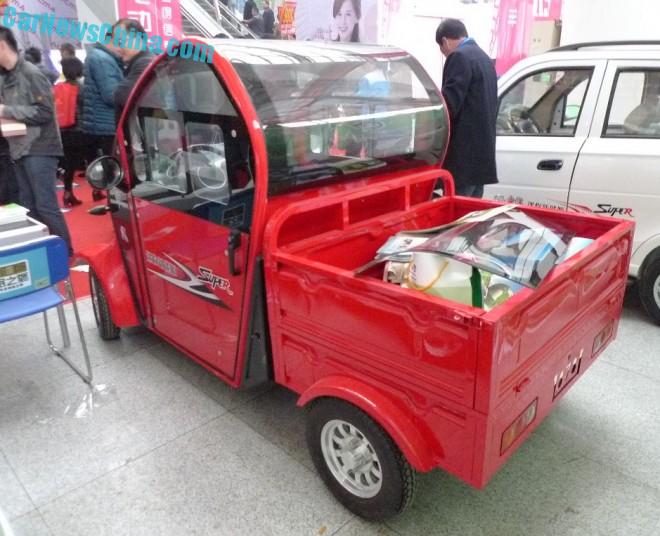 Rear wheel arch very hip. Taillights in the bumper. Bed filled to the top with brochures.