Venucia has released the first images of a new four-door coupe concept that will debut next week on the Shanghai Auto Show. The yet unnamed concept features a relatively small grille with angry headlights, a low roof line, wide wheel arches, and giant wheels.
Venucia, or Kai Chen in Chinese, is a sub-brand of the Dongfeng-Nissan joint venture, selling low-priced cars based on Nissan platforms.
A strong side profile, almost rally-car style. Integrated wing at the back. Whether a car like this will ever see production is uncertain, but the market four four-door coupe's and four-door coupe-crossovers is certainly growing. Many local Chinese automakers are developing similar vehicles, following the lead of BMW with the mighty popular X6 and X4.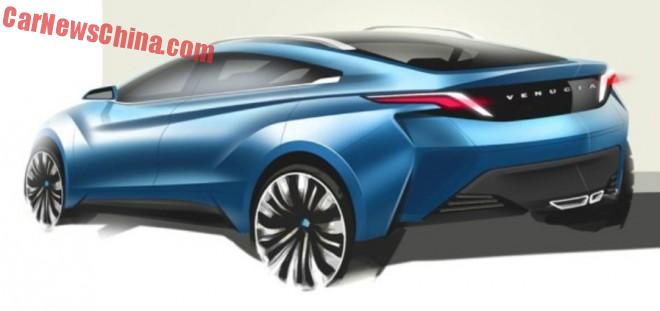 No word yet on power but it has exhaust pipes so it is either petrol-powered or, more likely, a hybrid. Black rear panel with Venucia lettering very sleek.