The first live shots of the new BYD Yuan SUV, scheduled for debut on Monday on the 2015 Shanghai Auto Show. The Yuan is a concept in name, but it is really close to reality in reality. The BYD Yuan is the hybrid variant of the upcoming petrol-powered BYD S1 sub-compact SUV.
Spare wheel is ultra hip but will cause extra drag.
We now know more about the plug-in hybrid drive-train: a 1.5 liter (non turbocharged) petrol engine mated to two electric motors, one on each axle, creating a four-wheel drive car. In electric mode the Yuan has a range of 70 kilometer. BYD boasts that the acceleration from 0 to 100 takes 4.9 seconds, with is indeed fast for a car the size of a Ford Ecosport. Size: 4320/1765/1650, wheelbase is 2520.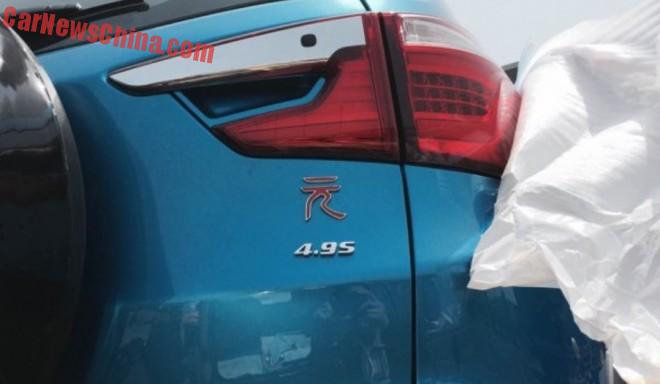 Character is 'yuan'. And did I say 'boasts'? They print it on the car!