An hyper warping McLaren P1 supercar, Spotted in China in the great city of Guangzhou in Guangdong Province. The 'Mecca is painted in virgin white with a black bumper, black air inlets, black air vents, black carbon mirrors, blackened headlights, blackened windows, and matte black ten-spoke alloys with orange brakes.
Roof, rear window, and wing are all black too, making for a continuous theme from window to rear. Only dissonant are said brakes, which would have looked much better in white or a fiery red.
The P1 is fast becoming an almost regular sight in China; This white example is the seventh car we know about, after: white in Shanghai, black & yellow in Guangzhou, yellow in Guangzhou, purple in Guangzhou, one completely mad in Guangzhou, and one lime green in Shanghai.
When new, the McLaren P1 went for 12.6 million yuan or 2.02 million USD. Lotta money but lotta speed: The P1 powered by a hybrid drivetrain based around a 3.8-litre twin-turbocharged V8 petrol engine with 727hp and 719nm, mated to an electric motor which adds another 176hp and 260nm for a grand total of 903hp and 978nm. Top speed is 349km/h and 0-100 is gone in 2.8 seconds.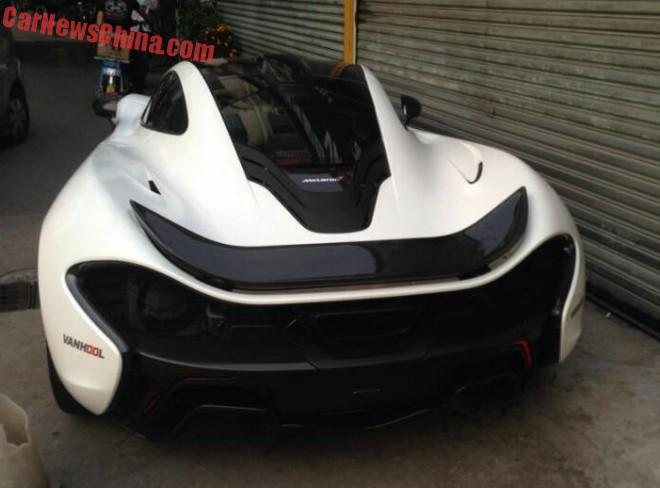 Note VanHool sticker on the left. That's not the Belgian bus maker, but a Chinese exhaust pipe maker, based in Guangzhou. Did they do some work on the pipes of the P1..?