A fiery red Ferrari LaFerrari and a mellow yellow McLaren P1, two supercars Spotted in China at the opening of a new restaurant in the great city of Guangzhou in Guangdong Province, where they were seen by a Bee. The LaFerrari is fitted with matte gray five spoke alloys with red brakes, the McLaren with black multispokes and yellow brakes.
That is, by far, the best license plate we have seen on a LaFerrari in China, nicely trolling the McLaren P1 with 000F1. License is likely fake but who cares!
Having supercars on hand for opening things in China is very common; we have a collection: opening a fitness club, opening a hot pot, opening a club bar, SLS selling houses, Enzo selling houses, Orochi selling houses, Mulsanne selling houses, zillions of supercars opening a club, opening a karaoke bar, and opening a wine shop. Sometimes the owner of a new place has a supercar, or he has friends who have, or he just rent a bunch of. It all happens.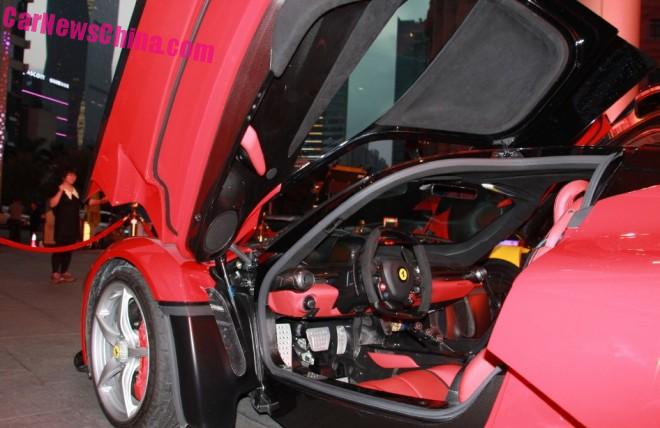 The fantastic Ferrari. Black on red inside, ready to race. This particular car is the fifth LeFerrari in China we know about, after one in Chengdu, a double in Shanghai, one in Beijing, and a first in Shenzhen. When still available, the LaFerrari went for an astonishing 22.5 million yuan or 3.67 million USD.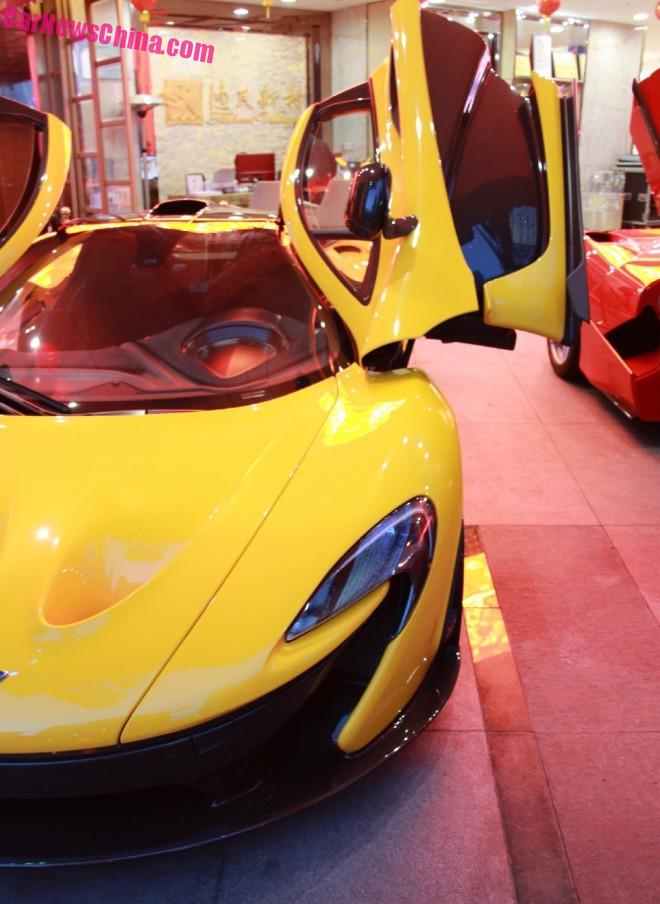 Moving on to the manic McLaren. There are still a few examples available, or so we heard, for a friendly 12.6 million yuan or 2.02 million USD. This yellow example is the fourth car we know about, after: purple in Guangzhou, one completely mad in Guangzhou, and one lime green in Shanghai. That means that 75% of all P1's in China are in once city…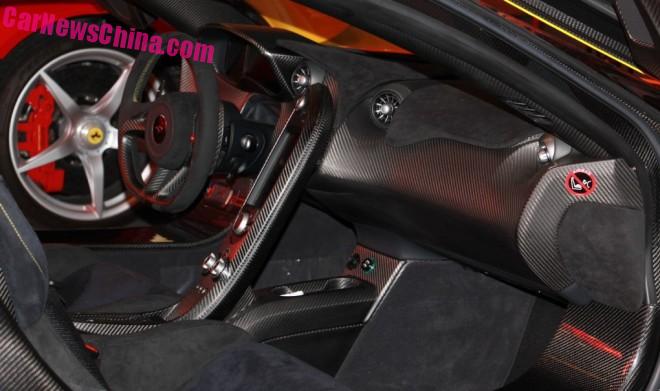 Even less colorful than the Ferrari. All black carbon and black alcantara here. And: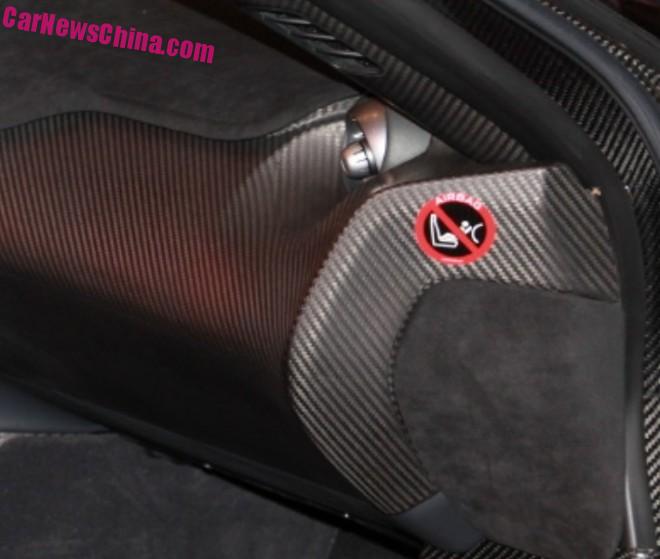 Don't put a child seat on the front seat! Just don't do it, or this sticker will get very pissed.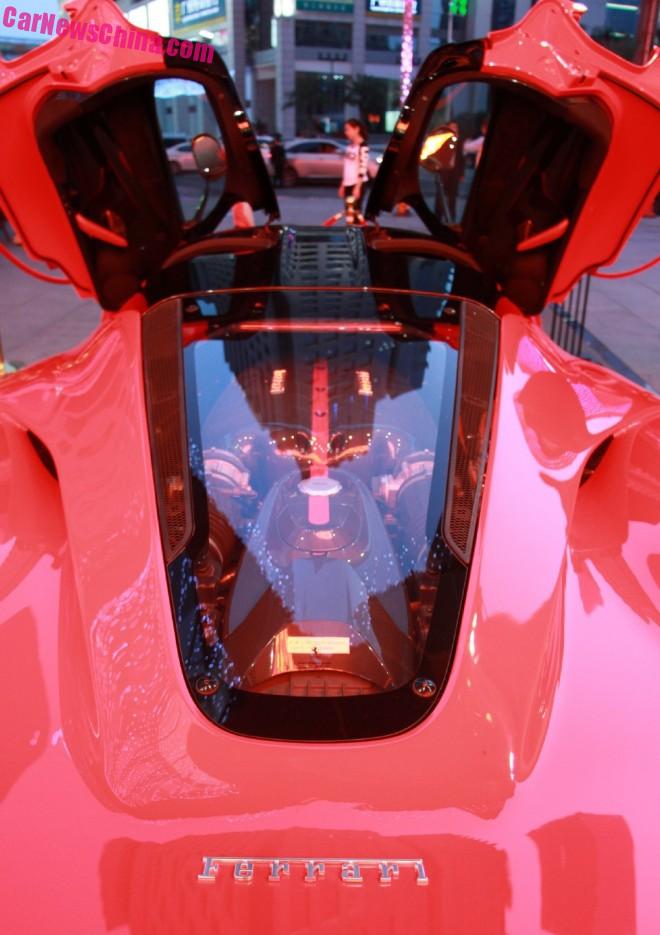 The beautiful engine bay completely visible. The LaFerrari is powered by a hybrid power train consisting of a screaming 6.3 liter V12 connected to a F1-style KERS system. Total output is 950hp and 900nm. Top speed is 350km/h and 0-100 is gone in 2.7 seconds.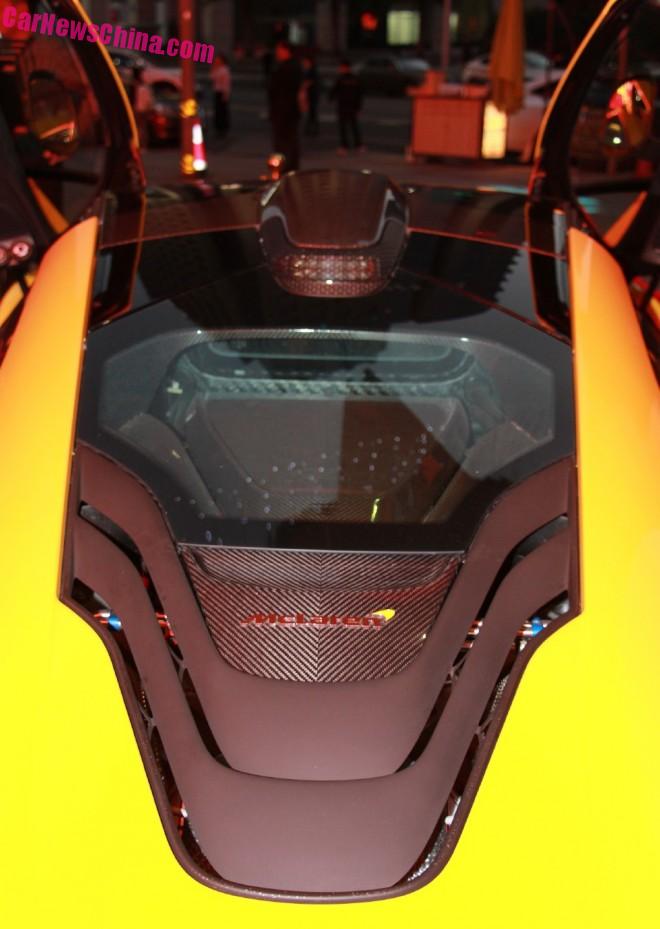 The engine bay barely visible. The P1 powered by a hybrid drivetrain based around a 3.8-litre twin-turbocharged V8 petrol engine with 727hp and 719nm, mated to an electric motor which adds another 176hp and 260nm for a grand total of 903hp and 978nm. Top speed is 349km/h and 0-100 is gone in 2.8 seconds. The LaFerrari thus is one km/h faster and goes to a hundred 0.1 second quicker. Sure thing…