We have received a flock of photos of a secret supercar garage somewhere in the great city of Shanghai in China. Shanghai is one of the richest cities in the country, shifting top 3 with Guangzhou and Shenzhen, so there is always a heavy load of heavy metal to be seen. Starting off with the supercar of supercars; the Ferrari Laferrari. When still available, the speedy Italian went for an astonishing 22.5 million yuan or 3.67 million USD.
[update] The LaFerrari, the white Koenigsegg R, and the McLaren P1 belong(ed) to Qin Fen, alias 'King', who crashed the very Ferrari in Shanghai in late April. [/update]
Flipping through to a Koenigsegg Agera R in white and black. The license plate is slapped on the front lip, which we bet won't be so good for airflow. The mighty Agera R is powered by a mighty 5.0 V8 that poops out a road-burning 1140hp and 1200nm. When new the R did 26 million yuan in China, that's 4.18 million USD. More expensive than the LeFerrari, but then again, it is faster.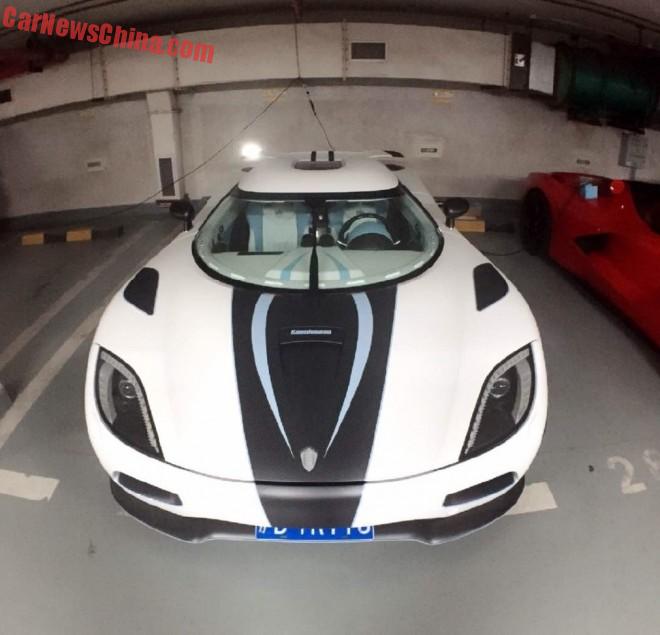 Blue stripes over the bonnet continue over the dash and the seats. Very stylish. The Agera R has a top speed of 440km/h and does 0-100 in 2.8 seconds. The LaFerrari goes 'just' 350 but is with 2.7 seconds slightly faster to the 100.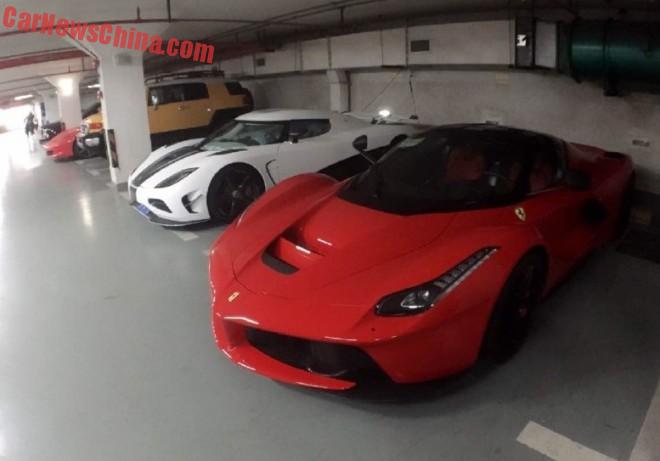 Painted in red with a black roof and a red interior. Alloys in matte black with red brakes. The LaFerrari is powered by a hybrid power train consisting of a screaming 6.3 liter V12 connected to a F1-style KERS system. Total output is 950hp and 900nm. So far we know of six Laferrari's in China: a red one in Guangzhou, one in Chengdu, a double in Shanghai, one in Beijing, and a first in Shenzhen.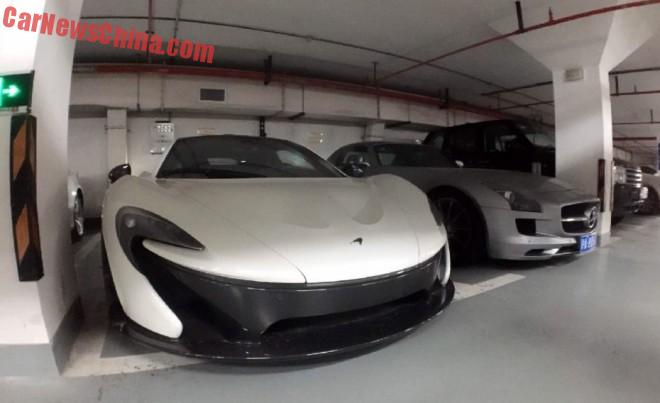 A brutal white McLaren P1 flanked by a sliver Mercedes-Benz SLS. The P1 went for 12.6 million yuan or 2.02 million USD. This white example is the sixth car we know about, after: black & yellow in Guangzhou, yellow in Guangzhou, purple in Guangzhou, one completely mad in Guangzhou, and one lime green in Shanghai.
The P1 powered by a hybrid drivetrain based around a 3.8-litre twin-turbocharged V8 petrol engine with 727hp and 719nm, mated to an electric motor which adds another 176hp and 260nm for a grand total of 903hp and 978nm. Top speed is 349km/h and 0-100 is gone in 2.8 seconds.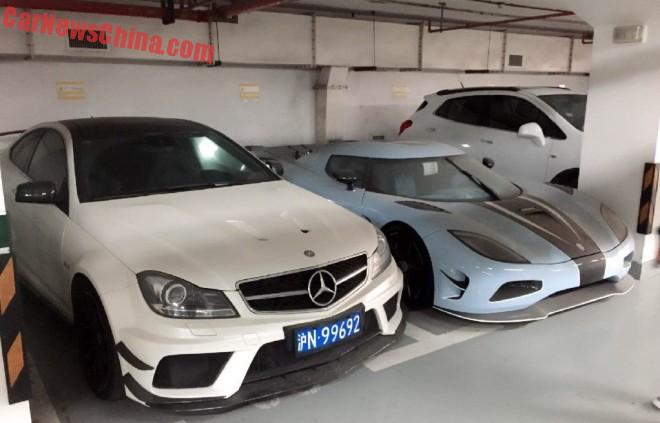 A heavily winged Mercedes-Benz C63 AMG Black Series flanked by yet another Koenigsegg Agera R, looking very dusty there. This blue example is rather special, it is a one-off build for a wealthy Chinese collector, it was proudly shown in public on the 2013 Shanghai Auto Show. But it now needs a clean-up and a ride!