A Toyota AE86 Trueno hatchback, seen in Hall 1 on the the FB-Show 2015 (intro) in Beijing, looking absolutely clean and fast. The A86 Trueno is a small sporty car made famous by the 'Initial D' manga series, where the hero drives a white & black car, and this example on the show was painted in a similar color scheme.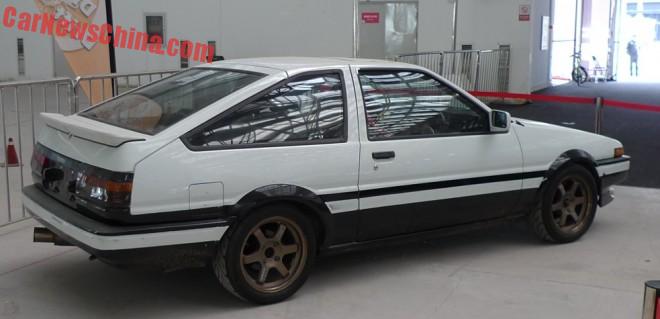 Extra large tail pipe, sporty wheels with period six-spoke alloys, in gold! The AE86 Trueno was manufactured from 1983 until 1987. It was never exported to China but we know of at least two other cars in country, imported gray by fanatic collectors. The AE86 was powered by a 1.6 liter four-cylinder with a maximum output of 130hp and 150nm, but most cars were tuned up to much more than that!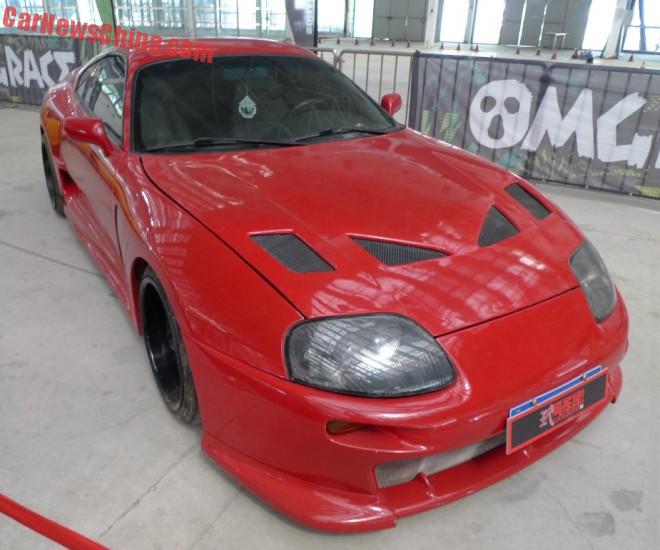 Moving on to this fiery red Toyota Supra. An old friend indeed, we first met it back in 2012, and it hasn't changed a bit. The 'Suup loox like a race car but it has a bog standard road-car interior. This red monster is very similar to a gold Supra that lives in the capital as well.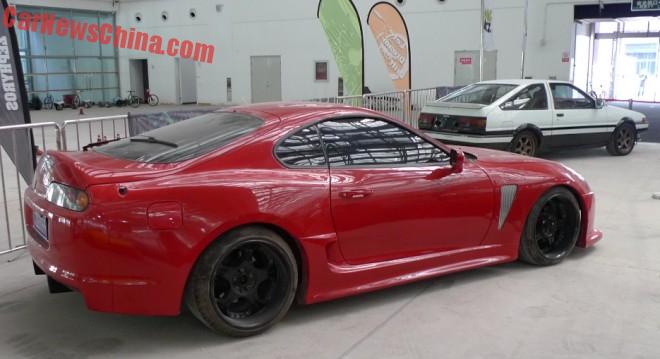 A truly fantastic body kit with an integrated rear wing, a diffuser, air vents and intakes, and super wide racy tires with black five-spoke alloys. The MK VI Toyota Supra was manufactured from 1992 until 2002, it was never officially exported to China but some cars arrived via the gray market, and today most have ended up with local drift and race competitions.
The MK IV was available with two mighty Toyota engines; a naturally aspirated 3.0 inline six with 220hp and 280nm, and a twin-turbocharged version of the same engine with 280hp and 431nm. The latter was upgraded to 320hp for some export markets in Europe. Sadly, we do not know how many horses sit under the bonnet of this matte gold racer, but we bet a whole lot more than standard.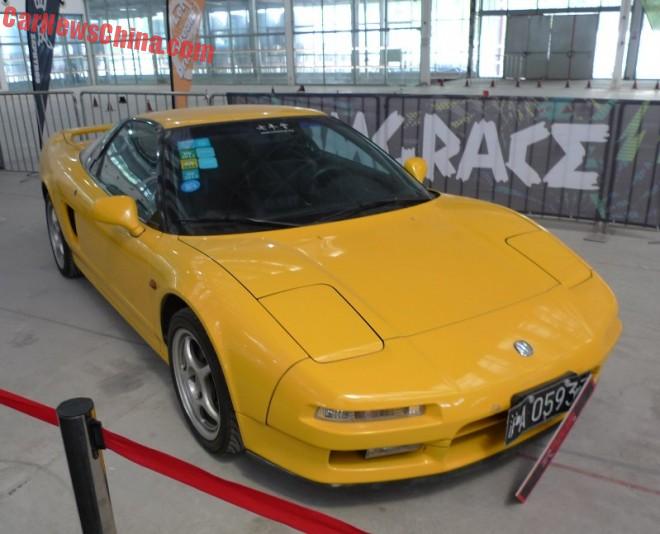 A mellow yellow Acura NSX with black Shanghai license plates. The vehicle was in a very good shape but the matte gray alloys are not original. The Honda/Acura NSX was manufactured from 1990 until 2005 with a facelift in 2002, this is a pre-facelifted car with the original pop-up headlamps. Earlier on we saw another yellow NSX in Heyuan.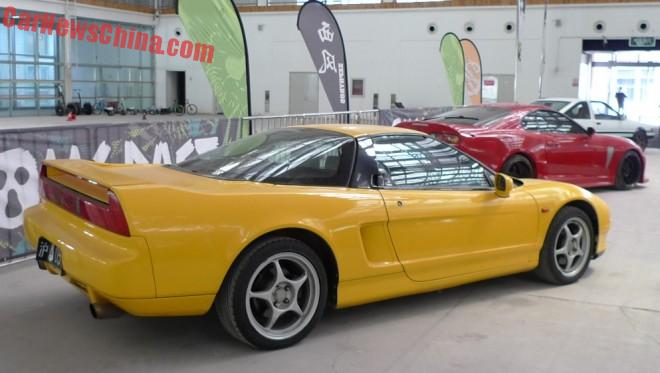 And like all cars in this article the Acura NSX was not officially exported to China. Black license plates indicate it was once owned by a foreign-funded company which were allowed to import their own cars in the 1980's and 1990's. Must have been a hell of a business! The NSX was powered by a reliable 3.0 liter V6 with 270hp and 280nm, good for a 280km/h top speed and a 0-100 in 5.2 seconds.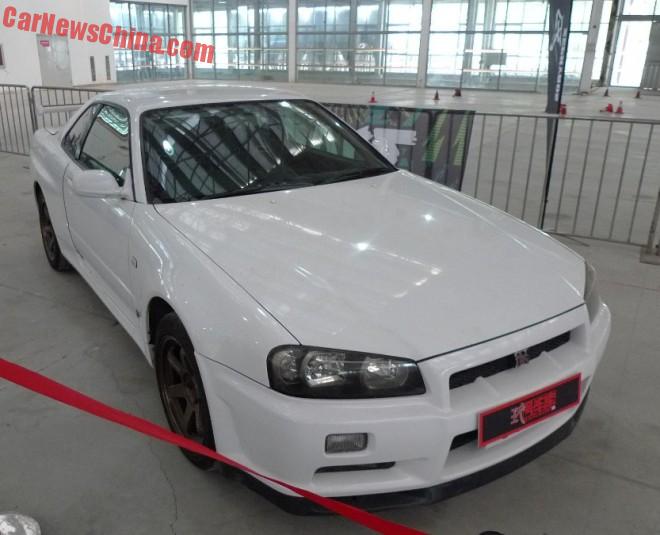 A wondrous white R34 Nissan Skyline GT-R, the most famous of all the Nissan GT-R series. The car was in absolute top condition and fuzzily fitted with the same alloys as the Toyota AE86. Same owner, maybe. The superb R34 was only manufactured from 1998 until 2002 and is much sought-after today, even in China where it is relatively unknown. We only met one other in the country, and that was in Hong Kong, so that is kinda in-the-outside.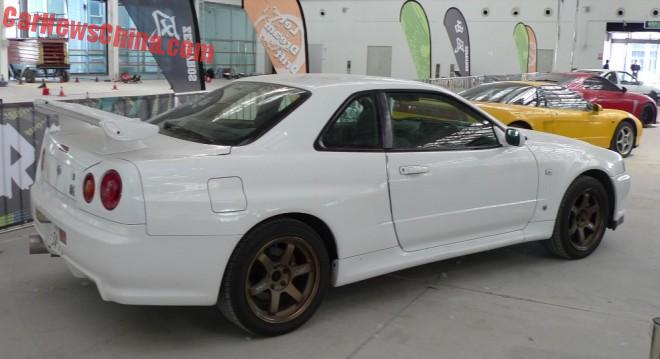 Exhaust pipe is not original, but it will sure sound badass! The R34 Skyline GT-R was powered by Nissan's famous 2.6 liter 'RB26DETT' twin-turbo six-in-line, pooping out a hefty 335hp and 392nm in base form, but these engines are so strong they can handle up to a thousand horses.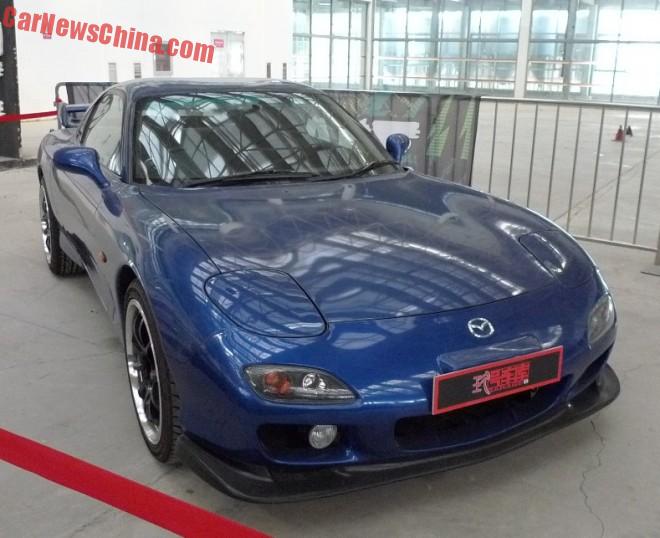 And we are ending this story with a familiar face. We met this blue third generation Mazda RX-7 just a week ago on the Beijing Tuning Street. They had it nicely cleaned up for the show, looking stunning in dark blue fitted with black alloys with a shiny rim.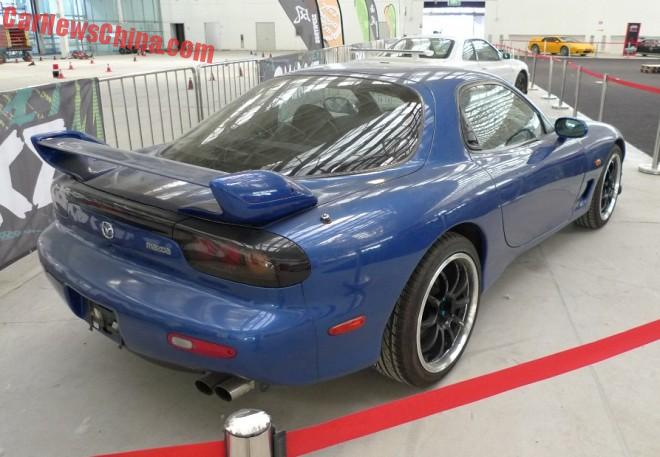 The third generation 'FD' Mazda RX-7 was manufactured from 1991 until 2002. This particular car in Beijing is a rare 'Series 8′ example, the final series made from 1999 until 2002. Power comes from a manic 1.3 liter rotary engine. Initially output was 255hp but on the Series 8 the engine pooped out 280hp and 314nm. More Mazda RX-7 to come soon!