We are still in Hall 1 of the fantastic FB-Show 2015 (intro) in Beijing where we also found a flock of speedy Japanese cars. and a bunch of special Germans. Time now for the Italians, and we start with the absolutely brilliant Alfa Romeo SZ, nicknamed 'Il Mostro', the Monster.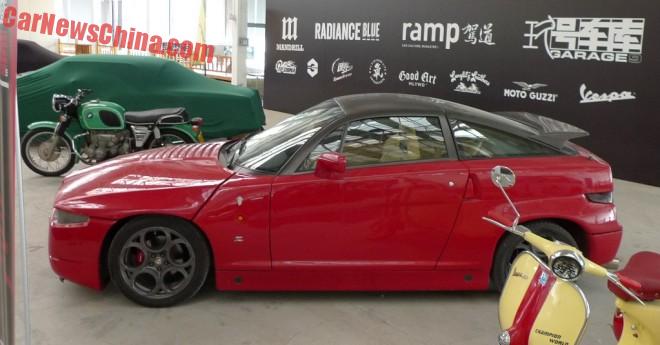 SZ stands for 'Sprint Zagato', as the car was developed and build in partnership with the famous Centro Stile Zagato, although the outrageous exterior was penned by Robert Opron, working for Fiat's own design studio. The SZ, initially known as the ES-30, was based on a shortened variant of the platform that underpinned the Alfa Romeo 75 sedan.
The SZ was launched in1989 and production continued until 1991, with a grand total of 1036 units produced. An even rarer RZ roadster version was made from 1992 until 1994, with just 284 units produced. Power came from a 3.0 V6 with 210hp and 245nm, mated to a five-speed manual gearbox.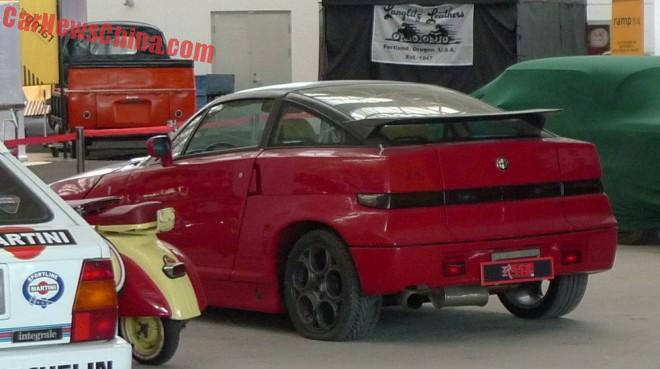 The SZ was never exported to China so how this monster ended up in Beijing is a mystery. It was in a rather poor condition, standing unsteady on a deflated tire and fitted with a non-original exhaust pipe system and non-original alloys. The alloys are Alfa but of a much later date. Keeping the SZ on the road must be hard as hell here, as there are no parts or expertise available, at all. The 75 wasn't sold here either… Let's hope this monument of glorious madness will one day find a new owner who does have the resources to restore the car to its old glory.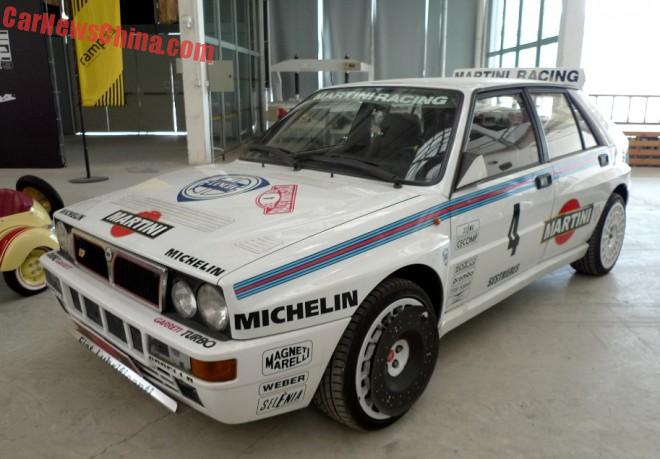 This is a superbly rare 1993 Lancia Delta HF Integrale 16V Evolution II – Martini Bianco. The vehicle started life as a Evolution II, which was the successor of the Evolution, which was the homologation-special for the Delta Evolution rally cars, and they were all based on the mundane first generation Lancia Delta Tipo 831 five-door hatchback.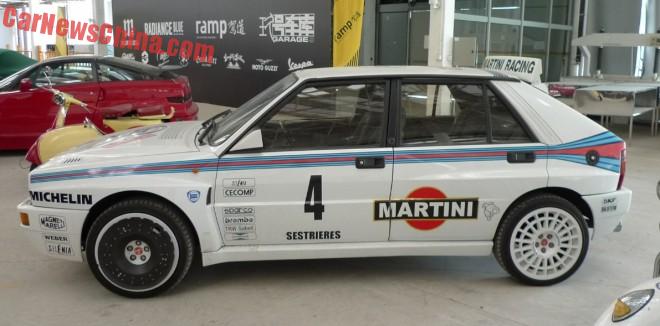 Only four examples of the Martini Bianco were made, intended for promotional actives for the various sponsors of the Lancia rally program, including Martini. The vehicles were finished in exactly the same livery as the 1992 Lancia Delta HF Integrale Evolution rally car, see here and here.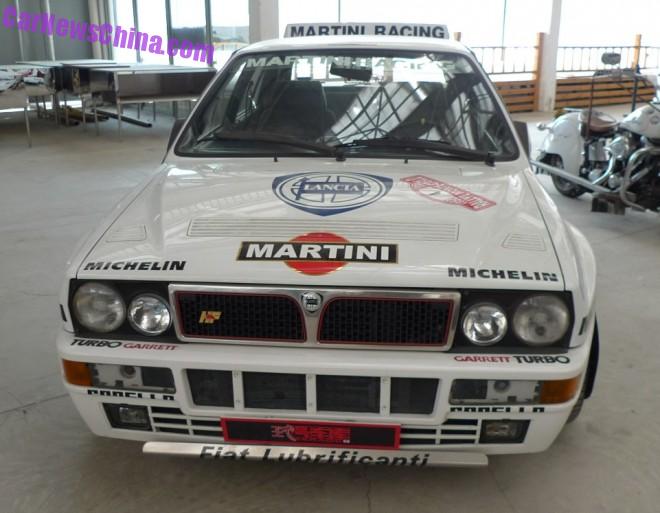 One of these four cars was in the U.K. at least until 2012. That car has standard mirrors while this Beijing car has rally-style aerodynamic mirrors. The Martini Bianco was powered by the standard Evolution II engine; a two liter turbocharged four with 215hp and 314nm.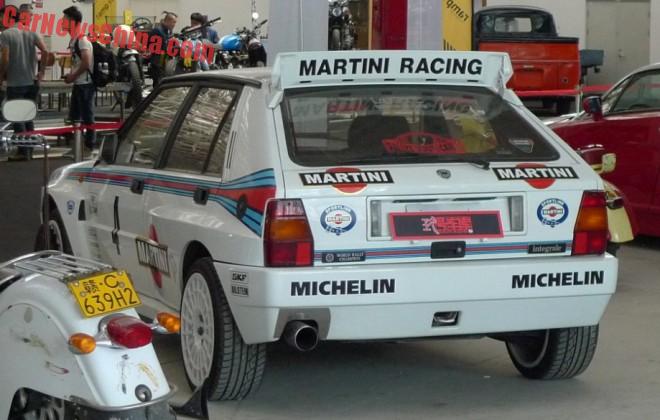 This Martini Bianco has a round tail pipe, whereas the U.K. car has a smaller square pipe. The first generation Lancia Delta was never officially exported to China, so it is again a mystery how it ended up here. Fortunately it is in much better shape than the SZ, looking good enough for a wild ride trough the mountains up north…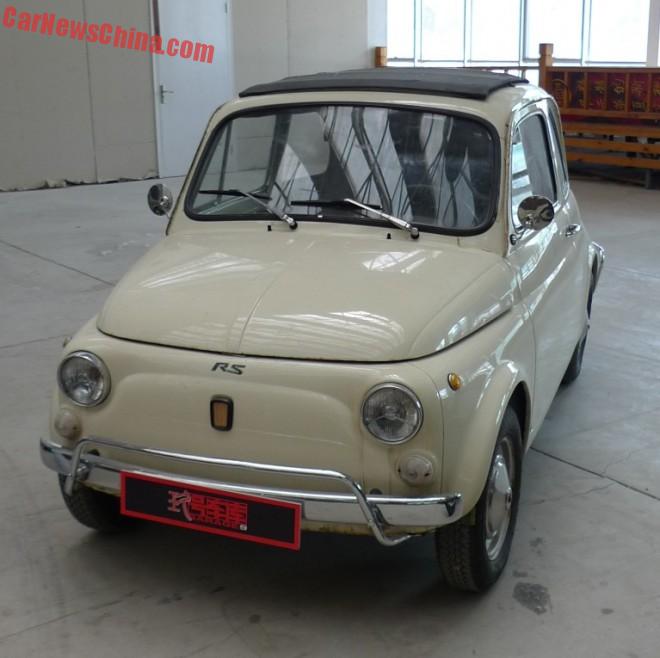 A very sweet Fiat 500 with an RS badge. The original Fiat 500 'Cinquecento' was manufactured from 1957 until 1975. This particular beige example is a 1968-1972 Fiat 500 L 'Lusso'. Power came from a 0.5 liter two-cylinder petrol engine with 18 horses. The 500 was never exported to China but they are not uncommon here, every car museum has at least one and quite a few more are owned by private collectors.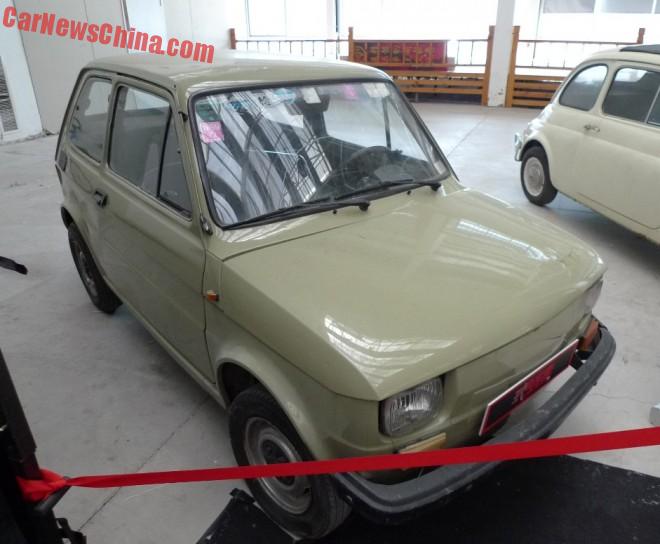 This is a half Italian half Polish Polski Fiat 126P. Polski Fiat was a Polish car maker, making Fiat cars under a license agreement with Fiat of Italy. Production of the 126P (for Polski) started in 1973 and continued all the way until 2000. . The Polski Fiat 126P was powered by a 0.65 liter two-cylinder petrol engine with 22hp and 77nm.
And unlike all the other cars in this and my previous articles on the FB-Show the 126P was officially imported into China in the late 1970's until the late 1980's. The cars were bought directly by the Chinese government from the Polish government in typical communist-style barter trades; ten ton rice for ten cars, and such kind more, for a total of 10.000 cars. They were strong little riders, even in the very early 00's the 126P was still a semi-regular sight on the road, but today they are sadly all gone.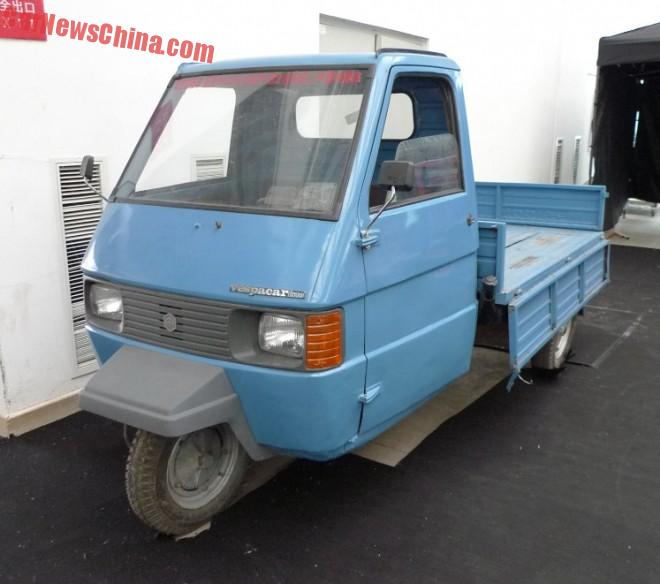 Chinese visitors of the show passed her by without even looking, thinking it was some workman's tricycle. Well, it is, but it is also a rare Italian Piaggio Vespacar tm, a modernized variant of the classic Piaggio 'Ape' tricycle.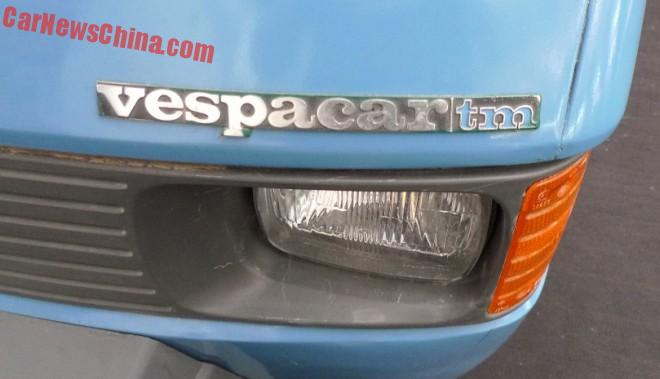 Production of the Vespacar tm started in 1986 and continues until today. This blue Beijing car appears to be an early 1990's example, which was powered by a 250cc motorcycle engine. And again, the Vespacar tm was and it never and not imported into China, but has served as the inspiration for zillions of Chinese tricycle makers.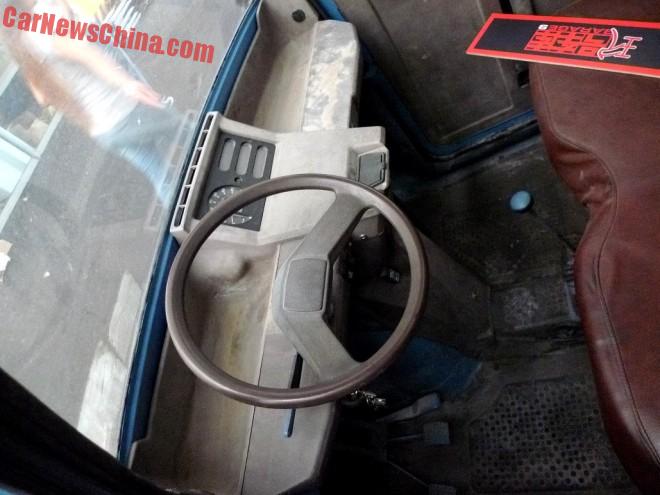 A very basic interior with a large steering wheel, a speedy and a gear lever, and a cozy two-seat bench.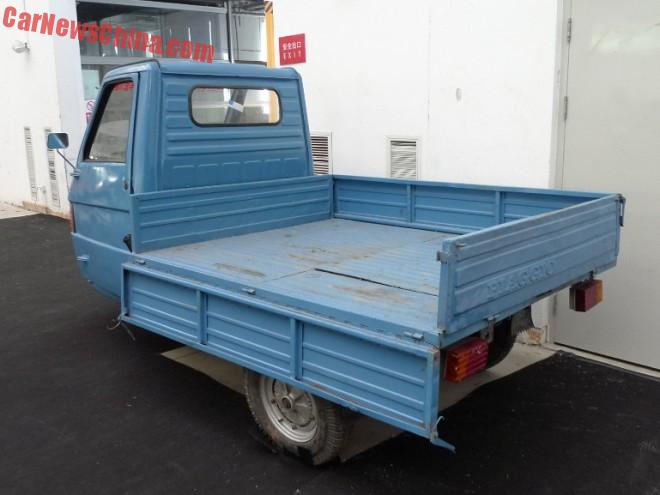 The bed is open for business.
More cars from the FB-Show soon!