A flock of Citroen 2CV's, seen on the the FB-Show 2015 (intro) in Beijing. It was the very first time ever that I met a 2CV in China, and here they had four at once, all in super shape, so I was shaking and sweating of sheer surprise. I went for a beer, got strong again, and returned for the photos.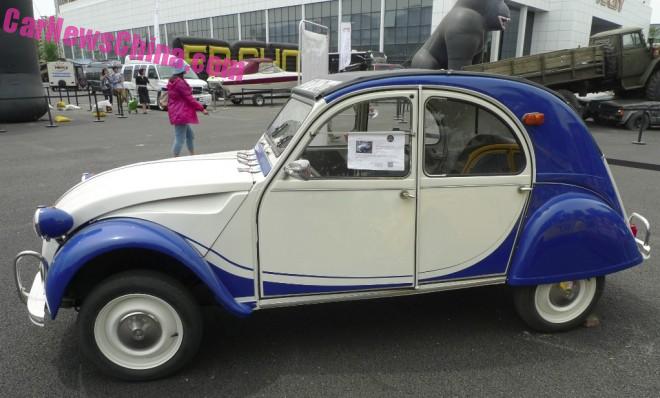 The great French vehicles belong to a fanatic Beijing-based collector. He has founded the '2CV Club', which owns and maintains some ten 2CV's at any given time. Some are sold on to other collectors, and some end up in museums. The cars are also for rent for movies and commercials. Membership costs a hefty 16.000 yuan a year and comes with three days of free use of one 2CV, golf trips, wine tastings, and even trips to France. Lotta good…
But there is a big but. The vehicle are absolutely not road-legal in China and can only drive on special occasions such as auto shows and classic car rally's. It is also a bit misty how the cars got into the country. The 2CV was never sold here in period so they aren't some oldies that survived. Chinese law forbids the import of any second hand car; period. But there are some exceptions for cars destined for museums and auto shows, but that is usually on a car-by-car basis. However, those with the right connections can get more cars in. Gotta have friends..!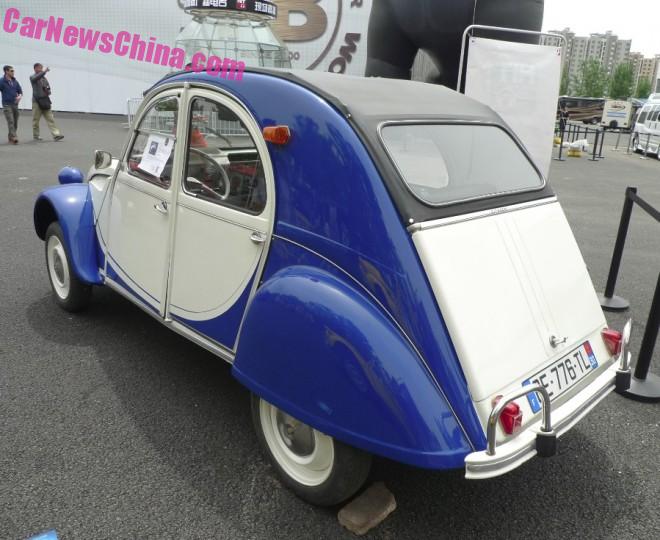 No matter all that now, let's have a look at this blue beauty. It is a 1965 2CV Charleston painted in Marina blue  over white. The year 1965, it should be remembered, was the last year without the third side window. This particular example was dressed up with bumper extensions front and rear.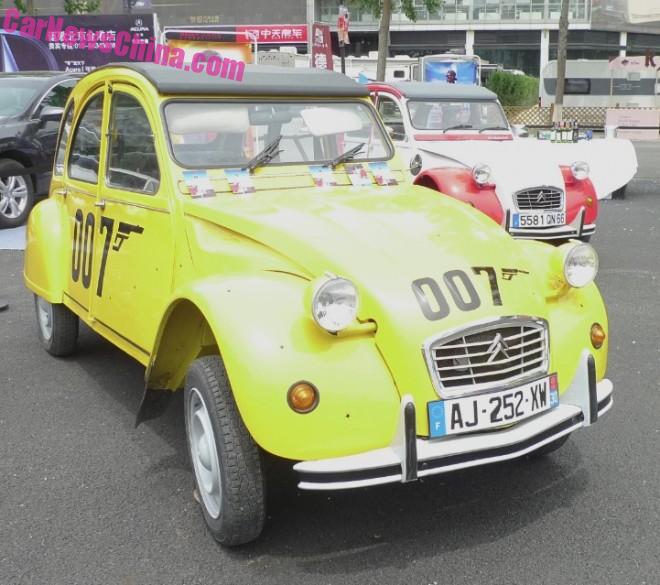 A completely original 1981 2CV Special Edition 007, based on the similar yellow 2CV that was driven at great speeds by James Bond in For Your Eyes Only. The 007 came in yellow only with black 007 and bullet hole stickers. Otherwise it was a completely standard car.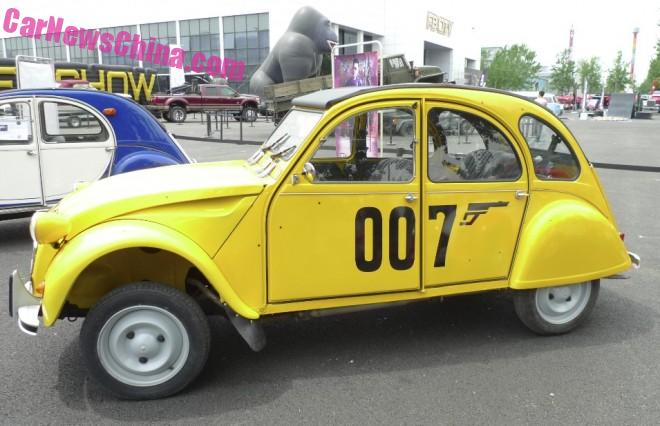 The 2CV, from deux chevaux or two horses, was manufactured from 1948 all the way until 1990. The air-cooled flat-twin engine was never really two horsepower. The very early cars had about nine horses, and the very late about 29. Power went to the front wheels via a four-speed manual with the lever located horizontally under the dashboard.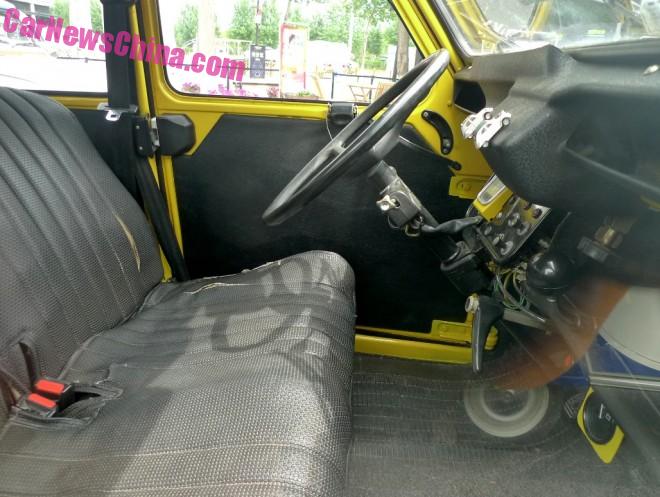 The gear lever with a round black knob. To the right of the knob the turn screw that operates the ventilation flap. The lever below is for the handbrake. Front bench is wide enough for three if you squeeze a little bit.
I have many great memories of the 2CV. My mom had one when I was in high school back home in Holland, it was a 1985 example painted in light green. The 2CV is nicknamed 'Eend' in the Low Countries, meaning 'Duck'. I learned to drive in it and when I finally got my license I used it to go everywhere, carrying guitars and amps, beds and boxes, and many cases of Heineken beer!
But best were the rides to the beach, usually with a girl, or with my parents' dog, or with a girl and the dog. The beach was only 20 minutes away, straight west from the house, and on summer days the car was a paradise, roof and windows open, singing for the music, and off we went again and again. My parents sold the car in 2002 when parts became too scarce for the budget. Memories remain…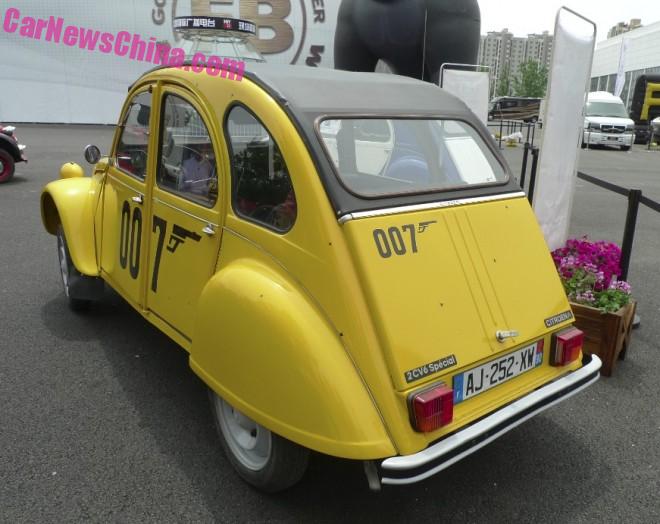 oo7 sticker on the doors. 00 on the front door, and the seven-gun on the rear. Same sticker on the back. License plates are fake France.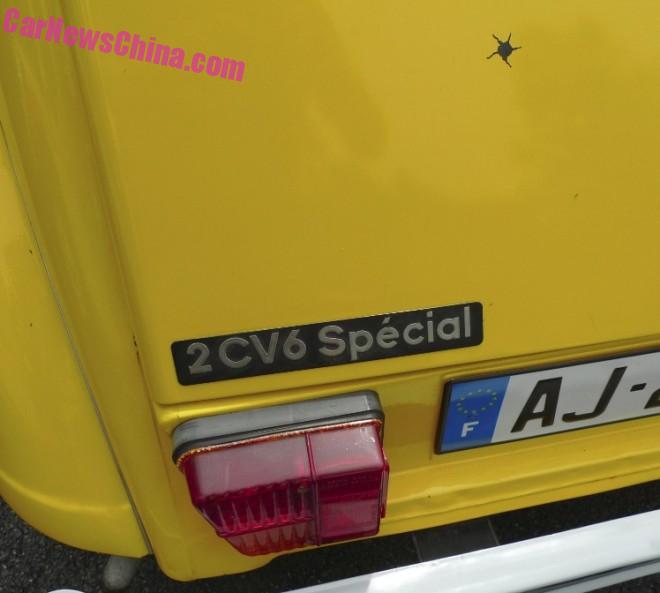 Bullet hole! 2 CV6 refers to the 0.602 engine with 29 horsepower.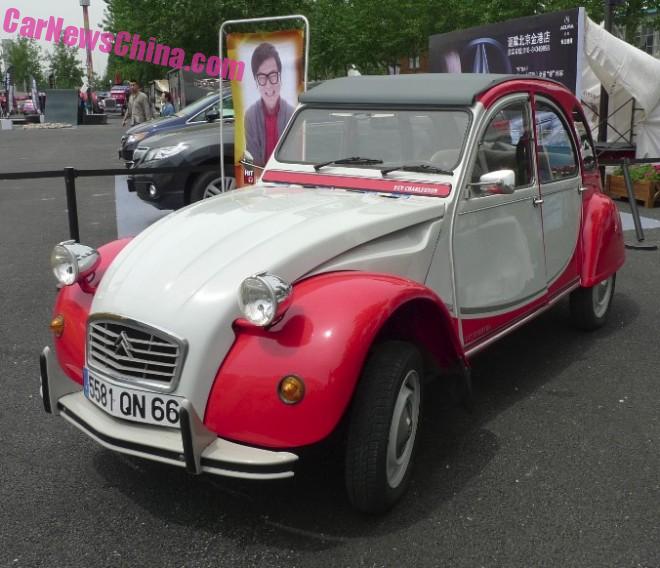 A very beautiful 1982 Charleston. The Charleston started life in 1981 as another special edition, but the trendy two-tone paint job proved so popular that it became permanently available, more like a trim level than a true special. This one is painted in red over white with chromed headlights and mirrors.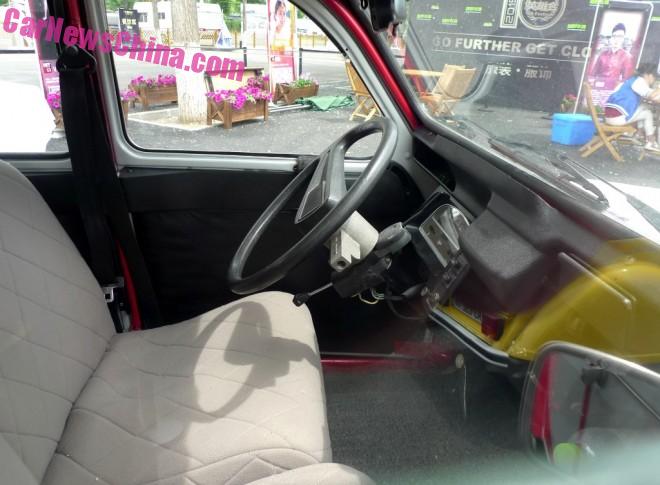 Single spoke steering wheel. Seat covers are not original but probably period.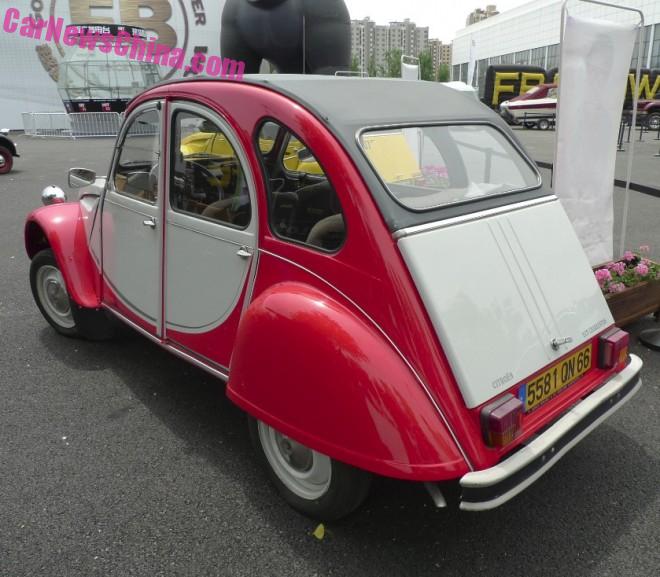 Brilliant that thin white line running from the rear-door handle to the bumper. Note tiny exhaust pipe just to the left of said bumper, painted in white! Wheels white with a chromed center.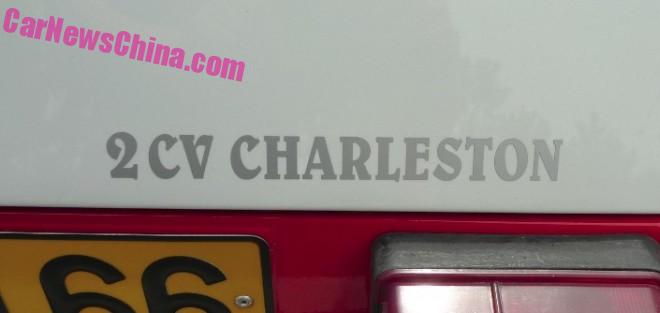 The 2CV Charleston.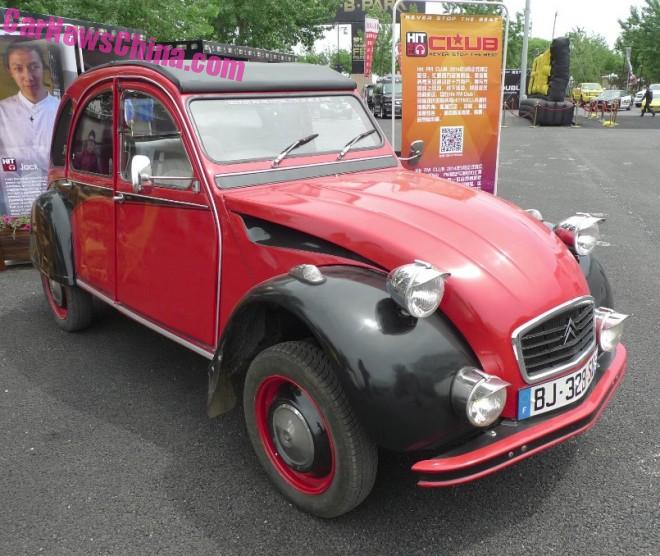 And then there was this odd car, parked some distance away from the others. It is a 1985 2CV Dolly, but fitted with extra lights front and rear, and a third brake light on the back! The headlights have extra covers on the top. It seems like this particular car was modified for a particular country, but I have been unable to find out more. If you do know more, please let me know in the comments.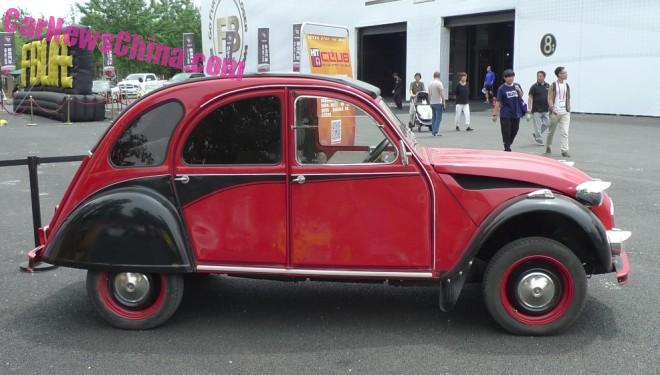 Rear windows were darkened, and that too is very special. Mud flaps at the front but none at the rear.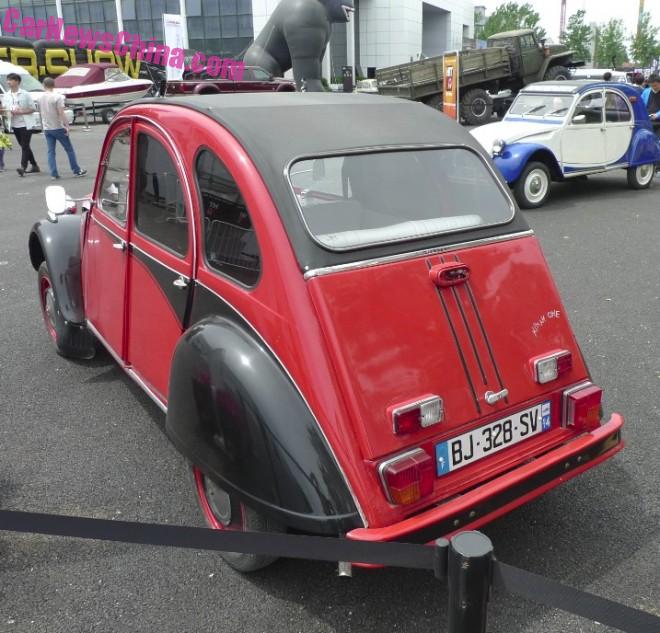 Plate is a fake French again. Third brake light just under the rear window. Extra lights above the standard lights, with a red lamp and a white reflector. Intriguing! And intriguing anyway to see four perfect 2CV's in the Chinese capital, may they stay for a long time a coming.