A Hongqi L5 sedan and a Maybach 62 dressed as a wedding car, seen on the parking lot of a hotel in the great city of Shanghai. Both are great cars with loads of power and loads of presence, but you can have only one. Which one? Time to compare!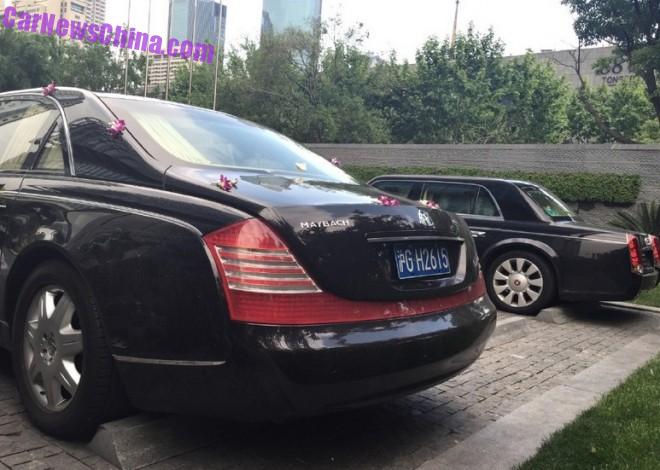 Money first. Fuzzily, none can be bought new. Price for the Maybach 62 is however holding up nicely. A good S goes for 11.88 million or $1.9 million on the second hand market. And a few weeks back I met a non-S, like this car in Shanghai, on sale in Beijing for 7.88 million or 1.27 million  USD! The all new Mercedes-Maybach S600 is a bargain, moving for 2.88 million or $462.000. So you can have four of those for one second hand 62S.
To the Hongqi now. Not available on the market yet, although a private version has been announced many times. However, persistent rumors say that those with the right connections can get one for about five million yuan or 805.000 USD.
Final: L5 for 5 million, and a 62 for 7.88 million.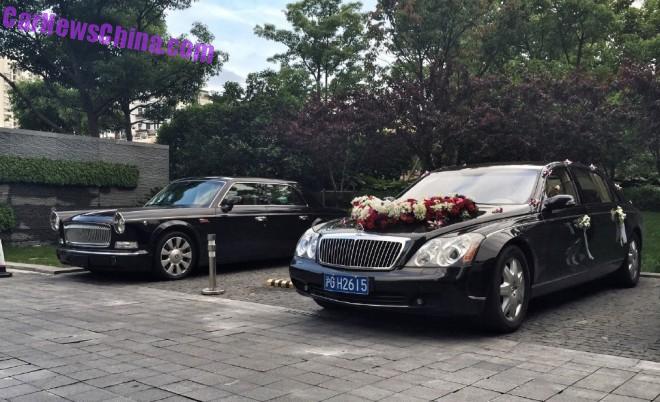 Power now.
The Hongqi L5 is powered by a  six-liter V12 with 408hp and 550nm, mated to a six-speed automatic. The Maybach 62 is powered by a massive 5.5 liter twin-turbocharged V12, good for 550hp and 900nm.
But! The official civilian variant of the L5, if it ever arrives for real, will likely be powered by the twin-turbocharged V8 with 391hp and 530nm that debuted in the Hongqi LS5 SUV concept. This though doesn't matter that much for our current contest.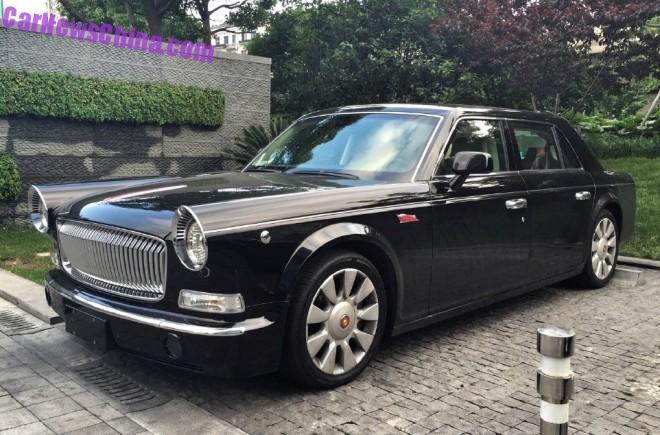 Flag pole holders prove this L5 too is a government car.
Size wise:
L5: 5555/2018/1578, wheelbase is 3435.
62: 6160/1981/1575, wheelbase is 3828.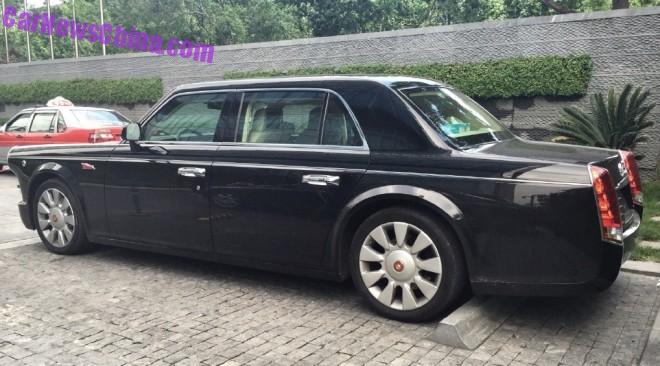 So the 'Bach is more expensive and more powerful than the Hong'. It is also longer and it has a longer wheelbase, but the L5 is wider and taller. The Maybach seems a clear winner when it comes to the naked facts. But does it also win when it comes to looks and character?
Leave your choice and commentary in the comments below: