The first Spy Shots of the new Changan CX70 SUV for China. It will be launched on the Chinese car market in late Q4, price will start somewhere around 85.000 yuan. The Changan CX70 will be positioned between the smaller Changan CS35 and the larger Changan CS75. That is CS and CS, but this new one is a CX. Wouldn't make sense anywhere in the world, but in China it does. Logo on the grille indicates the CX70 is manufactured by Changan's commercial division that mostly makes minivans and mini MPV's.
The much-discussed logo does not depict a missile or a penis, but, according to the automaker itself:
"The logo's image is based on the running track of celestial bodies – oval, capturing C and A, two key pronunciation letters of CHANGAN", and in the same paragraph they also say: "The logo contains an abstract combination of mini-van with modern overpasses."
That is, a lot of meaning.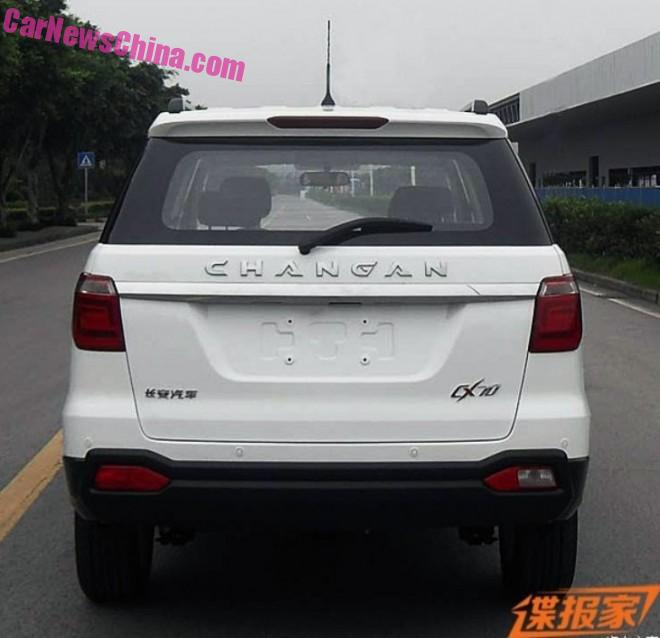 Design of the rear end was inspired by the Ford Explorer, which makes for a classicl case of screwing-your-partner, because Changan Automobile has the Changan-Ford joint venture with Ford.
The CX70 will be powered by a 1.6 liter four-cylinder petrol engine with a mere 117 horsepower, which won't make it very fast, especially since the CX70 is not very small: 4680/1800/1750, and wheelbase is 2780.
The photos appear to show a cheap version with plastic wheel covers and without roof rails, and an expensive version with sweet shiny alloys and roof rails, which are just big enough to be useful.