A dramatic supercar crash in China. A Lamborghini Huracan hit into the left side of a Beijing Auto D50 taxi in front of the Workers' Stadium in Beijing. The taxi in turn hit into another taxi, and that taxi into a passenger car, making it a rather unique 'hit one damage three' accident.
Happily, nobody got seriously injured. The brand new Huracan was unregistered and without license plate, making it very illegal on the road. Eye witnesses say the passenger jumped out and disappeared in the crowd. Minutes later the driver exited the vehicle too, hailed a tricycle taxi and was gone. Police are looking for both men and have impounded the Lamborghini.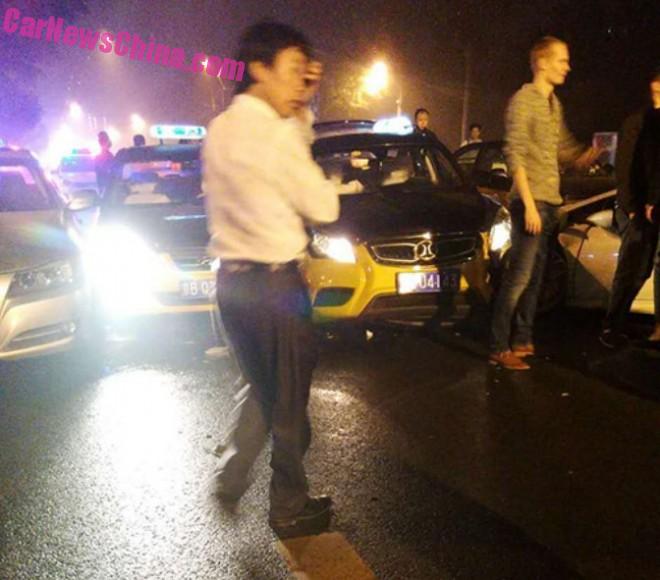 The area is home to zillions of bars and clubs. The Lamborghini apparently tried to enter the stadium's north gate but somehow didn't see the taxi's. They are always standing there, row after row, waiting for drunk party poopers to take home.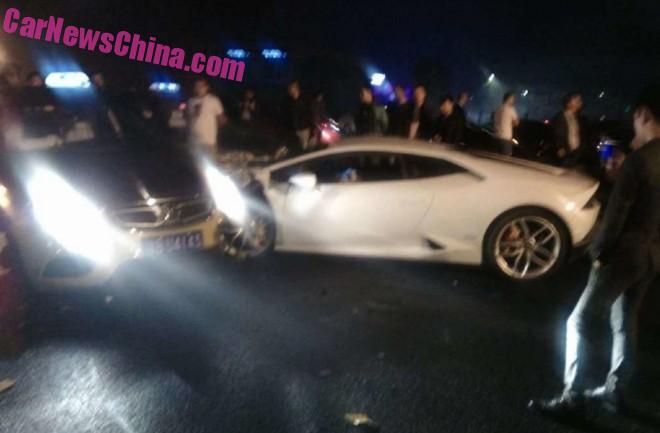 The Huracan does for 4.29 million yuan in China (670.000 USD). It is powered by a 5.2 liter V10 with 610hp and 560nm. Top speed is 325km/h, 0-100 is gone in 3.2 seconds and 0-200 is done in 9.9 seconds.