This is the new 2016 Volvo V90 Estate, seen in 1:43 scale model form, leaked by an employee of a car model factory in China. The photos are crystal clear, showing the sleek new wagon from every side. The new leak comes hot on the heels of the sensational and similar leakage of the Volvo S90 sedan.
A beautiful tail with enormous lights stretching from the license plate all the way to the roof.
It appears the model was manufactured in China for the French car model company Norev. We are sure that Volvo ordered 2000 models of the S90 sedan at Norev, who outsourced the job to a Chinese toy maker. It seems reasonable to expect Volvo ordered 2000 V90 Estates as well, and apparently at least one of those was stolen, and ended up on the interwebs.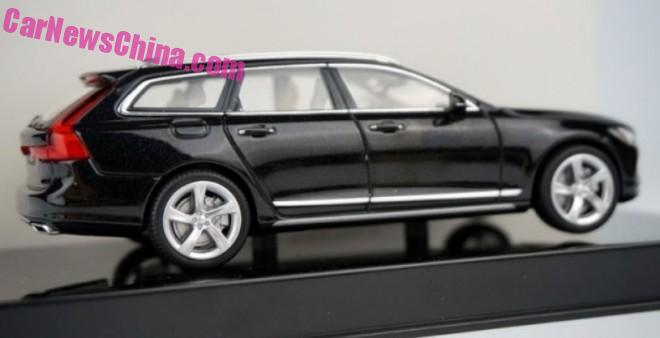 Spectacular lines, design wise a four-door version of the 2014 Concept Estate concept. It seems large enough to work as a 'real' wagon as opposed to a 'sport wagon', which would make the V90 the first proper new Volvo wagon since the launch of the 2007 third-generation Volvo V70 (wiki).
The X90 will also spawn a cross variant called XC90, which is set to compete with the Audi A6 Allroad.
The engine lineup of the S90/V90 will be the same as on the recently launched Volvo XC90 SUV:
T5: 2.0 turbo: 257nm and 350nm.
T6: 2.0 turbo + supercharger: 325hp and 400nm.
T8: Drive-E hybrid. 2.0 turbo + supercharger and a 80hp electric motor. Total: 405hp and 640nm.
D4 diesel: 2.0 turbo: 193hp and 400nm.
D5 diesel: 2.0 twin-turbo: 228hp and 470nm.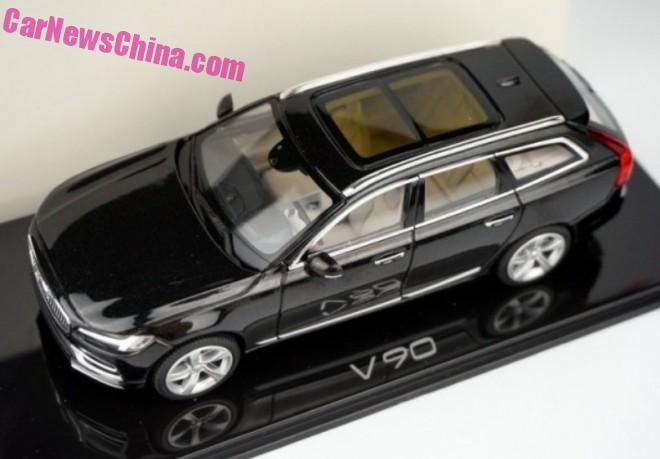 Chromed roof rails, a large panoramic sunroof, a shark fin antenna, and a big window spoiler.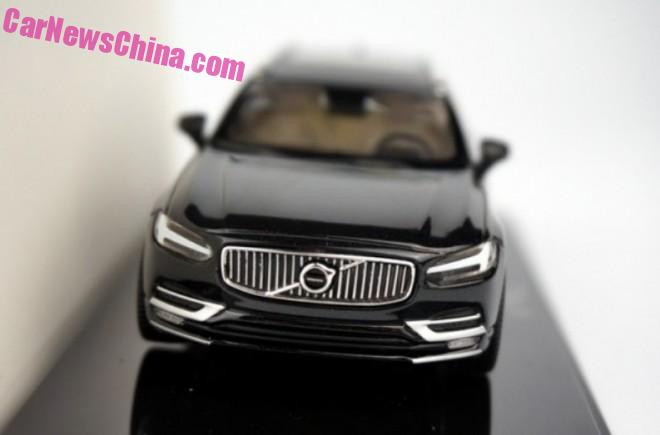 'Thor's Hammer' headlights similar to those on the XC90, working best with a dark colored car.
This black example is so far the only 'nicked & leaked' model we have seen, but we can kind of feel some more are on the way…