Spectacular Spy Shots of the China-made Jeep Renegade, spied by Reader Antoine Chalendard in the great city of Shanghai, thank you for the photos! It is, as far as we know, the first time the Renegade has been seen there, it is rather unusual in any way for test cars to turn up in the middle of such a big city.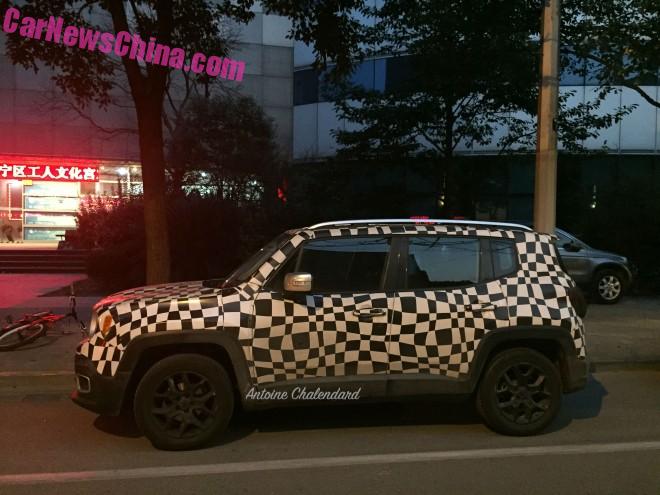 The Jeep Renegade will be manufactured by the Guangzhou-Fiat joint venture in a new factory in Guangzhou City. Mass production will start very soon and debut is expected for the Beijing Auto Show in April, with a launch on the Chinese car market in May or June. The Jeep Renegade is based on the same platform as the Fiat 500X and Fiat 500L, both of which will be made in China as well.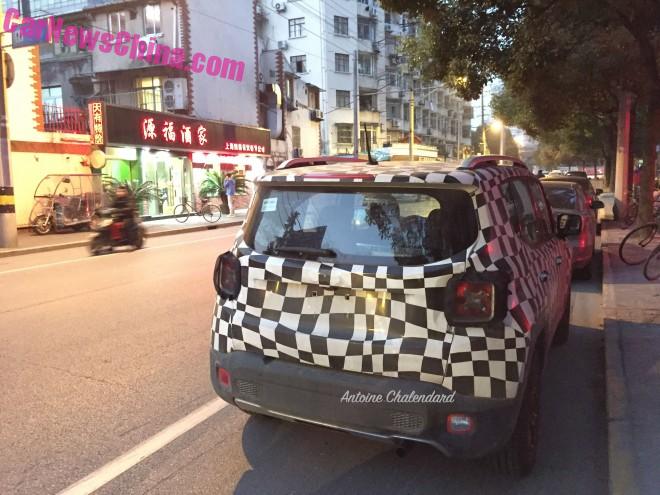 Renegade standing pretty in a typical Shanghai street. Pipe yet without a tip.
The China-made Renegade will be available with two four-cylinder petrol engines: a 1.4 turbo and a 2.4. The 1.4 will be mated to a six-speed manual or a six-speed DCT, and the 2.4 will be mated to a nine-speed automatic. Price will start around 150.000 yuan and end around 280.000 yuan ($24.000 – 45.000).