A truly fantastic Volkswagen Bora R sedan, Spotted in China on a parking lot near the New China International Exhibition Center in Shunyi District in Beijing. The great R was in a truly fantastic form, completely original down until the alloys, paint smooth and sound, and all parts in were place, just bloody brilliant! The only thing she is sadly missing is the R badge on the grille.
The Volkswagen Bora R was a very special car. It represented a rare moment of magnificent madness at Volkswagen China, when the normally rather steady FAW-Volkswagen joint venture suddenly decided to do something crazy with the first generation China-made Volkswagen Bora (Jetta A4).
And crazy the R was. A unique China-only super sporty small sedan, only available in black, fitted with a factory body kit including a giant wing on the back, 16-inch tires with racy six-double spoke alloys and red brake calipers.
The suspension was stiffened with R-only shock absorbers and coil springs and the ride height was lowered, making for much better handling and cornering. The engine too was very special. Power came from the famous Volkswagen 1.8 turbo with 180hp and 235nm, mated to a five-speed manual gearbox, sending power to the front wheels. Top speed was a hefty 225 kilometer per hour!
The same engine was also used in much bigger China-made cars from the Volkswagen Group, including the Volkswagen Passat and Audi A6, the latter was also made at FAW-Volkswagen.
The R also got a shipload of electronics that the base R never even dreamed off; ABS, EDB, ESP, and even an electronic brake assistant system called 'TCP'. It was however not a die-hard race car, it came with luxuries such as cruise control, power seats (front) with a memory for three settings, a radio-CD player with a fancy flat screen, a speedy gear knob, and beige leather everywhere.
All this pretty had a price. When new the Bora R went for a steep 259.000 yuan, while the base Bora 1.8 started at only 221.900 yuan. The R was manufactured from 2005 until 2009. Sadly and oh so badly it was not very popular in period. The Chinese market in those days wasn't ready for a relatively expensive sport sedan that was not particularly comfortable, thanks to all the racy stuff. The people just didn't get the concept. Today however the R has become a kind of cult car, and perfect examples can command high prices on the second hand market. This brilliant Shunyi car is probably worth a small fortune.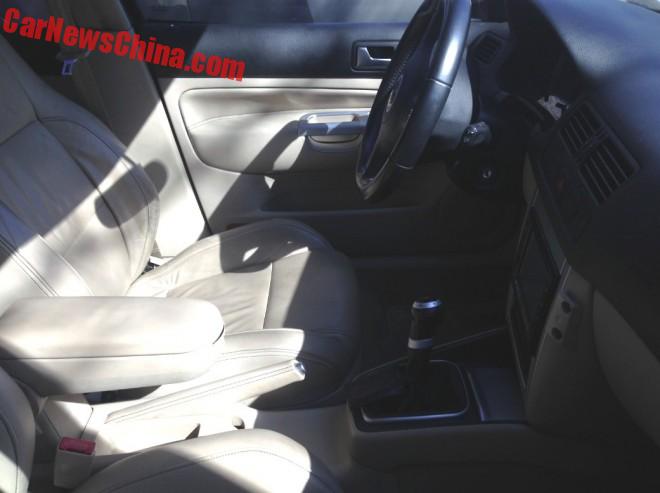 Leather is a bit worn but should be an easy fix. Manual 'box with two shiny rings.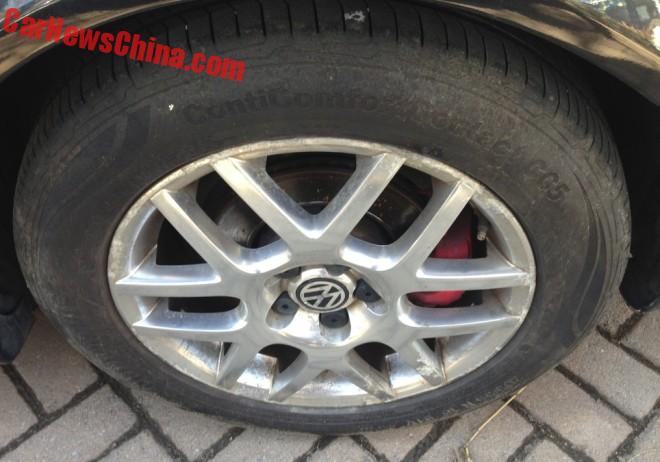 The original alloys and brakes.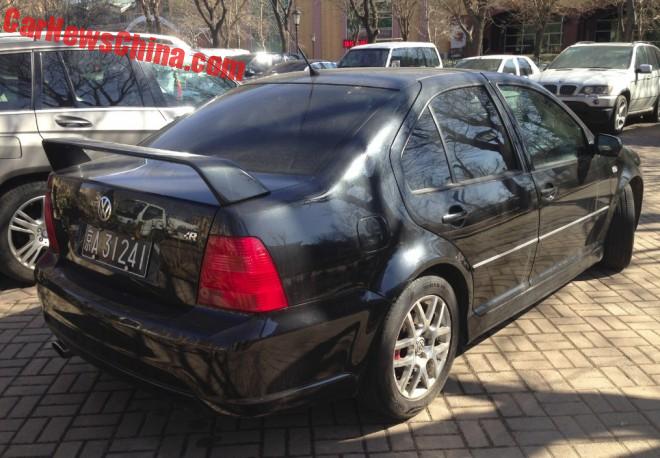 The original wing (!!!) and exhaust pipe.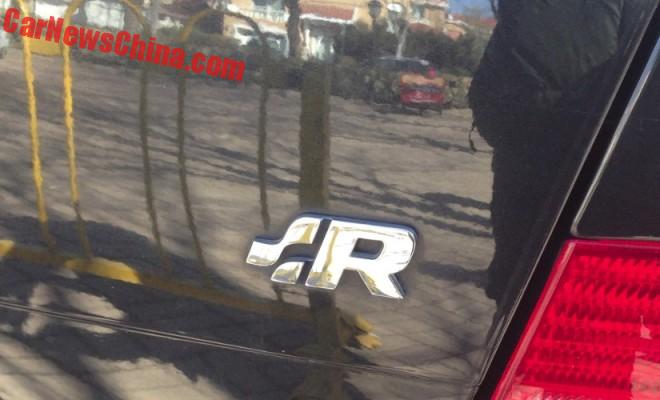 The racy R badge.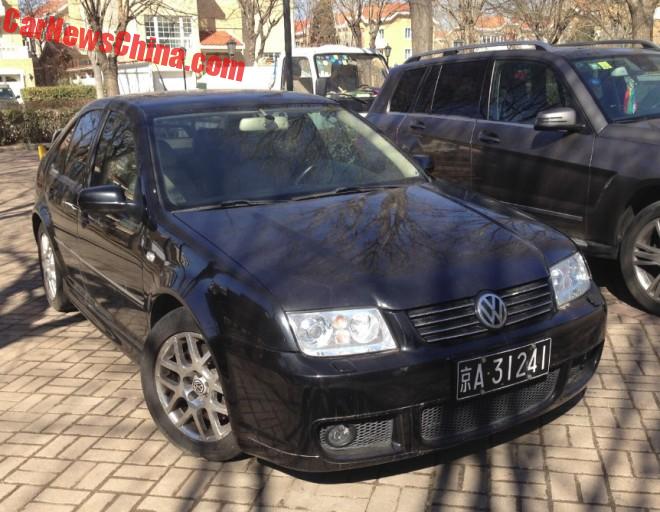 Black license plates indicate that this particular example once belonged to a foreign-owned company, but the sequence is almost too good to be true, so it might be fake plate. But no matter that little detail!, this Bora R is one of the very few truly special China-only cars, and deserves praise and recognition. And the owner too should be lauded for keeping his R in such a superb shape. May the 180 horses roar!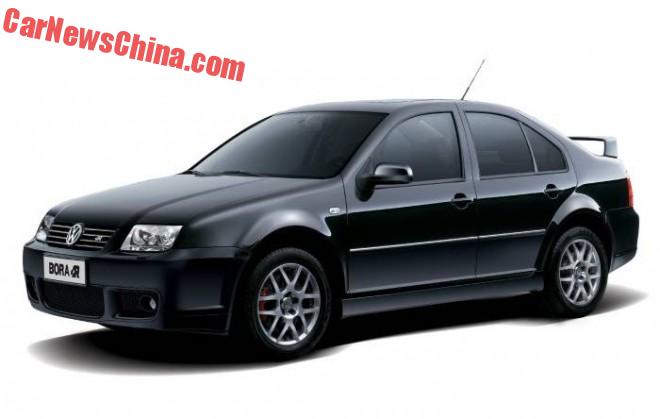 Period factory photo of the Bora R, with the R badge on the grille. Interestingly, the only other Bora R we saw in Beijing also lost that badge. Maybe it was fitted too loose.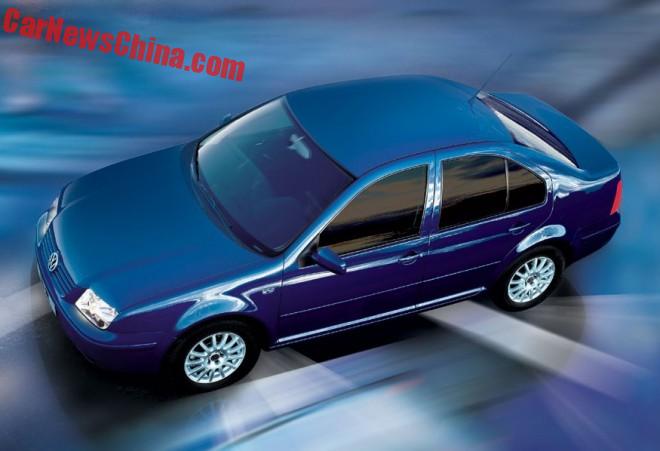 The base first-generation Chinese Bora, made from 2002 all the way until 2010.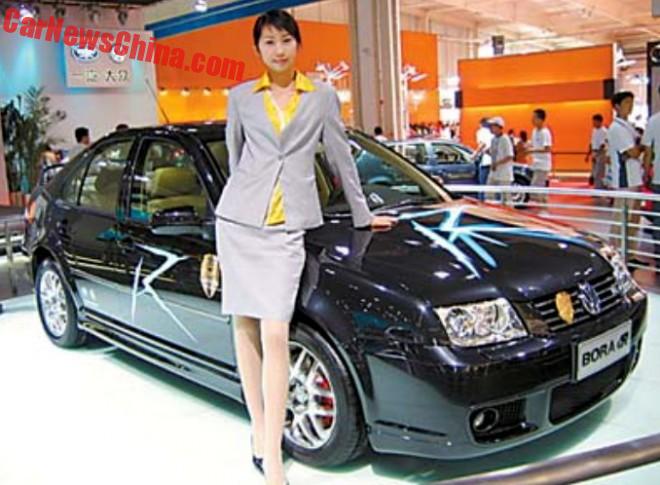 On show with a sweet little lady and some wuzzy stickers and badges. This is… the R!