A kinky Rattle E28 in Pinky, Spotted in China on a small square in front of a mall in the Fangzhuang residential area in south Beijing. The cars were parked out in the open, the preferred way of selling LSEV's these days, and belonged to a nearby shop. Next to the Rattle stands a Dayang Chock-H and next to that a  purple blue E28. We will have a good look at all of them.
The Rayttle E28 is a perfect clone of the Renault Twizy EV and it is becoming quite popular in the capital, with several shops selling them now for about 28.000 yuan ($4300). This particular shop was selling for 27.888, eight being a lucky number in China. I only found that out when I went into the shop, because…
… the salesman told me no shit. He, looking far too trendy for his business, got visible nervous when I entered the square and started taking photos of the vehicles on display.
Foreigners are very rare in this part of town, so maybe he got scared. He started walking to left and right and then made a phone call, talking manically, 'laowai' this and that and such and so. Laowai is an officially nice but in reality rather not nice way of addressing a non-Chinese.
He then finished his call, suddenly walked up to me, took a photo of me with his ugly ass phone, and walked away to the other side of the square, hiding behind a Dayang. Naturally I followed him and took his photo. An eye for an eye! He didn't expect that and stood like frozen, so I quickly asked him about the Rattle, how much and how fast.
He said he didn't know and ran off again, disappearing into the shop. I followed him there too but once inside he has gone up in smoke. I did find a girl we gave me a brochure with prices. How hard was that?!
This sort of happenings are not unusual, although the salesman really was kinda weird.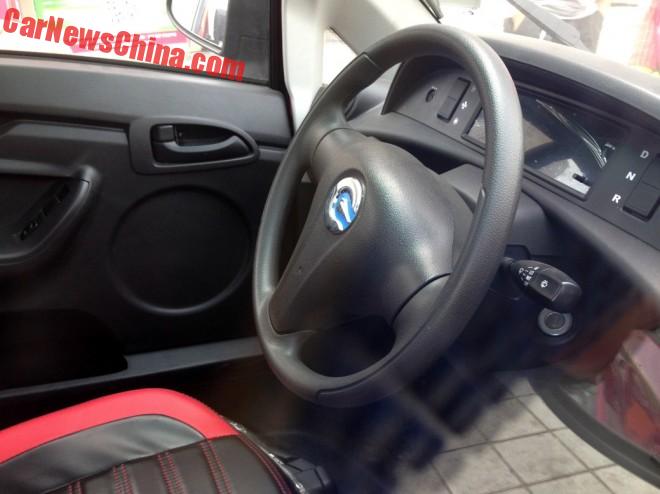 The interior of the Rattle, looking speedy with faux leather seats and a digital instrument panel. Drive selector is located on he dash itself, on the right side of the panel.
There are two motors available, one with 3.5 kW and one with 4 kW, but Rayttle doesn't list any differences in top speed or range. The motor is located in the back driving the rear wheels. Top speed is 45 kilometer per hour and range is 120 kilometer. Battery is a is a 60V/120Ah lead acid.
Disc brakes up front and drums at the rear. Curb weight is 600 kilo and max load is 200 kilo. The E28 seats three, one driver in front and two passengers in the back. Size: 2650/1240/1510, and wheelbase is 1884.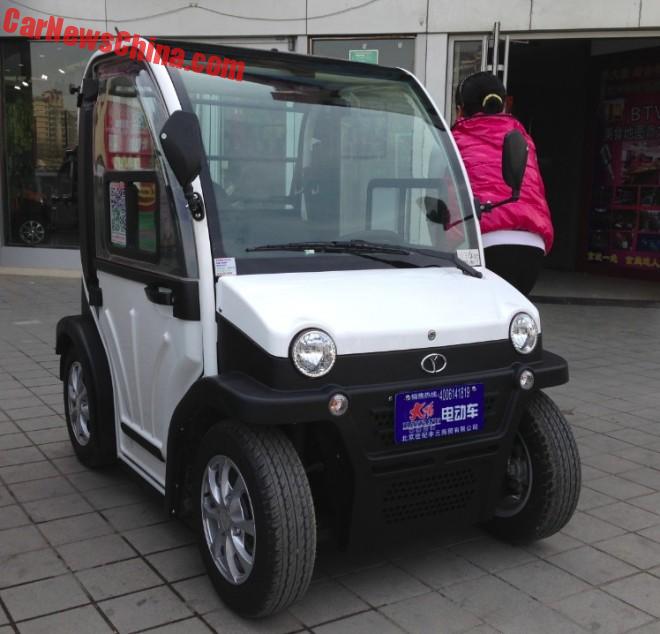 Shop in the background. Girl in pink had something to do with it all too, but she ran off as well. The girl inside the shop was yet another one. I didn't take her photo, she looked kinda sad and scared. Anyway, this fine car the Dayang Chock-A, formerly known as the Dayang Chock, without the '-A'.
All these motors are so called 'Low Speed Electric Vehicles', or LSEV's. They are fast becoming very popular in the big cities; they can avoid traffic jams and are small enough to park everywhere.
The legal situation in Beijing is a bit murky. Officially only the elderly and the handicapped are allowed to buy this sort of cars, but in the reality of today everybody can, now even in the center of town, with shops popping up straight inside the Salitun beer and entertainment area! It must be great to drive a Chock when drunk.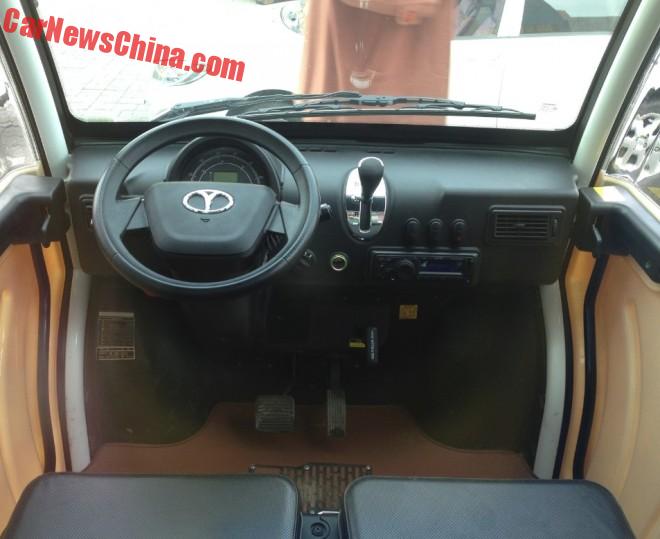 The interior of the Chock-A.  Note the pedals. They are in the middle. But the wheel and the driver's seat are on the left. That is horrible. Maybe the driver should steer and brake, and the passenger accelerate. Drive selector is mounted mid on dash, housed in a shiny panel. Below that sits the radio with a USB plug.
The Dayang Chok is manufactured by Dayang Motorcycle, one of the largest motorcycle makers in China. Dayang Motorcycle is owned by Dayun Group, a giant conglomerate making heavy trucks, light trucks, and engines. Dayun Group also owns Weichai Power, one of the largest engine makers in China, and owner of the new Weichai Auto car brand.
The Chock is powered by a 2.8 kW-60V electric motor, mated to a 12V/120Ah lead-acid battery. Top speed is a decent 45 kilometer per hour and range an impressive 150 kilometer. Charging takes 6-8 hours on 220V. It seats only two. Price for all this pretty at the shop: 24.888 yuan.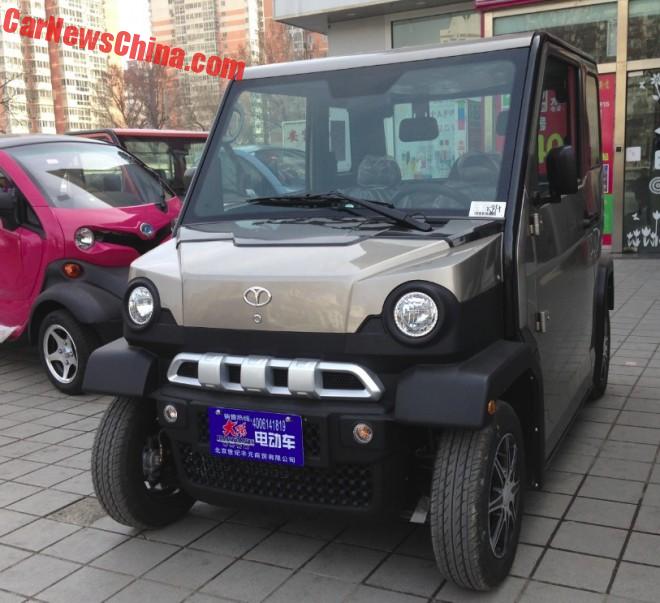 This is another baby from Dayang, it is called the Chock-S. It is a bigger car, more grown up in many a way. It seats two adults and two children, or two adults and the grandparents.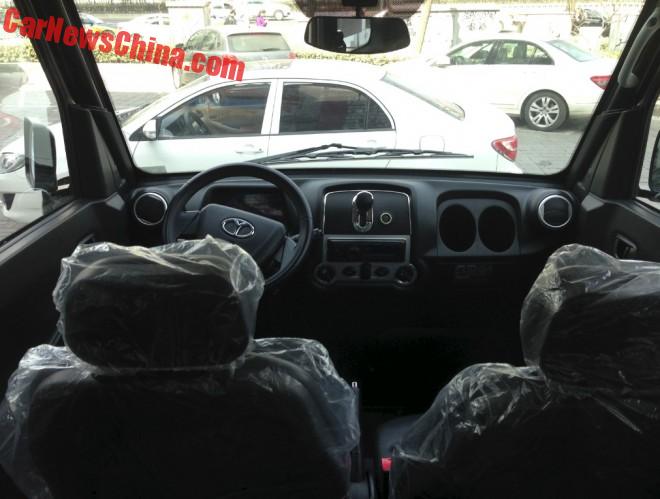 The Chock-S has proper seats and the pedals are located in front of the driver, I checked. Drive selector in the middle again but with a smaller lever, looking more tech. Two cup holders inside the dash in front of the passenger. A novel solution indeed, never saw that one before!
Power comes from a 4.5 k2 60V motor, mated to a 12V/150Ah lead-acid battery. Top speed is 42 km/h, a bit slower than the -A, and range is 180 kilometer. Charging takes 8-10 hours on 220V. Size: 2545/1392/1598, wheelbase is 1900, and curb weight 775 (via).
Price for the -S started at 27.888 yuan. Everything is eight in the business!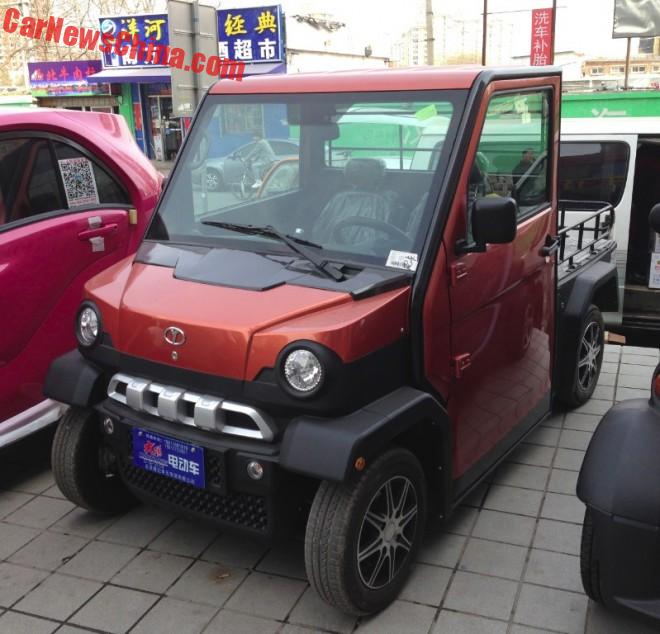 This however was the coolest vehicle on the square; a mini pickup truck version of the Chock-S called the Chock-H. Interestingly, it has a 5kw motor, half a kw more than the -S, but top speed and range are claimed to be the same. Length is 2882, other specs unchanged.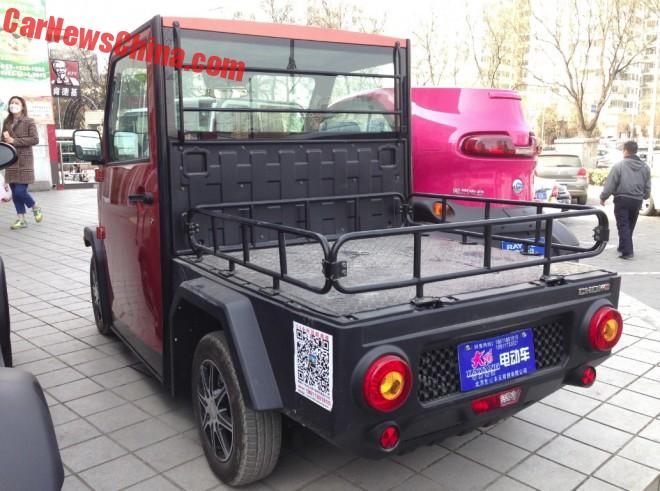 I just love this. It is like this, but better. These cars are perfect for fine-maze distribution, especially in crowded cities with narrow roads and zillions of vehicle and creatures on the move all the time. The Chock-H will get through all that with ease, and deliver the beer right on time. Round rear lights work really well here.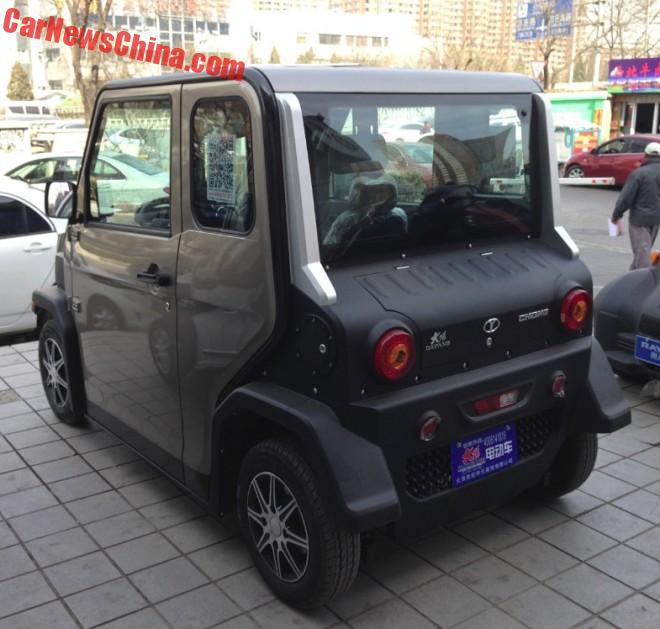 The rear of the Chock-S. It is a 'sedan', and there is enough space for two pairs of shoes in the boot.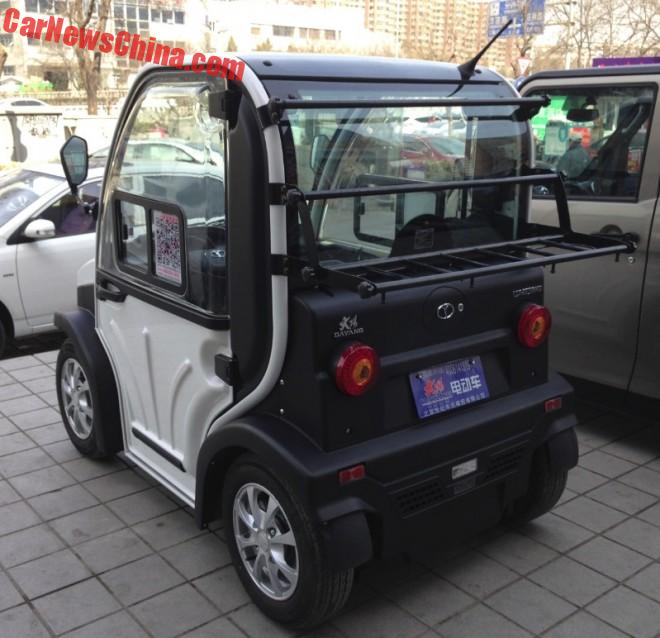 The Chock-A comes standard with a handy bag rack.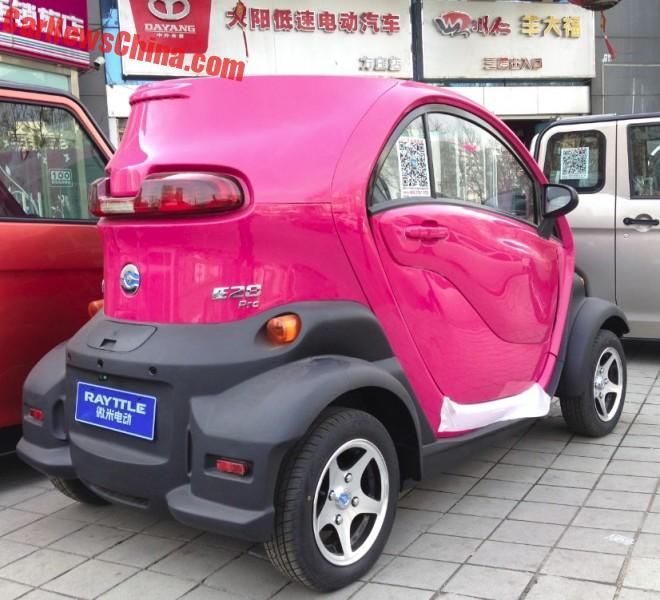 No place for the bags in the Rayttle E28. But it has shiny five-spoke alloys!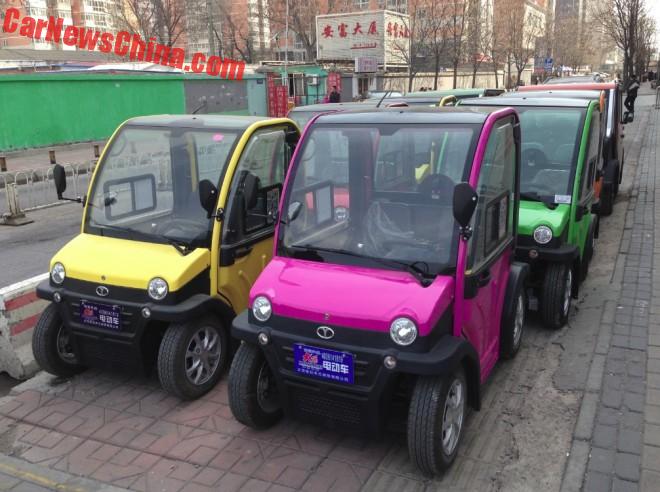 Enough Chock-A for everybody.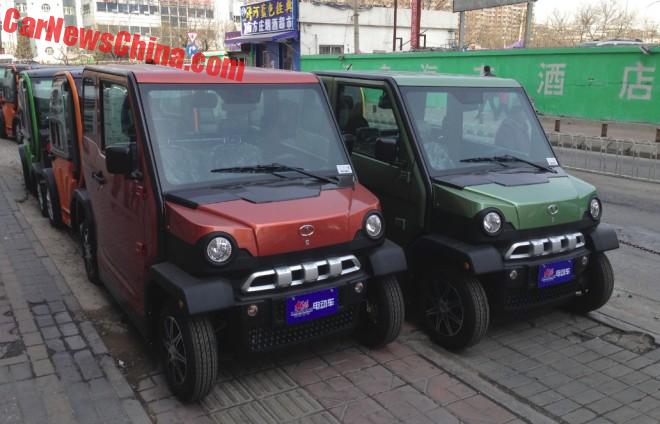 Or Chock-S.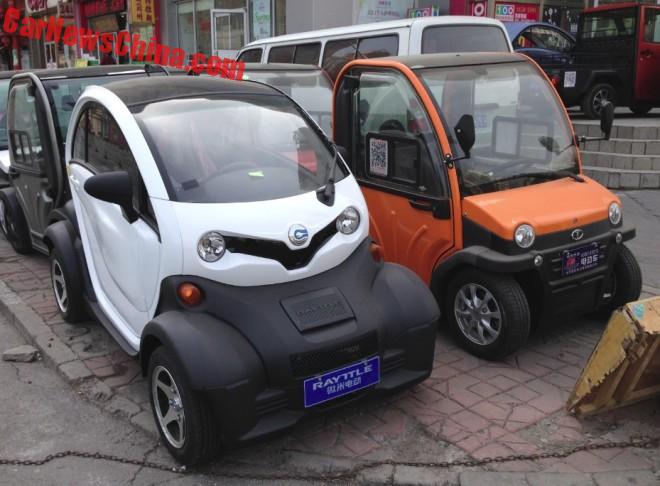 Mirrors of the Rayttle are gigantic.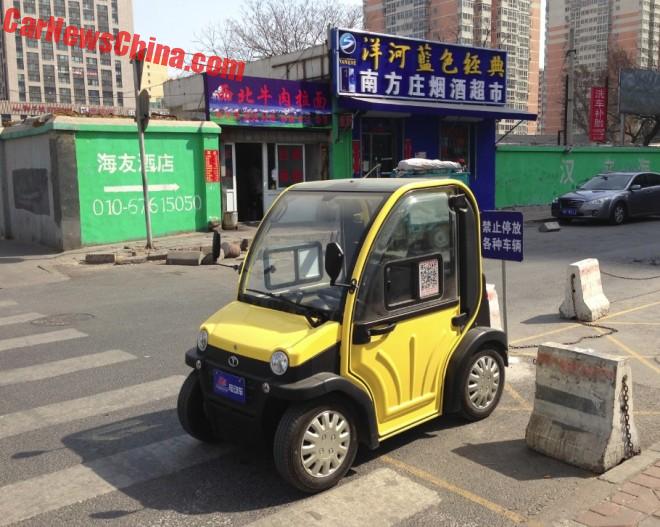 One Chock-A alone.