The absolutely mental Karlmann King mega SUV debuted on the Beijing Auto Show, looking mightily impressive in matte black with stealth-style angular surfaces and bright white lights. The Karlmann King was designed by IAT Design for Unique Club, which will build ten examples and sell them for 12 million yuan each, and that exchanges to a steep1.85 million USD.
The Karlmann King logo, in gold.
IAT Automobile Technology (web) is a Beijing-based design and engineering company. Unique Club is a company that normally modifies Ford and Chevrolet vans for the Chinese market, adding more gold, tea pots, karaoke sets, and whatnot more. The Karlmann King is their first self-developed 'car'.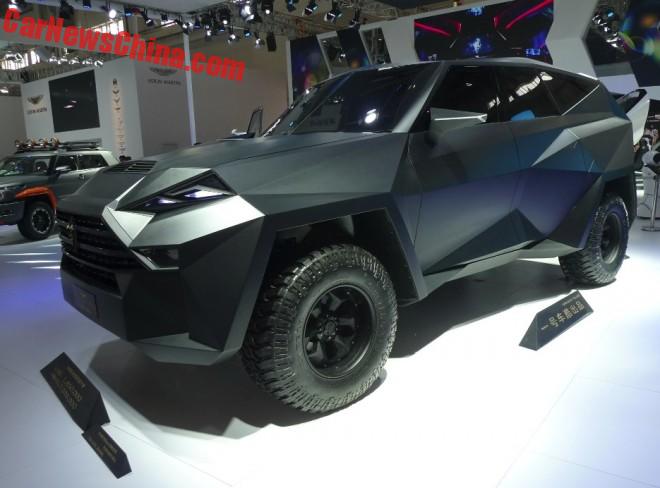 It is based on the Ford F-450 Super Duty, a popular platform in China, and widely used for everything from anti-riot vehicles to wedding-limousines to… this thing. Power comes from the 6.8 liter 'Triton' V10 engine, good for 362hp and 620nm. The Karlmann King will need all that power because the new body is made entirely out of old fashioned steel.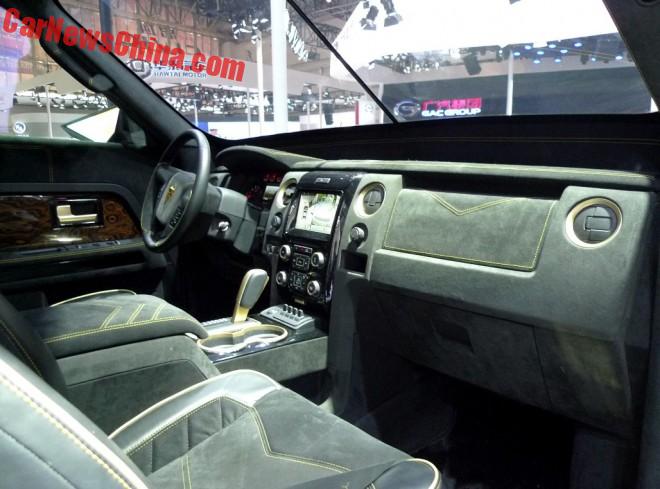 The interior is a work of art, dressed up with shiploads of alcantara, gold threat, gold colored panels, and dark decorated wood.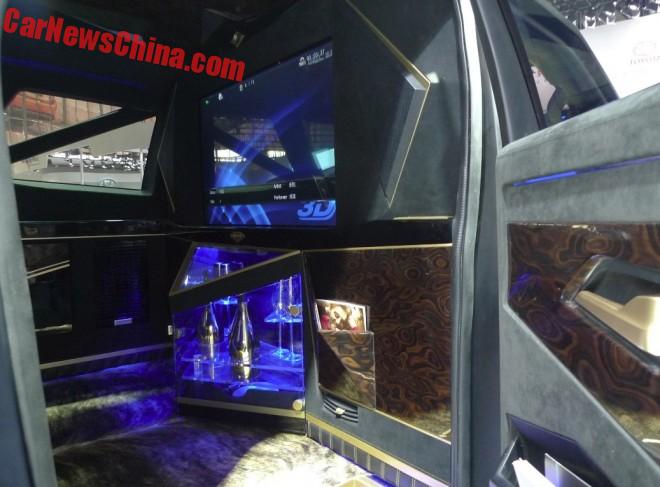 The best however is in the back, with a high end karaoke system consisting of a 3D flat screen, a 20-speaker surround sound system, and disco-lights.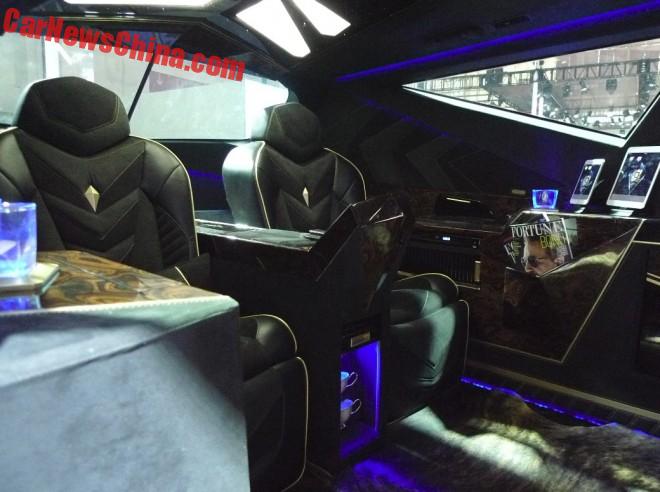 There are only seats for two, but these are seats for kings. Fortune magazine in the magazine bag, naturally. The controls for the karaoke set are on the left side of the left seat, and include a rather cheap looking typical-Chinese DVD player. Isn't that for poor people..? The compartment between the seats houses two sterilized tea cups. And there is booze too: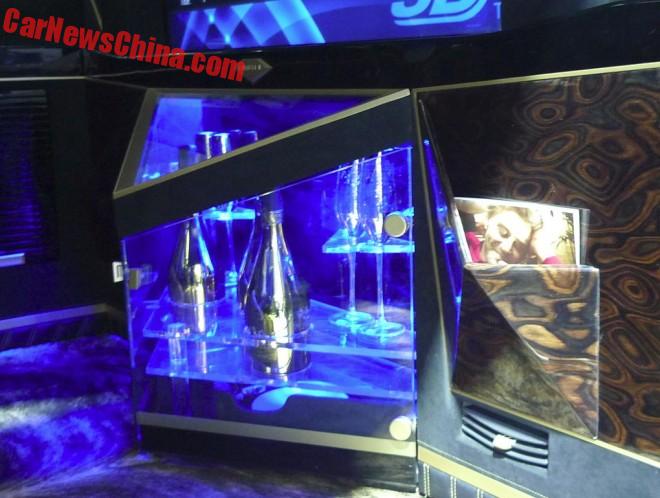 A fridge with two bottles of champagne and four glasses. But there are only two seats. Babes sit on the floor, we bet.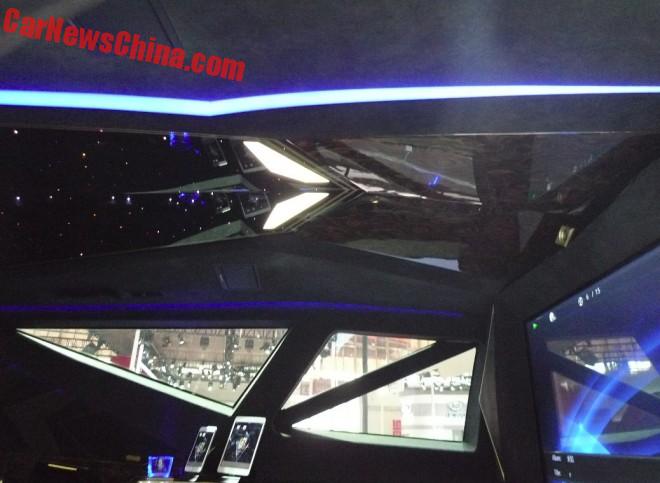 The ceiling with a Rolls-Royce style milky way and more dark decorated wood.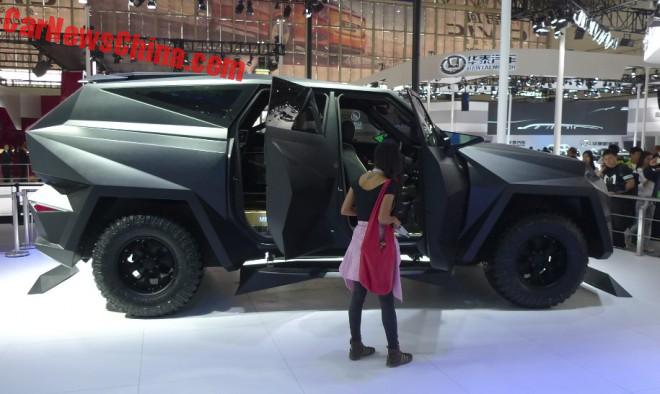 That girl was about 1.80 meters tall. The Karlmann King dwarfs her.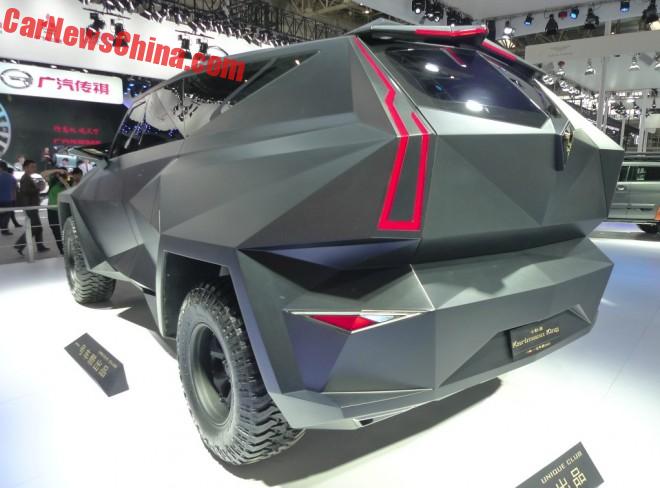 Launching this in a time when even the most otherworldly Chinese car companies are going green and electric takes a lot of guts, and we therefore highly appreciate the effort. It looks brilliant two, but I am not so sure about the wheels. They are a tad too tractor.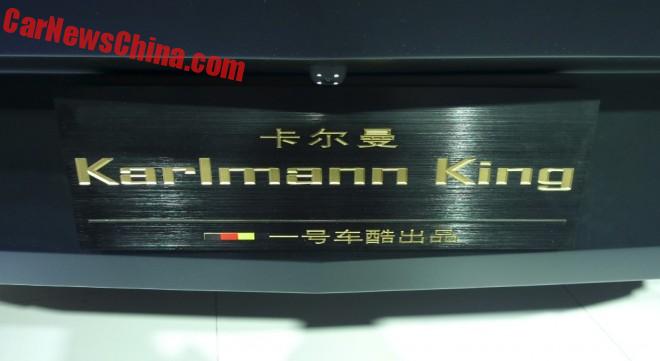 The name has wuzzy story. It refers to a certain 'King Karlmann', born in 741 and one of the many rulers of semi-independent states in the much larger German Carolinian Empire (800-924), note German flag below the name. In China the last name always comes first, and the unknown German-loving genius who came up with all this thus changed King Karlmann to Karlmann King, not realizing 'King' was a title, and not a name. I tried to explain this problem to staff on the booth, but they didn't seem to care (!).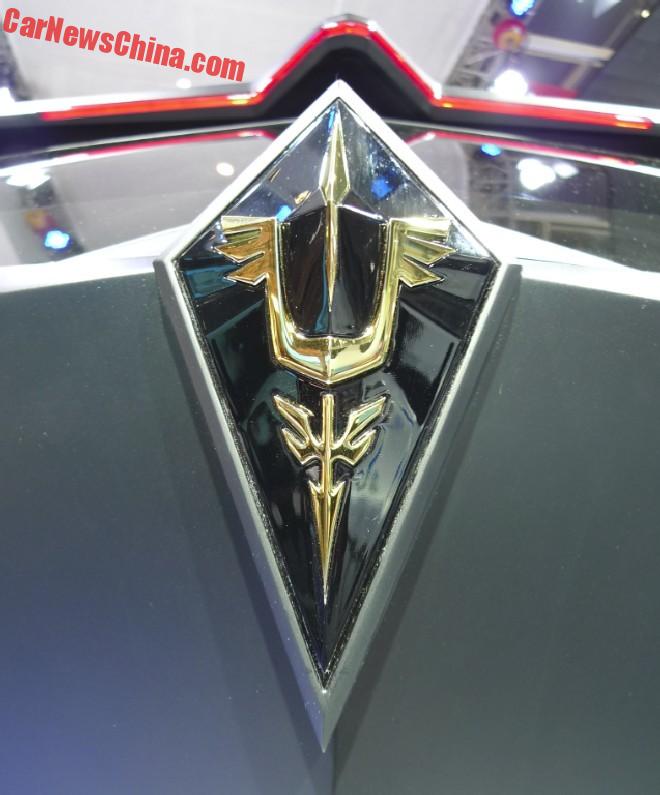 Logo depicts a sword. Battle is on!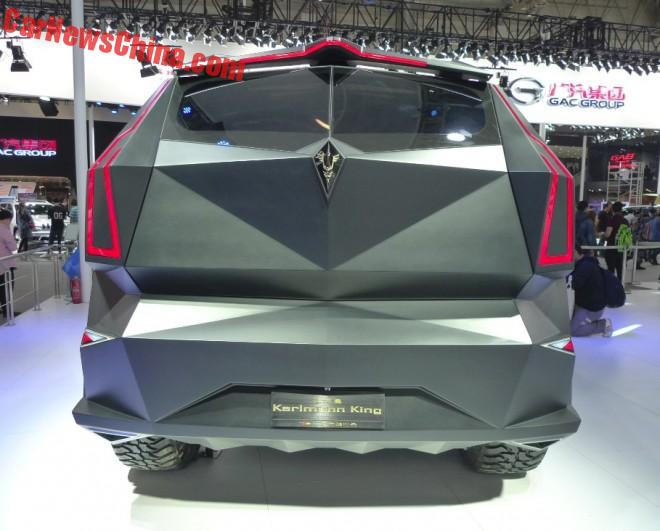 Beautiful madness, what a car. I hope they sell all ten and make another hundred, just to trash some of those electrics.