A Jaguar driver had a bad day in China, crashing an F-Type convertible off the stairs in the great city of Fuzhou in Fujian Province. The poor driver was fooled. Look at the pattern on the left, with white stripes. The pavement has exactly the same pattern. Seen from above it looks like…
… this. The Jaguar never saw the stairs at all. Bump! That of course does not answer the question why our driver wanted to exit via this way, obviously not an exit lane. Was he trying to save some time, and did he then end up losing much more?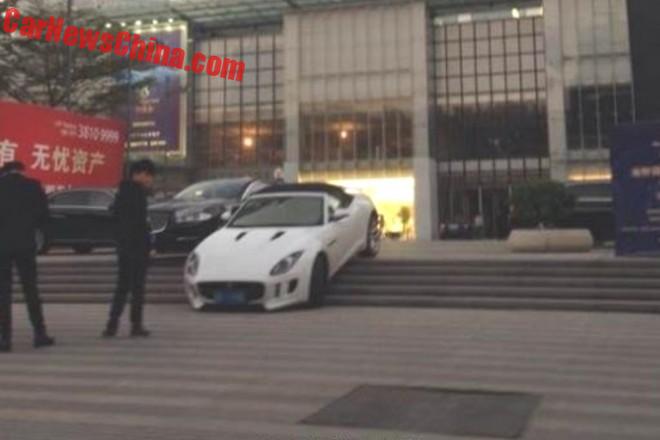 It does indeed appear so. The Jag' couldn't get away anymore, and had to wait for a tow truck. Another Jaguar there on the left of the XFR, backdrops left and right, maybe some event going on. Well, it ended bad. The damage not so bad, but repairs for performance cars are notoriously expensive in China, and the XFR is not a cheap car to begin with.
Price starts at 680.000 yuan for the 340hp 3.0 six, and ends at 1.98 million yuan for the 575hp 5.0 SVR V8. Our white car on the stairs is a base 3.0 cabrio which sells for 798.000 yuan or $122.000.