You are never going to guess this: there will be another sub-brand in China. And this one is rather complex. The vehicle above is called the Brilliance-Shineray SWM X5.
Brilliance-Shineray is a joint venture between Brilliance Automotive and Shineray Motorcycle Company, one of China's largest motorbike makers. They make a range of minivans and mini MPVs under the Jinbei brand, which is owned by Brilliance.
SWM is the new sub-brand name. It comes from the Italian motorbike maker SWM Motorcycles, which was bought by Shineray in 2014.
Shineray promptly changed the meaning of the SWM abbreviation. It used to mean Sironi Vergani-Vimercate Milano (SV-VM > SVVM > SWM), the names of the founders of SWM combined, with the two Vs combined to a W. However, it now means Speedy Working Motors. Catchy!
Lastly; X5 is the vehicle's name. BMW might not like that SWM is nicking the X5 name, but but they won't complain because Brilliance Automotive is also their precious partner in the Brilliance-BMW joint venture.
The Chinese name is 华晨鑫源斯威X5, Huachen Xinyuan Siwei X5. Huachen = Brilliance, Xinyuan = Shineray, and Siwei = SWM.
With many thanks to Erik at ChineseCars.net!

The interior is not bad. A sporty steering wheel with a flat bottom, an all-digital instrument panel, and a giant touch screen in the middle. There are almost no buttons, so the screen is really in control. Beige black color scheme looks nice.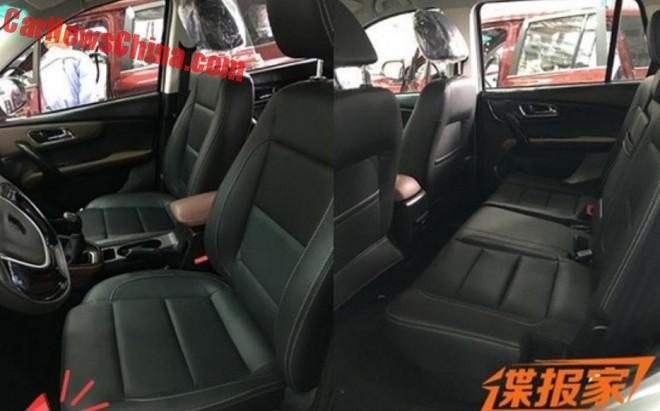 Seats are fine too. The SWM X5 will seat seven.
Price for the X5 will range from 70.000 to 100.000 yuan, it will be launched on the Chinese car market in September. Power will come from a 137hp 1.8 liter four. Size: 4710/1855/1750, and wheelbase is 2750.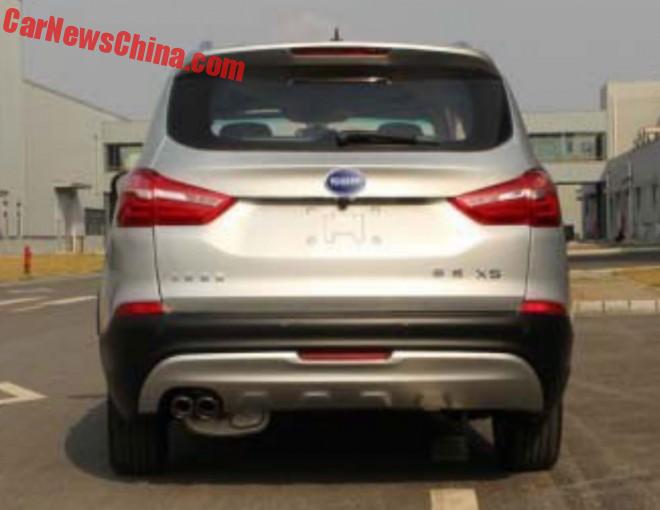 The badge is a bit blurred, Brilliance want to keep the logo secret for now. Anyway, it is blue and we will get it soon. The exhaust setup is interesting, exposed and all, with a big muffler and two pipes. That 1.8 needs to loose a lot of dirt, apparently.