The first photos of the all-new Zotye Damai X7 SUV for China, seen here on a Zotye dealer event. Design is an interesting mix of several Volkswagens, including the Tiguan, the Touareg, and the Crossblue concept. The grille however is Zotye's own and rather daring for that.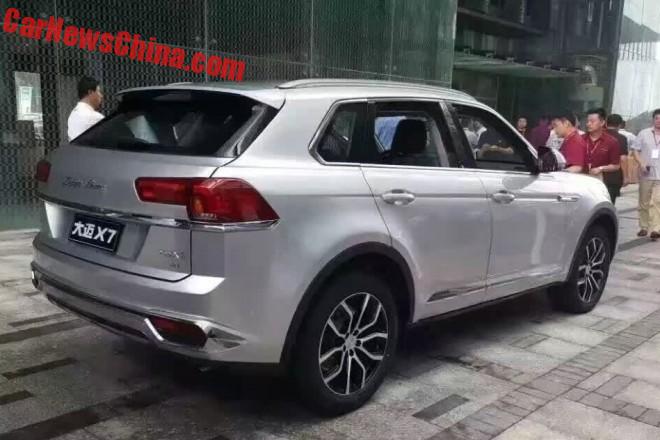 Very Volkswagen from behind. Rear lights are huge when smaller ones are fast becoming fashionable. Rear-wide chrome strip, more shiny stuff in the bumper.
The Damai X7 is the second car in the Damai range, which might turn into a sub-brand in the near future. The other Damai is the X5 which was launched in September last year.
The English name for Damai is Damy. Zotye is using this name on the front and on the back, where they write Zotye Damy. We saw similar badges on the yet-to-be launched Damai A3 EV, but the Damai X5 has standard Zotye badgery.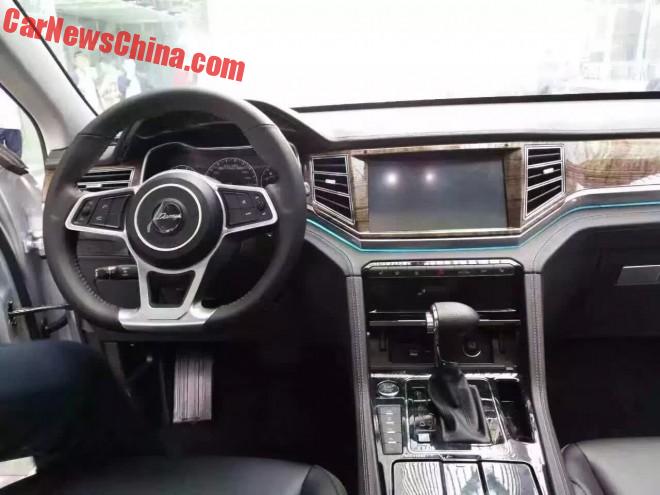 The interior too is very Volkswagen. It comes in two tastes: luxurious and sporty. The luxurious version, seen here, comes with a lot of wood. Steering wheel with a flat bottom and stylish chrome. LCD touch screen is larger than anything Volkswagen has.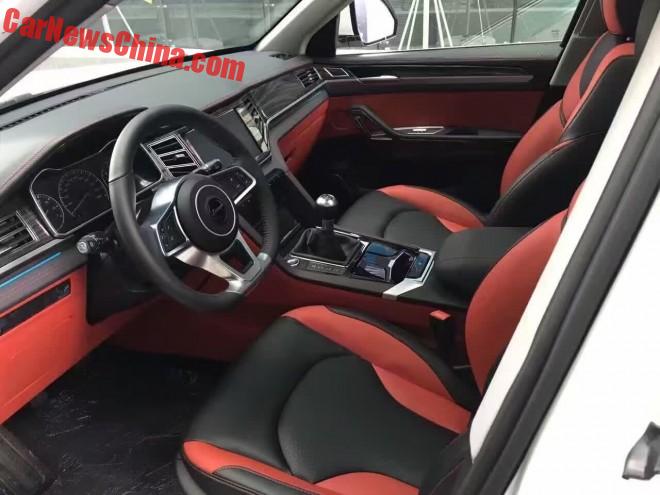 The sporty interior with red-black leather seats and a partially red dash, but with some wood again, and the wheel is the same. Lever of the manual 'box has a kinky top.
There will be three turbocharged four-cylinder petrol engines available: a 150hp/210nm 1.5 turbo, a 170hp/245nm 1.8 turbo, and a 190hp/250nm 2.0 turbo. Transmissions: 5-speed manual for the 1.5 turbo, five-speed manual 0r six-speed DCT for the 1.8 turbo and 2.0 turbo.
The engines are sourced from the Shenyang-Mitsubishi engine-making joint venture, a company that powers basically every vehicle made by smaller Chinese automakers, including Zotye's own SR8, the infamous Porsche Macan clone.
The 2.0 turbo also powers the Landwind X7, the infamous Range Rover Evoque clone. So; they are both called X7, they are both powered by the same engine, and they are both copy-clones. Only in China…
The Damai X7 is a seven-seater. Size: 4738/1928/1665, and wheelbase is 2850.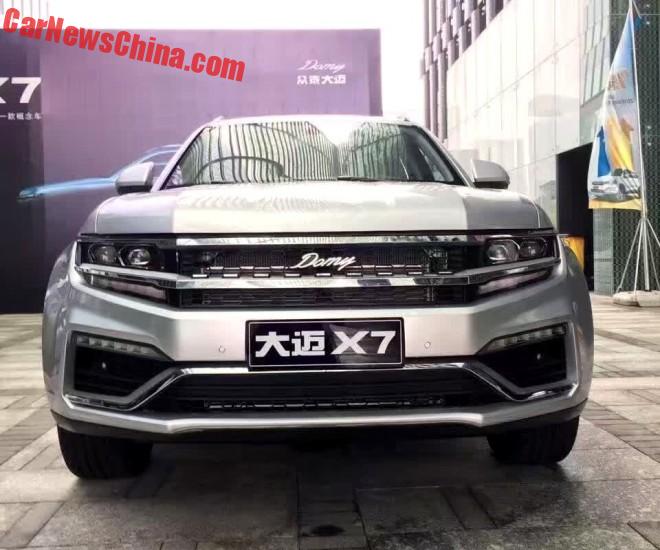 Dany badge on the grille.