China has started a test with a possibly revolutionary straddling bus, also known as  the Transit Elevated Bus (TEB). The basic idea is that the vehicle straddles multiple lanes of traffic, moving over cars without any worries about traffic jams or other delays.
The test track is 300 meters long, from a factory building to an elevated station. The track is located in the great beach town of Beidaihe, Qinhuangdao City, in Hebei Province.
The fully electric test vehicle is called TEB-1. The Chinese name is 巴铁1号, best translated as 'Rail Bus Number 1'. It measures 22 meters long, 7.8 meters wide, and 4.8 meters high. The passenger deck has space for 300 people; 245 standing and 55 seated.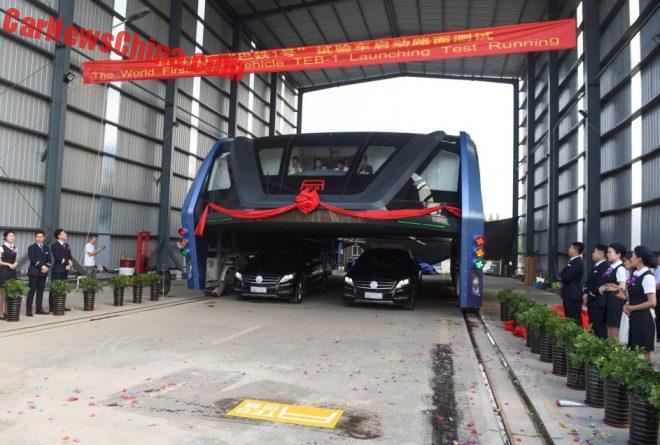 The height of the 'tunnel' under the bus is two meters and it straddles two lanes. There are traffic lights on each side. The eventual production vehicles will be much bigger, able to straddle four lanes and to carry 1200 passengers. The test vehicle is piloted but the real thing will be autonomous.
The TEB-1 has been developed and built by a Chinese company called TebTech (Facebook), headquartered in Beijing. The company lists as partner CSR Corporation, which is one of the largest state-owned train builders in China.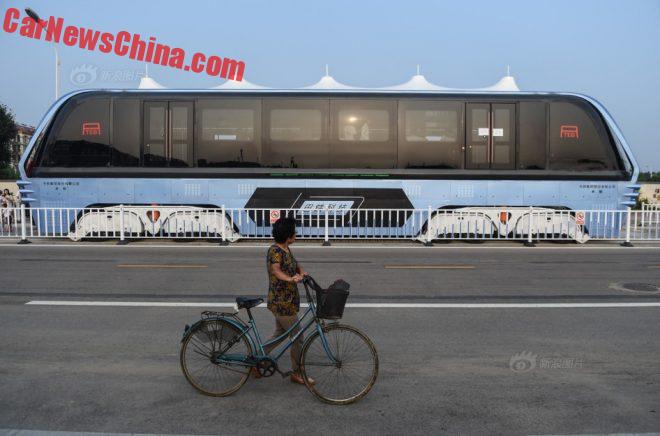 The idea is certainly interesting. It doesn't waste a lane like a Bus Rapid Transit system does and it can take much more people than a normal bus. But the drawbacks are obvious. It needs a rail on each side, and the two rails together are taking up a lot of space as well.  It also needs elevated platforms; which are expensive to build and to maintain.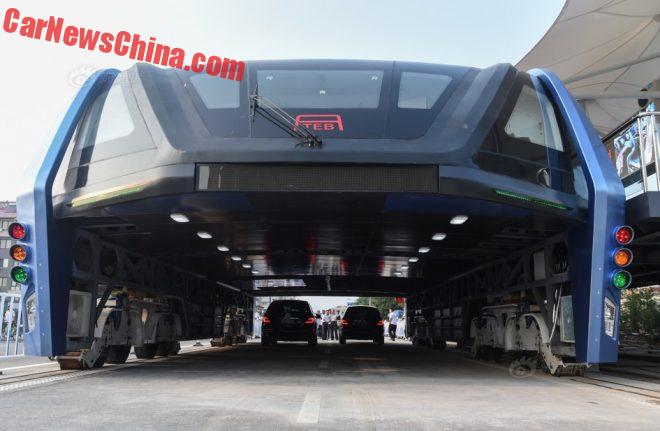 Note the giant windshield wiper!
Nevertheless, the idea deserves a serious chance. And the bigger these buses are the more sense they make. The company says they will soon open another test track in Changzhou City in Jiangsu Province.
More as we get it…