The Geely Borui GC9 will receive a small facelift, making the big sedan a bit more beautiful still. It is mainly a bumper-lift with new front and rear bumpers, and it gets new alloys that look very good. The inner part of the lights changed as well with new lenses in the area closest to the grille. The LED strips in the bumper have been deleted. Compare:
The current Borui GC9. Price starts at 119.800 yuan and ends at 229.800 yuan. Engines: 162hp 2.4, 163hp 1.8 turbo, and a 275hp 3.5 V6.
The 2.4 will continue unchanged in the facelifted car, the 1.8 turbo will get 21 more horses for 183hp. Whether the V6 will return is unsure at the moment, we will keep an eye on that…  If the V6 has indeed been deleted price range for the facelifted car will start around 120.000 and end around 180.000 yuan.
Currently there is only one V6 model available which costs 229.800 yuan, whereas the most expensive 1.8 turbo costs 176.800 yuan. That is a big difference and the V6 has been a slow seller. For that money people can go for a BMW 3Li, a Cadillac ATS-L, or a Volvo S60L.
The facelifted Borui GC9, with or without the V6, will be launched on the Chinese car market in Q1 2017.
The new rear end with slightly different light covers and a new bumper with a shiny strip on it. Pipe tips didn't change, they are still a tad too small and located a bit too low.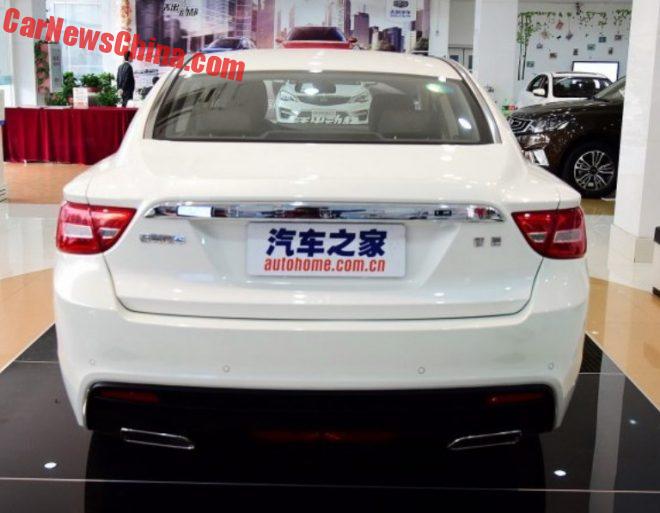 Current.