Faraday Future (FF) keeps teasing us with the 'production car' that they will unveil on the CES on January 3. Except that is isn't really a production car because FF doesn't have a factory. That however doesn't stop the company claiming some more:
According to Chinese media FF has stated that they will launch ten (10) new cars in ten years, ending in 2026. The first car is the SUV destined to compete with the Tesla Model X. This is the car that will be unveiled on the CES. It is code named Project 91.
Next up is a midsize crossover that will be launched in 2018. It will be positioned between the Tesla Model S and the Model X. FF is clearly paying a lot of attention to Tesla… This model is code named Project 81.
Then we have to wait another year until 2020 for the third car, which will be positioned below Project 81. There is no further information available about this car at the moment. The other seven cars then will be launched from 2020 to 2026.
Great plans, but hard to realize without a factory. The main backer of FF is Chinese billionaire Jia Yueting, main shareholder and CEO of LeEco, and that company has just started construction of its own car factory in China, which will make the LeSee electric sedan, dubbed the 'Chinese Tesla Killer'. Total investment is 20 billion yuan or 3 billion USD.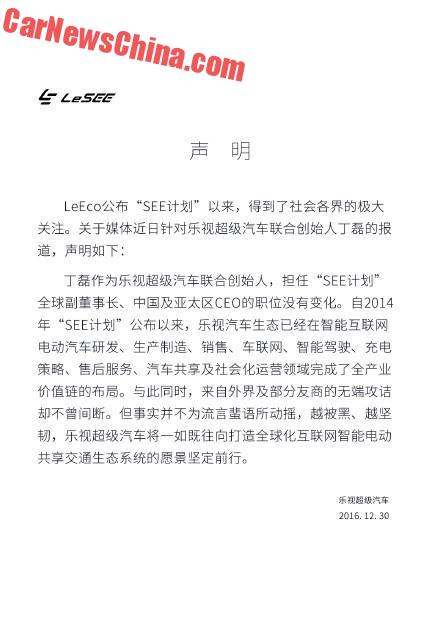 In related news: U.S. media yesterday reported that Ding Lei, co-founder of LeEco and probably CEO of FF, had left the company. LeEco has since denied this, via a statement issued by LeSee, saying Ding is still working for SEE Plan, an entity related to LeSee.
Interestingly, they don't say that Ding still works for FF, as he was never officially working there in the first place. The statement doesn't even mention FF. So technically it is very well possible that Ding stopped working for Faraday Future, and that he has been reassigned to SEE Plan. Very murky.
More as we get it, which will undoubtedly be soon.