This fiery red beauty is the Xinlonghai 2300, an LSEV firetruck that I met on the the 2017 Jinan EV Show. It was the hottest firetruck on the show and likely the hottest in the world. It has a short bonnet, round blue lights, a Jeep-like shiny grille, a bull bar, red bumpers(!), protruding wheel arches, big round black mirrors on stalks, a giant windshield and wiper, and flashlights on the roof.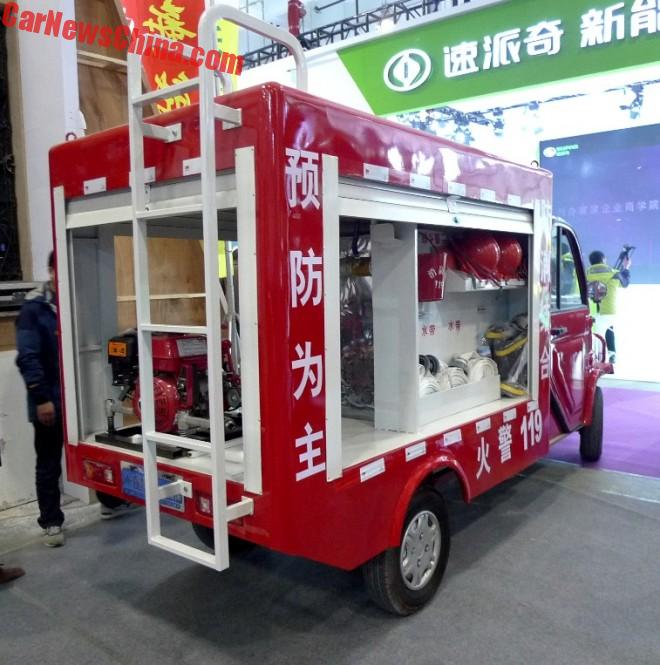 The fire truck was fully fitted with fire fighting equipment and ready to roll, if it is charged, naturally. The 2300 firetruck is made by a company called Xinlonghai New Energy (web), based in the great city of Dezhou in Shandong Province. They make various series of LSEVs, including a cool mini car that sadly wasn't on the show.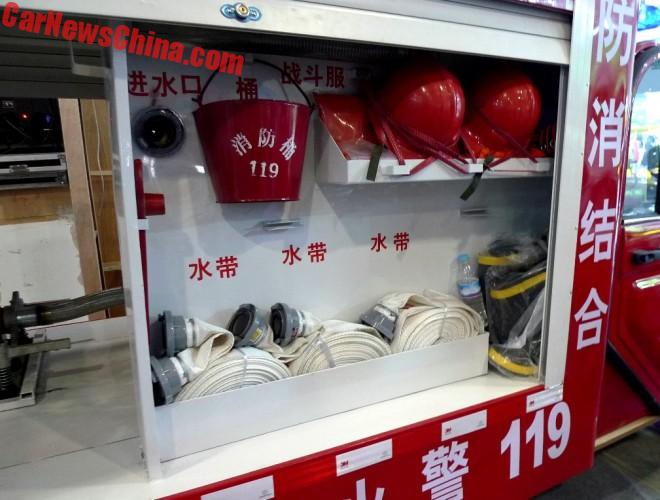 It had helmets and buckets and hoses; all real stuff.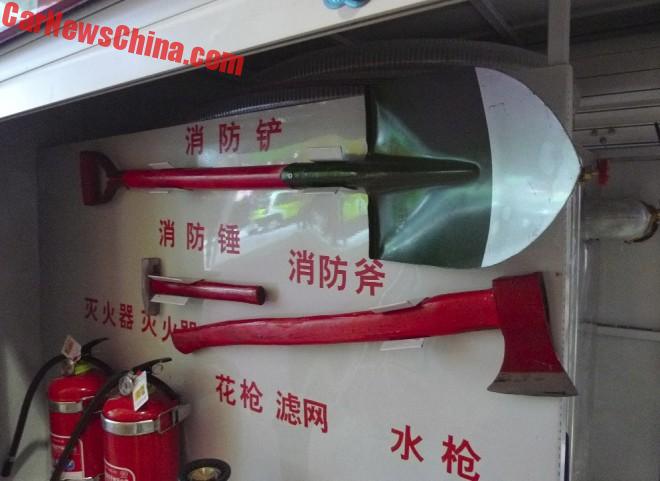 Amazingly, the axe and the hammer were real too. And sharp. I took the axe out of the holder and held it for half a minute or so. Nobody cared. I could have chopped somebody to pieces.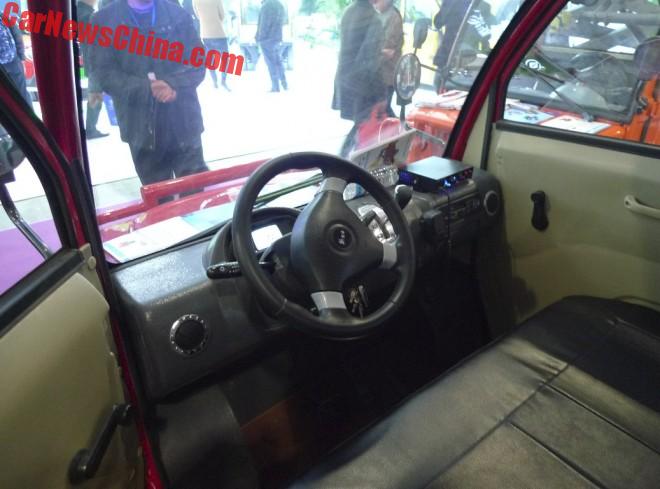 The interior with a two-seat bench. The steering wheel is located just to the left of the middle, but the paddle box is located just to the right of the middle. This can't be an easy drive. But it has an ultra cool emergency radio and a real radio that plays MP3s. The drive selector is located to the right of the wheel, almost on top of the dashboard.
Power comes from a 4.7 hp electric motor mated to a 72V lead-acid battery. Top speed is 43 km/h and range is 120 kilometers. Size: 3900/1250/1600 (cabin), and curb weight is 630 kilo.
Price for all this fire fighting pretty as it stood there on the booth: 27.800 yuan or $4025.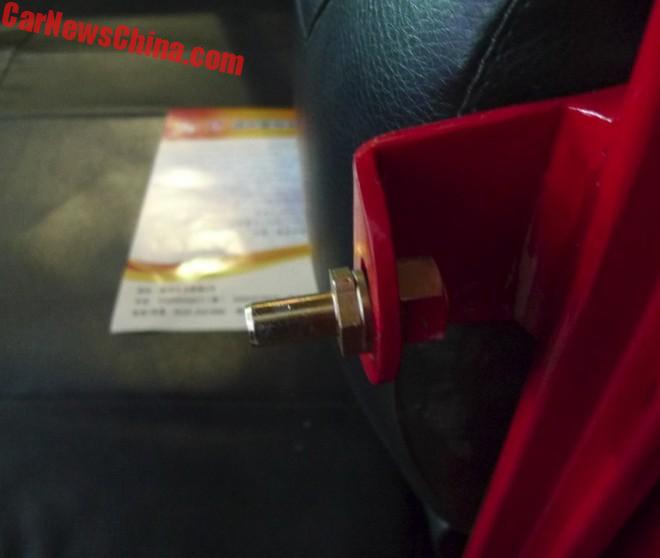 And for that money you get a very good door lock. Very solid.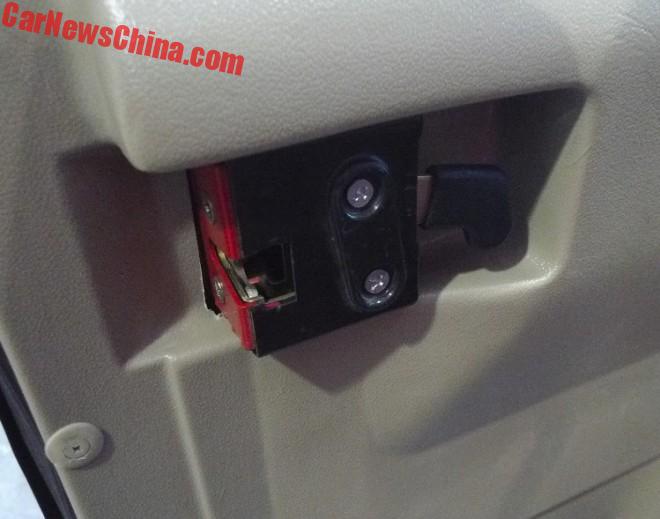 Super easy to break your fingers as well. Especially when you got to open the door in a hurry because that fire is burning and you are already late because you had to charge the car first and you could not go faster than 43 km/h. Hurry hurry! Open that door! Finger in the opening, under the handle, which you have to push up instead of towards you. But you forget that in the hurry. Fire burning! Screaming people! Crying children! You try to pull the handle out. It doesn't go. You pull harder, two fingers in the narrow space. CRACK. You broke your finger. It hurts. And you still didn't get out.
Don't we love the Xinlonghai 2300 fire truck?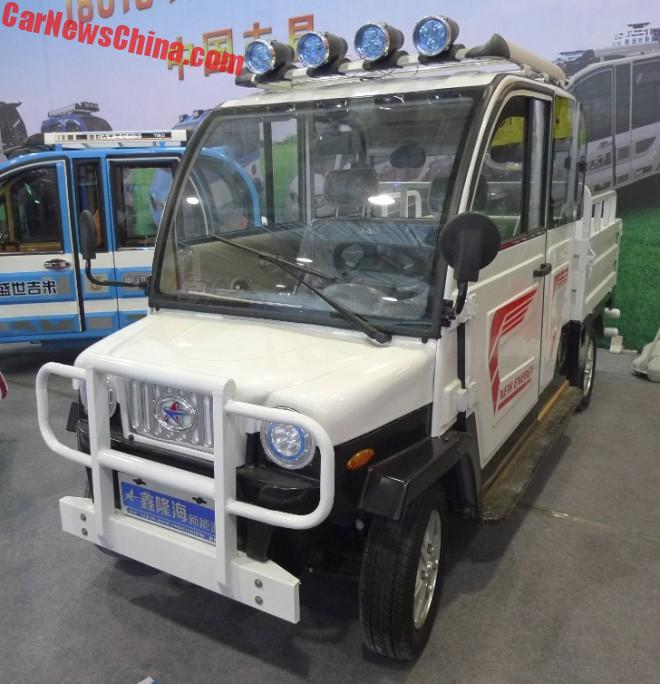 They also have it in pickup truck form, also called the 2300. With four blue searchlights and a roof rack. Looks great in creamy white.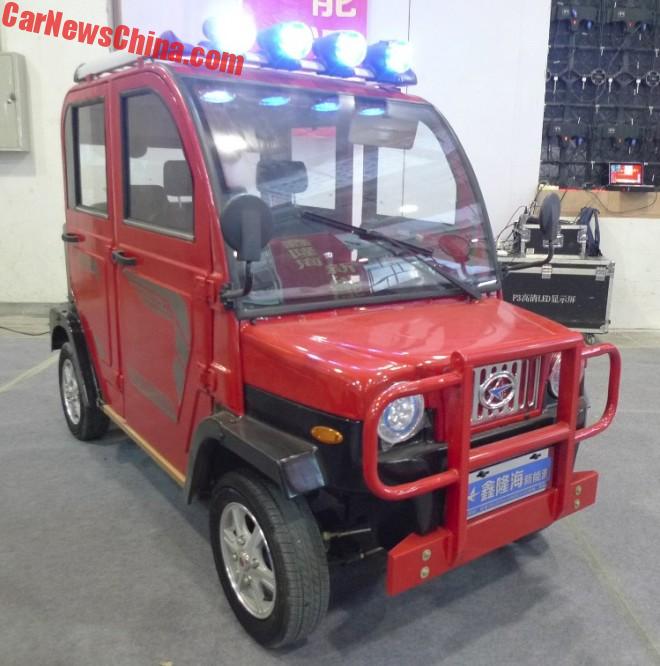 This is the four-door hatchback passenger car version. In red again. It is called the "Double Door".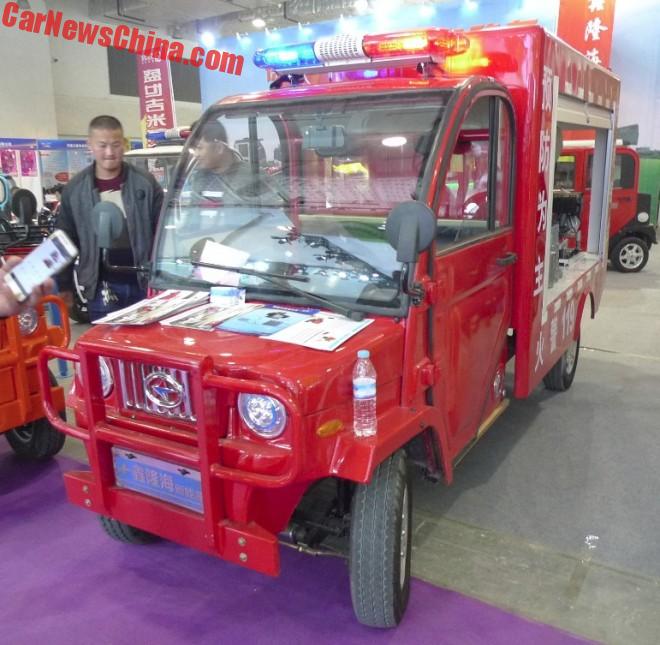 But the fire truck is King, no matter those doors.