This is the final production version of the NIO ES8 electric SUV, ready for its launch on the Chinese car market on December 12. NIO, formerly known as Next EV, is a new Chinese electric vehicle brand. They ES8 is their first passenger car. They are also developing the limited-edition NIO EP9 electric supercar.
NIO doesn't have its own factory. The ES8 and subsequent vehicles will be manufactured by a joint venture between NIO and the Jianghuai Automotive Corporation (JAC).
The joint venture is called Jianghuai-Weilai, with Weilai being the Chinese name of NIO. Interestingly, this JAC is the very same company that recently agreed a joint venture with Volkswagen to develop and manufacture a series of cheap EVs for China.
Specs of the ES8:
Total output is 326 hp and 420 Nm, good for 0-100 in 4.4 (!) seconds. 0-50 is gone in 2.2 seconds. Top speed is 200 km/h but it can only do this for 1 kilometer with a special boost. Real life top-speed is 180 km/h and this it can do for 30 minutes until the battery runs empty.
On a careful side note: there are some indications that the ES8 doesn't have one motor, but two, each with 326 hp and 420 Nm. We are not sure if this is true. If so total output would be 652 hp and 840 Nm. This would explain the 0-100 in just 4.4 seconds. The ES8 weighs 2460 kilo and it isn't very aerodynamic, 326 hp doesn't seem quite enough for such a fast sprint. More on this as soon as we get it!
Range is 355 kilometers (NEDC) and 500 kilometers when an average cruising speed of 60 kilometers per hour (this is a much used non-official Chinese standard). Battery: 192 Ah/67 kWh.
Charging: 8 hours for a full charge on 220V and one hour for 80% charge on a fast charger.
Size: 5022/1962/1756, wheelbase is 3010, and curb weight is a hefty 2460 kilo. It will seat seven in a 2/3/2 configuration.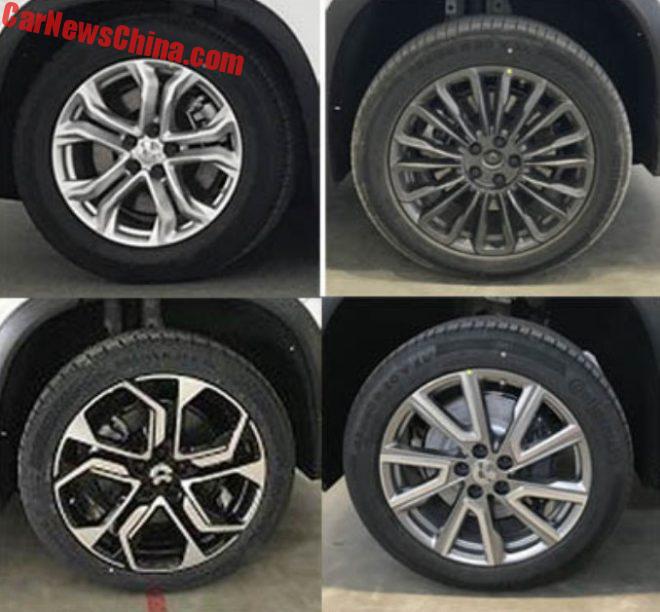 Which wheel would you like?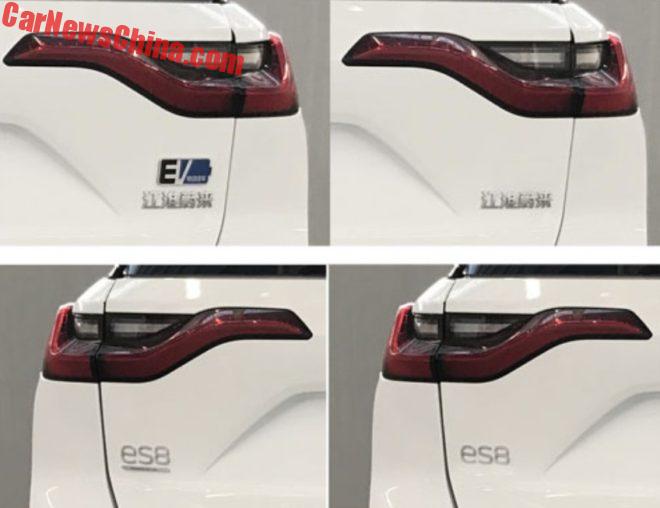 This is interesting too. The photo left-top shows the rear of the ES8 with the government-mandated blue EV badge, above the Jianghuai-Weilai badge. Is NIO perhaps working on a non-electric or hybrid version of the ES8? The low-left photo shows a badge under 'ES8'. Sadly I can't figure out what it says.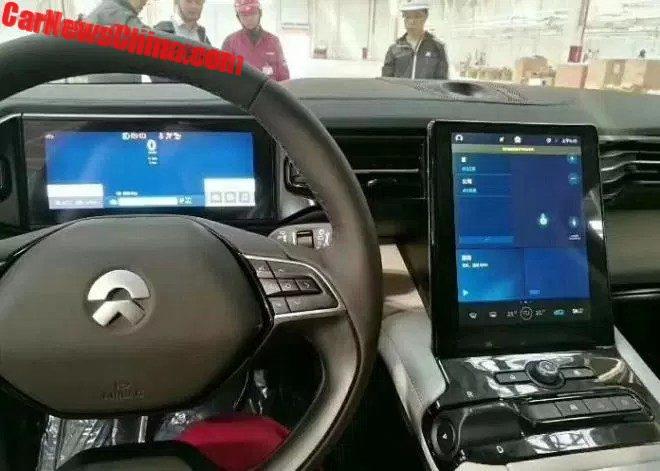 Earlier spy shot of the dashboard. The ES8 has digital instrument panel,  a large touch screen in the middle, and a head-up display (HUD). NIO badge on the steering wheel.