BYD Han crash test
A local car media recently conducted a 50% offset crash test (64km/h per car) between the BYD Han and the Arcfox α-S; the results have generated significant debate regarding battery safety, manufacturer credibility, and crash tests in general.
Small offset impacts are extremely challenging tests, especially between two heavy EVs at speed. The structure available to absorb impact forces is significantly reduced, increasing the likelihood of passenger cabin incursion.
While the Arcfox performed largely as expected, the BYD Han suffered a weld-failure of the driver side (impact side) A-pillar, creasing around the passenger cabin, and a full electronic disconnect (disabling SOS functionality, doors locked, and no hazard lights).
After being parked for 48 hours, the vehicle caught fire and burnt to the ground.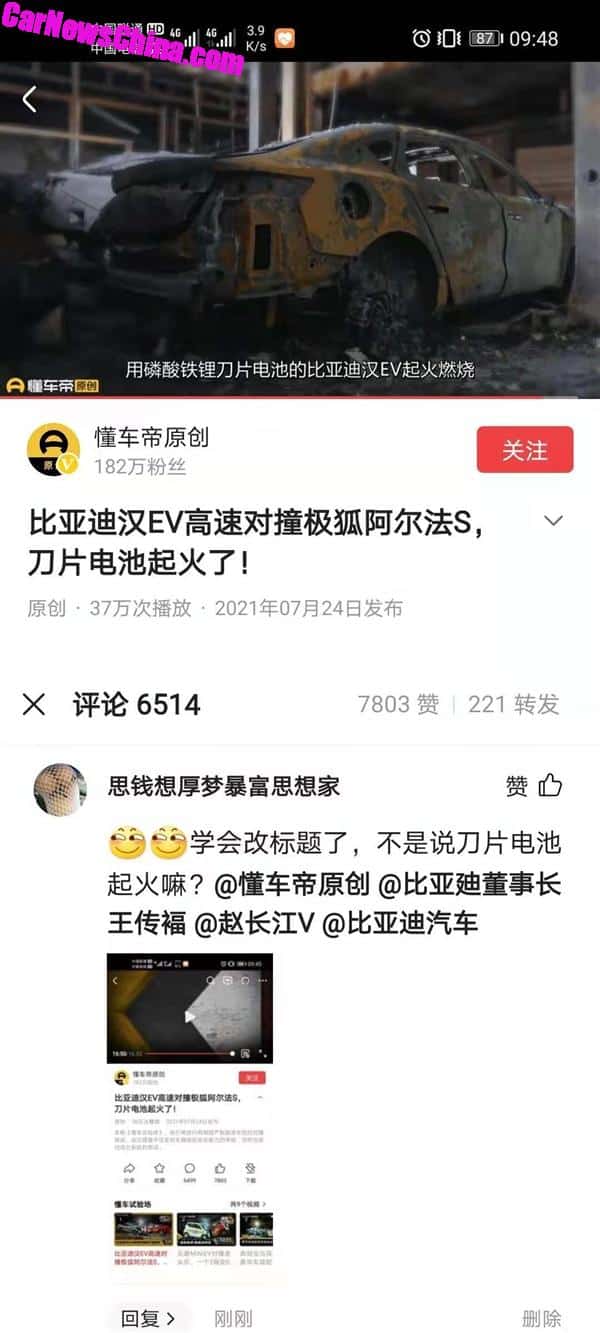 BYD made a statement indicating that the battery coolant in the test car is different in color than the non-conductive type the car came with; they, therefore, suspect that the car has been tampered with. If this is true, the conductive battery coolant may have leaked onto battery components and caused the short and subsequent fire.
BYD has always been very confident in its blade battery packs, which are puncture resistant and seem more inert than traditional lithium packs. Not catching fire at the point of impact is a relief.
There were no comments regarding the other issues observed at the time of writing.

The more important question may be why the a-pillar suffered a weld failure in the impact and if the issue could be rectified.
Having a third party conduct independent testing, even if not strictly scientific (a real-life crash seldom is), can be beneficial in holding manufacturers accountable for the safety and quality of their products.  Car News China will continue to post further updates as they come available.
Source: BLaN