China's rust belt
Liaoning is a province in northwestern China, part of the area we used to call Manchuria. Over the centuries, the region was ruled by the Chinese, Mongolians, Koreans, Russians and Japanese, but since the end of the Second World War it has been an undisputed part of China.
Liaoning was one of the engines of the Chinese economy in the 1930s. Rich in fossil fuel resources, mainly coal, and a large steel industry drove early industrialization. Even the very first car designed and built in China came from it, a truck named Minsheng.
From the late 1970s onwards, the prosperity starts to decline. Just like in the US, a "rust belt" is slowly emerging, a steel industry that is slowly languishing. The pioneering role in Chinese progress is being taken over by rapid developments in the long eastern coastal strip, which runs from Beijing via Shanghai to Shenzhen. However, not all is doom and gloom, because they also make cars in Liaoning.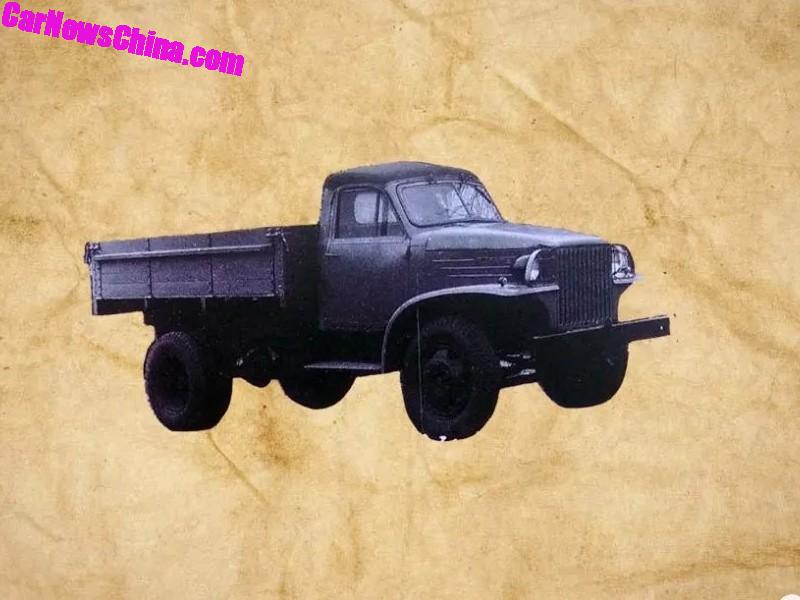 Julong truck
The Minsheng truck was built in the former Arsenal of Shenyang, capital of the province. After the conquest of China by the communists, the first beginnings of the company that we now know as Brilliance Auto originate in the same city. During 'the Great Leap Forward' in 1958, the provincial government of Liaoning establishes a truck manufacturer. From 1959, a truck branded Julong (based on the Russian GAZ 51) rolls off the production line at this Shenyang Automobile Manufacturing Plant. This car shares its technique with the much more famous Yuejin NJ130 from Nanjing Auto. Later, modern variants will follow that are given the production code SY. In the early 1970s Shenyang Automobile starts making trucks based on the BJ130 from Beijing Automobile Works.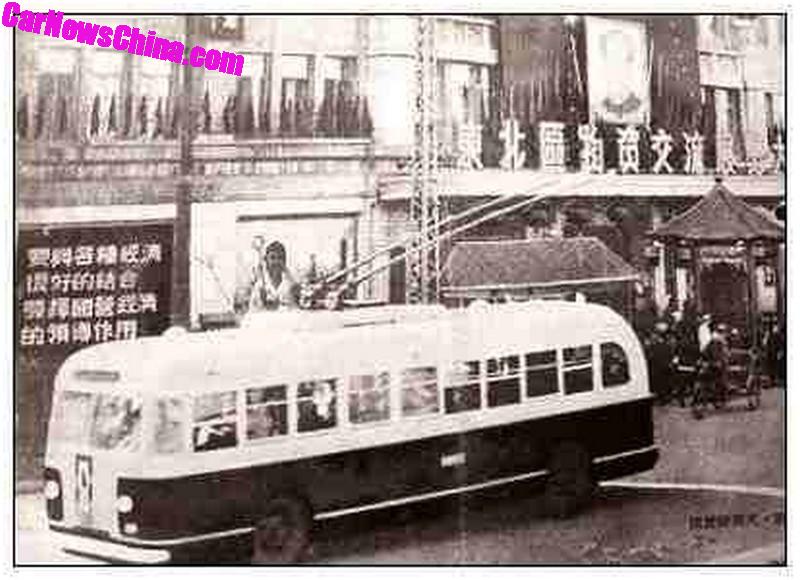 Trolley bus in Shenyang
It is not the only manufacturer in Shenyang, because in 1949 the Shenyang Municipality already established a garage, the Shenyang Auto Repair & Assembly Factory. It is a workshop where local notables have their Cadillac, Lincoln or Mercedes serviced, but the garage also assemble trolley buses for public transport. For years Shenyang Auto Repair limits itself to this line of work, but in 1972 it becomes a car manufacturer. Or actually a bus manufacturer, because they're starting to put together the SY622, a 10-seat bus that looks suspiciously like a Toyota Coaster of the time.
Emergence of a vehicle industry
After a long period of domestic unrest, a more moderate leaderships takes control of the Communist party. At the end of the 1970s they create room for more modern ideas about the economy and start to experiment with elements of capitalism. One of the policies is to operate large state-owned companies more like normal commercial businesses and reduce the direct influence of Party members. Instead companies should have a board of directors, with competent managers running the operations.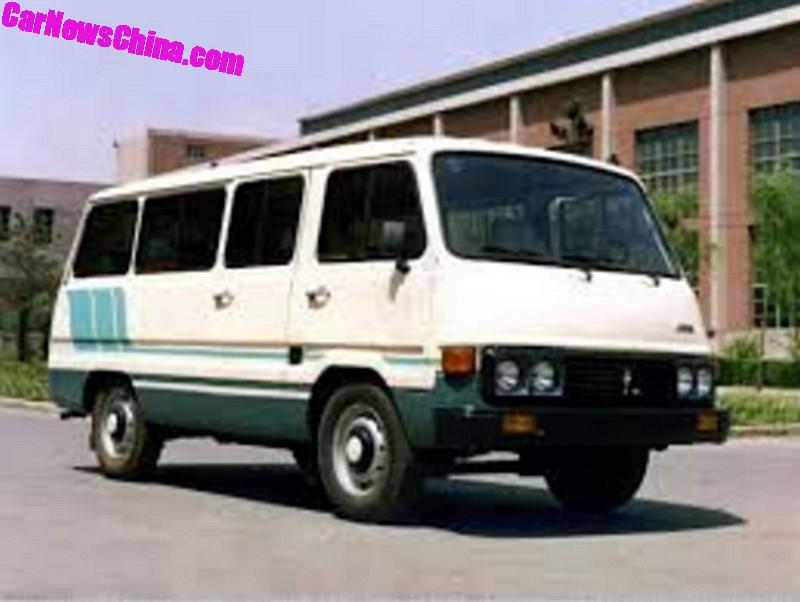 Jinbei SY622 10-seat bus
In Shenyang this leads to the establishment of Shenyang Automotive Industry in 1978, under which the above-mentioned automakers are united along with a few dozen other small enterprises, like parts manufacturers and agricultural machinery plants. The new business structure opens the opportunity to look across the border. Shenyang Auto signs an agreement with Mitsubishi in 1986 to renew their line of light trucks, and Shenyang Auto Repair turns to Toyota. They make a deal in 1985 for the assembly of Hiace vans from knockdown kits, which is expanded in 1988 into a more comprehensive technical collaboration.
These developments also lead to a restructuring of Shenyang Automotive and the introduction of the Jinbei brand name. The new brand name is used for both trucks and buses starting in 1982. The parent company renames itself Shenyang Jinbei Automotive Industry (Jinbei Auto) and the bus factory will be called Shenyang Jinbei Passenger Vehicle Manufacturing (Jinbei PV). These changes take place in 1987. The new Jinbei faces problems with outdated equipment and lack of personnel and desperately needs an injection of cash. Chairman Zhao Xiyou raises the novel idea of an IPO. While Jinbei Auto sells half its shares on the Shanghai stock exchange, it suffers exchange rate losses due to the rising value of the Japanese yen, in which it has to pay its part supplies. Jinbei is caught between a rock and a hard place.
And then Yang Rong appears on the scene.
The mystery man
There a two distinctively different stories about the life of Yang Rong.
He himself claims to be born in Huizhou, Anhui province in 1957, graduated from Southwestern University with a PhD in economics and then pursued a career in the Chinese army. He participated in the armed conflict with Vietnam over the Spratly Islands in which he was fatally wounded. After a miraculous recovery he turned his attention to investment banking.
Various media reports however state that Yang was born as Yang Yong in Jiangyin City, Jiangsu province and has four brothers. He graduated high school, worked as a chef and later operated a small shop. After that he worked at the Jiangyin Foreign Trade Office until 1989, when he decided to try his luck as stock trader in Shanghai.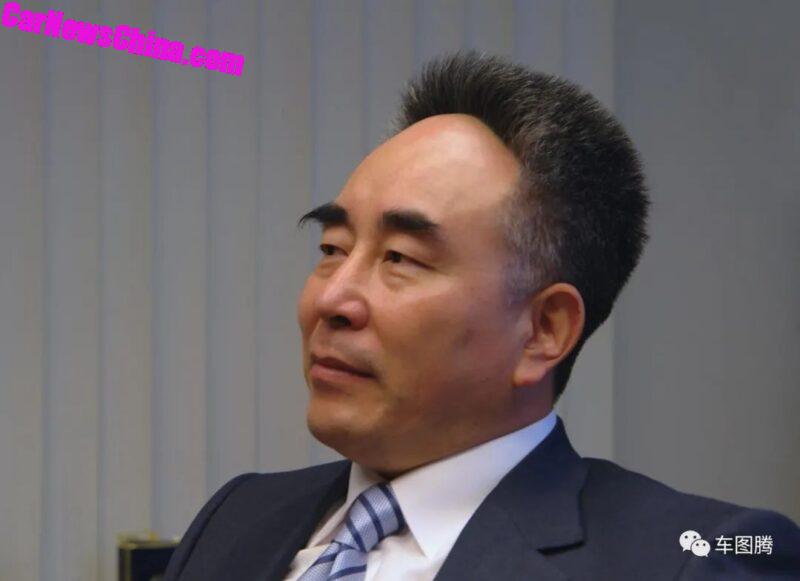 Yang Rong
Whatever the true story is, he ends up trading stock in Shanghai, where he meets his mentor Xu Wentong. In 1990 he establishes Huabo Finance Company under Hong Kong law, with Xu's fund Huayin Trust as the main financer. His activities are fund lending, bond and stock trading and he proves to be a handy negotiator and good networker. Yang and Xu have a shared vision about the Chinese industry: many companies face financial difficulties and management restructure and capital investment alone is not enough to save most them. The stock market is the place to go to.
To prove their point, Yang picks up the phone and contact Zhao Xiyou about a participation in Jinbei PV. The deal follows quickly. In 1991 Yang's Huabo and Xu's Huayin purchase a 25% and 15% share respectively in Jinbei PV. A year later Huayin transfers its shares to Huabo and Yang Rong owns the entire 40%. Yang's ultimate goal is a listing in the United States, which is then impossible for Chinese car companies. So he establishes Brilliance China Automotive Holdings, registered in Bermuda, and Yang places Huabo's ownership with Brilliance. So now Brilliance owns 40% of Jinbei PV.
In order for the stock exchange listing to happen, two things still need to be done. First, Brilliance is a minority shareholder of Jinbei PV, which is not very attractive to investors. Thus, Brilliance and Jinbei Auto execute a share exchange. Brilliance gets a few extra shares of Jinbei PV and in exchange Jinbei Auto gets shares of Brilliance. Brilliance now effectively owns 51% of Jinbei PV.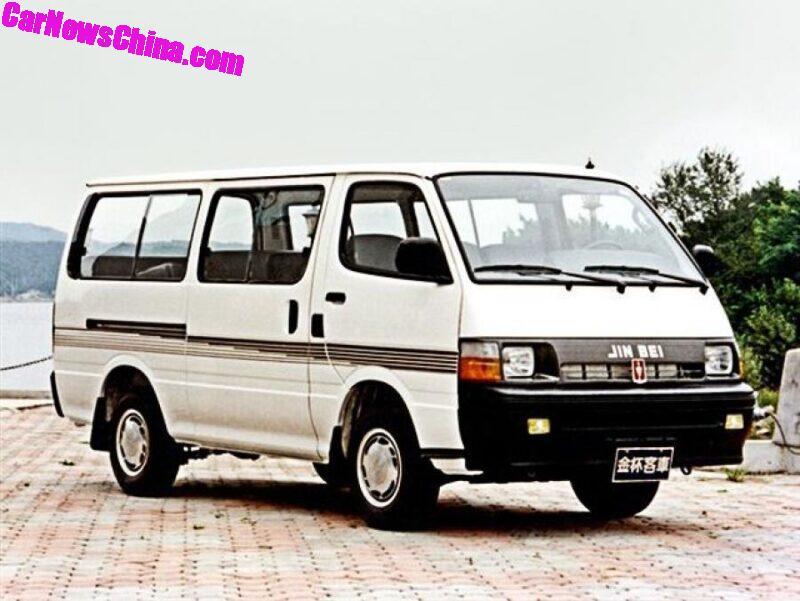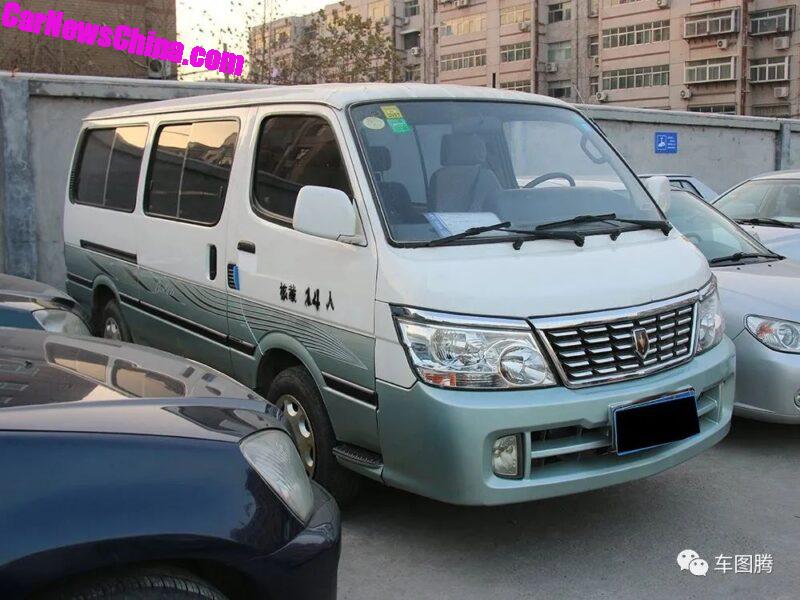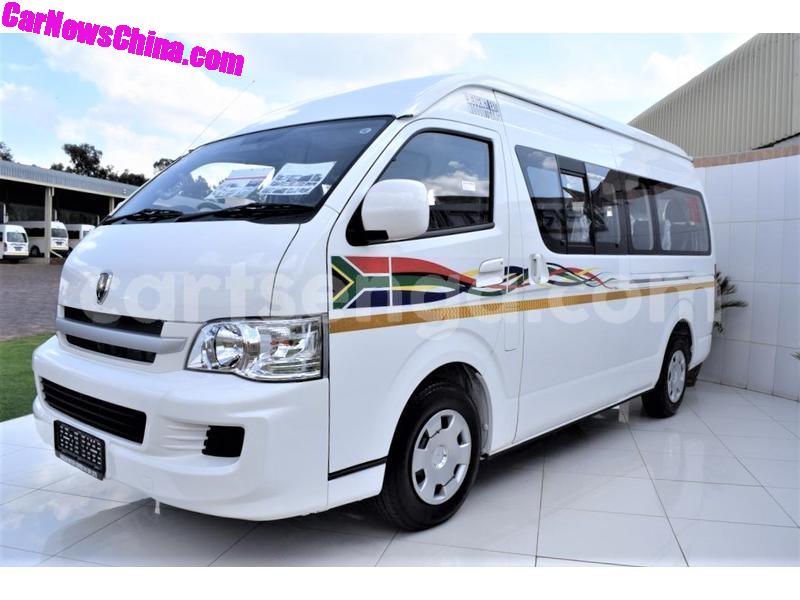 Three generations of Jinbei Haishi vans
Second, the Chinese government does not allow foreign ownership of key companies and Brilliance is formally a Bermuda company. Therefore, a Chinese registered fund, China Financial Educational Development Fund, is established to manage all shares of Jinbei PV for Brilliance, with a contractual agreement in place between the fund and Brilliance. In October 1992 Brilliance is the first Chinese company to be listed in the US. After the IPO, Brilliance is 56% owned by the Development Fund, 15% by Jinbei Auto and 29% is publicly traded on the New York Stock Exchange.
Split company, unequal results
Before we continue the adventures of Yang Rong, let's take a look at Jinbei Automotive. Besides the few shares of Brilliance, the company's main asset is Shenyang Vehicle Manufacturing, the truck factory. It still makes medium trucks based on Mitsubishi technology. Although it's an well-known brand in Liaoning, on a national level it's a small company.
In 1992 Shenyang Auto sets up a joint venture with GM with the intention of making the Blazer for the Chinese market. However, the collaboration does not get off the ground and in 1995 the plans are shelved. In 1999 an attempt is made to revive the joint venture, GM takes a larger share (50% instead of the original 30%) and Blazers are indeed made for some time. In 2004, Jinbei Auto sells all its shares to SAIC, where the company is integrated with SAIC-GM.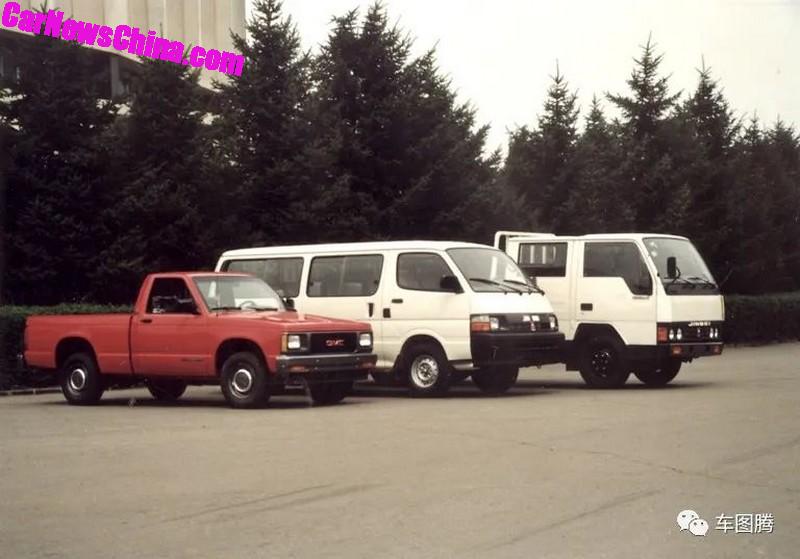 GMC Pickup, Jinbei Haishi and Jinbei light Truck
In 1995 chairman Zhao Xiyou retires for health reasons and another instrumental player in the Brilliance Jinbei deal, Shenyang mayor Wu Disheng, dies in an plane crash. The new leadership of Jinbei Auto tries to regain control of Jinbei PV, but fails and subsequently sells Jinbei Auto to state-owned manufacturer FAW for a symbolic price of 1 yuan. FAW takes a 51% share, Brilliance keeps 12%, Liaoning Province 8% and the rest remains publicly traded on the Shanghai exchange.
Meanwhile, Yang Rong is energetically working with his fresh capital at Jinbei PV. The factory produces the Toyota Hiace vans under the name Jinbei Haishi and these become quite successful in the market. With an average annual growth rate of 50% between 1995 and 2000, Jinbei PV becomes the largest producer of light commercial vehicles in China. At the same time Yang builds a supply chain. He buys or starts up all kinds of parts manufacturing businesses, sets up an engines joint venture with Wuliangye Group (a Chinese liquor producer) called Xinchen Engine and acquires a stake in Shenyang Aerospace Mitsubishi Motors. Both engine factories supply engines to many car manufacturers in China.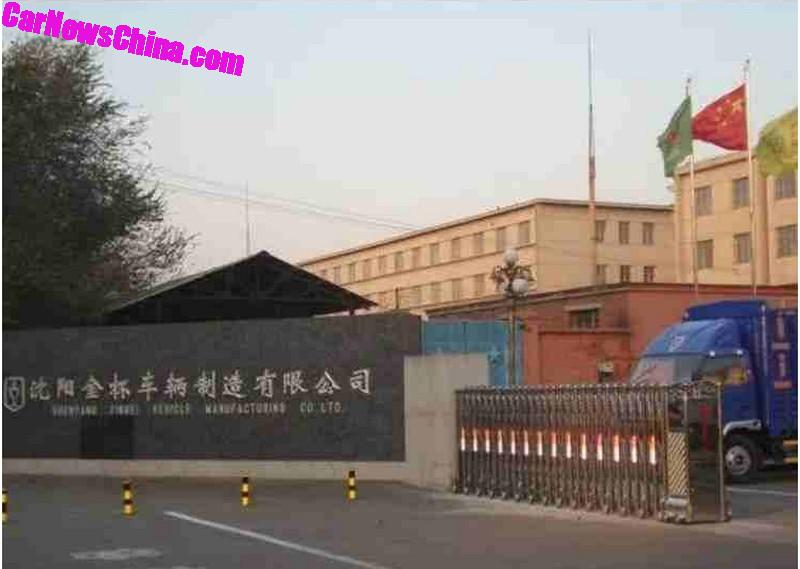 Jinbei Automobile Manufacturing Plant in Shenyang
Yang's main motivation is creating a passenger car brand. He outsources all the R&D. Ital Design draws the bodies, TRW develops the platform and Porsche engineers the production in a newly build factory. The first Zhonghua Zunchi comes off the production line in December 2000. Zhonghua is the domestic brand name, abroad we know the car as Brilliance BS6. This first car is a pre-production model and Brilliance has no permit at all for making passenger cars. This permit only follows in 2002 and series production starts in August of that year. This means that Yang does not experience the birth of his brainchild, because at that time he's no longer the CEO of Brilliance.
A mighty adversary rises
Due to the clever development of the Brilliance empire, Yang becomes the richest businessman in China, he even makes the American Fortune lists. That fairy tale story ends, when in the early '00s he falls out of favour with the governor of Liaoning, Bo Xilai (an interesting character, who can get you through an evening on Google).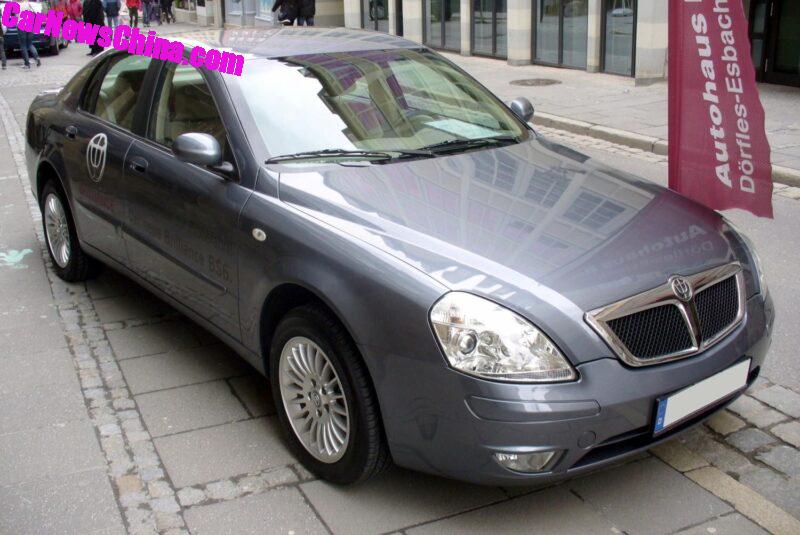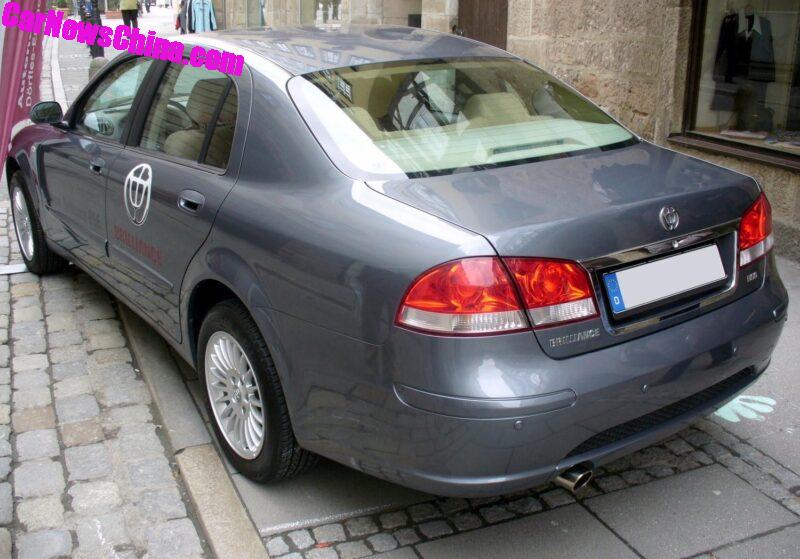 Zhonghua Zunchi (Brilliance BS6), the first Brilliance car (Photos: Wikimedia)
In the mid-1990s, Brilliance briefly owns the Tianye Automobile Group (currently known as Zhongxing or ZX Auto), which at that time is negotiating with BMW MG Rover about the production of Land Rovers in China. That deal falls through, but the contacts come in handy as Yang seeks technical cooperation in Europe for his Zhonghua project. MG Rover has just been dumped by BMW and is looking for investors and new markets. The two parties find each other and start negotiations on cooperation and a joint venture. MG Rover even issues a premature press release at the end of 2001 that the deal is complete.
Yang chooses the city of Ningbo as the location for the joint venture. Ningbo is located in the coastal strip mentioned in the introduction, where Chinese economic growth is accelerating. Concerned about employment in his 'rust belt', Bo Xilai objects and states that the MG Rover factory should be located in Liaoning. Yang refuses to comply and then it's all out war between the two men.
As explained above, Yang's shares in Brilliance are managed by the Chinese Development Fund. Bo declares this fund state-owned and with that Yang loses his shares in Brilliance. Of course he protests and files a lawsuit to reverse the expropriation. Bo hits back even harder: he accuses Yang of corruption, embezzling taxpayers' money, gets all the boards of the Brilliance companies to fire Yang and issues a warrant for his arrest. Yang Rong sees no other option than to flee to the United States in July 2002, where he is living in exile ever since.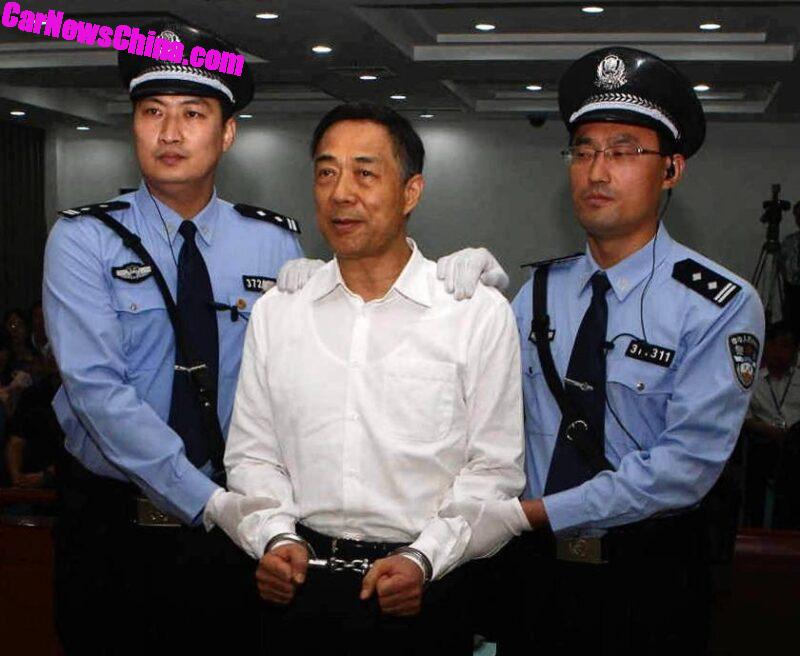 Bo Xilai (center)
Twenty years later, Yang is doing a lot better than Bo. Initially, Yang starts litigation in Bermuda and the United States to retrieve his Brilliance share, but he loses all the lawsuits. Instead of giving up, he starts all over again. In 2009 he establishes Hybrid Kinetic, a startup for luxury electric cars. In collaboration with Pininfarina, the brand presents a number of concept cars and Yang is now working on a production infrastructure in China. Although the charges against him have never been officially dropped, his relationship with his homeland appears to have returned to normal.
After his governorship in Liaoning, Bo becomes mayor of the metropolis of Chongqing. Not much later he is implicated with the murder of English businessman Neil Heywood, whom Bo suspected was having an affair with Mrs. Bo. Bo never stands trial for Heywood's death, but he is sentenced to life in prison in 2013 for bribery, corruption and abuse of power. Remarkably, Mrs. Bo (a well known and influential lawyer) was convicted of Heywood's murder and sentenced to a suspended death penalty.