Xiaomi hosted an investor conference in China a few days ago. During the meeting, Lei Jun said that Xiaomi Auto is expected to start its mass production in the first half of 2024. The progress of Xiaomi Auto's and its team's work has exceeded his expectations. At present, Xiaomi Group's share price has risen a total of 5.15%. With the rise in prices, the share is priced at 22.45 Hong Kong dollars. Now, it has a total market value of 563.4 billion.
It has been only five months since Xiaomi announced the production of the car. Ever since the company's registration, the Xiaomi Auto team has conducted a large number of industry chain investigations and user research. It also includes more than 2,000 surveys, interviews, and in-depth communication with more than ten industry peers and dozens of industry partners. The brand also set up a research and development team comprising 453 people. Xiaomi's factory is located in Beijing Yizhuang, and Xiaomi has invested in 4 power battery companies.
Xiaomi's CEO Lei Jun said at the investor conference that electric vehicles have now shifted from the machinery industry to the information industry. He added that their peers are already doing it. Xiaomi will be eliminated from the segment if it doesn't make cars. Xiaomi currently has an intelligent ecosystem such as smartphones, smart homes, and smart offices. The new plan of integrating cars will be a significant expansion of Xiaomi's products.
More about Xiaomi Auto?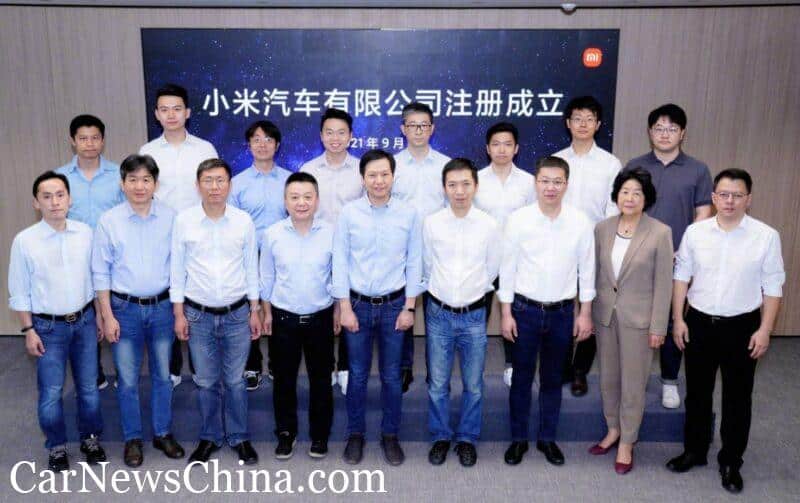 It was on September 1, Xiaomi Automobile Co., Ltd was officially established. At that time, Xiaomi officials also posted an image of Lei Jun and 16 other team members in their blog. The "identities" of the 16 backbones were that all were "outsiders" in the automotive industry. The brand also added that only one member has experience in the automotive industry. The member was an exterior designer. As of today, i.e., on October 19, it's been only one and half months. The speed of the Xiaomi car's progress is impressive. It shows us the pace of progress of technology companies.
At the press conference, we also noticed the image of the car, which was covered with a cloth on the PPT. Judging from the picture on PPT, It is suspected that the first car model will be a sedan. Perhaps through a large number of user surveys, Xiaomi has already had the idea of what car should be built for the first car. The answer, the shape of the vehicle on the PPT, may be the answer to why Xiaomi's first car is positioned.
There are still two and a half years left to reach the first half of 2024, which is a bit long. Yesterday, Foxconn publicly displayed the renderings of its three new cars. What kind of a day will the auto market be in two and a half years? It will be hard to say. By then, many brands will launch their cars, and will everyone still look forward to buying Xiaomi's cars? Of course, it is not ruled out that more people expect Xiaomi to build cheap and good intelligent vehicles.