Geometry shared official images of their upcoming EV. It is simply called "E", but was previously known as "X Thunder Tiger". Let's have a glance at the story of this crossover strange naming.
The first name – Geometry X Thunder Tiger
In February 2022, the Chinese MIIT published the general information about this electric crossover. That time this Geometry car got the name "X Thunder Tiger" (霹雳虎, Pili Hu). The design of the small SUV is notable for split headlights and normal door handles, opposed to the modern pop-out door handles. This crossover is really tiny with dimensions of 4006/1765/1550 mm, and a wheelbase of 2485 mm. Its electric motor delivers 81 hp.
This car isn't entirely new. It is based on the gas powered Geely Vision X3. The other cars based on this petrol SUV are Geometry EX3 Kung Fu Cow, and Maple 30X.
The Cold Test
In the beginning of March 2022, Geometry shared the images of this small SUV in cold tests. Geometry showed that their car can drive in a cold weather. The vehicle was covered with a yellow camouflage with orange stripes. And once again Geometry hinted at the "X Thunder Tiger" name, because their car looked just like Tiger! But the official name of this Geometry was yet to come…
A New Name – Geometry E
On March 4, 2022 Geometry shared official images of their new SUV. And its name appeared to be just "E". It's not clear why does Geometry refused to use "X Thunder Tiger" as a car name. Geometry E was presented on official images in a green color. It is unique to the brand's model line. Exterior of the Geometry E doesn't differ from images published by the Chinese MIIT. The rear end of this EV is interesting for its rear lights and the rear spoiler with an integrated 3d brake light.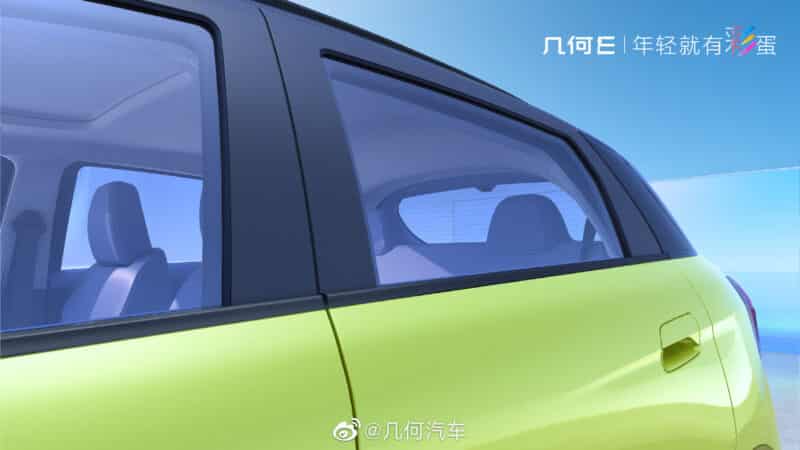 In addition, a part of the interior of the E also showed up on the official images. The second row of the car got a bench with only two headrests. Geometry E has got a sunroof.
The Geometry E will have its public debut on the Beijing Auto Show in April and will hit the Chinese car market soon thereafter.
Source: Sina, Geometry weibo