Earlier this year, companies including Tesla, XPeng, Hozon, GAC Aion, BYD, and Polestar announced price increases on their electric vehicle models, ranging from a few thousand RMB to tens of thousands of RMB increase. This month, Weltmeister, Leap Motor, and Geometry also announced price increases on their electric vehicle models. Since the beginning of 2022, more than 20 car companies have collectively raised the prices of nearly 50 vehicle models.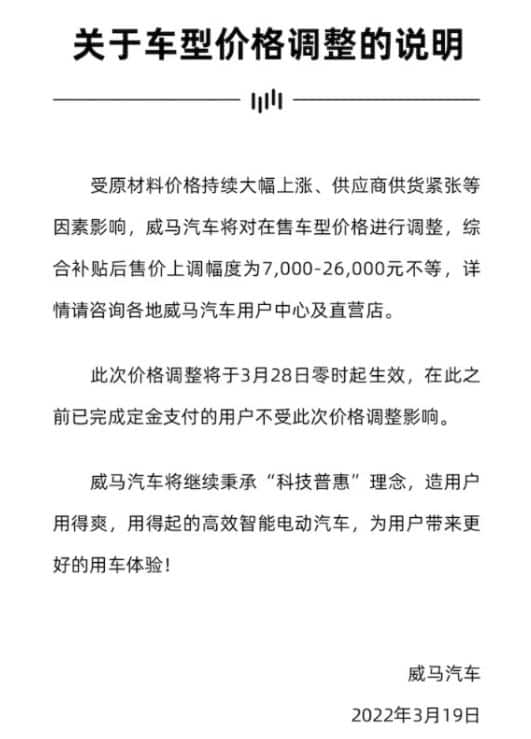 On March 19, Weltmeister announced that the prices of its products would increase by 7,000 to 26,000 RMB (1,100 – 4,000 USD).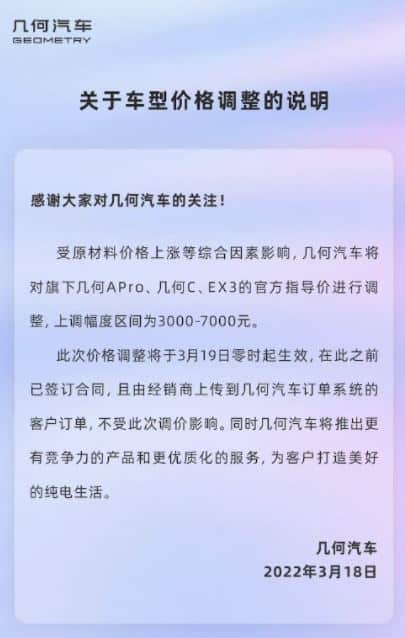 Geometry said in an announcement that due to a combination of factors such as rising raw material prices, it would increase the cost of its Geometry A Pro, Geometry C, and EX3 by 3,000 to 7,000 RMB (470 – 1,100 USD). The price increase took effect on March 19.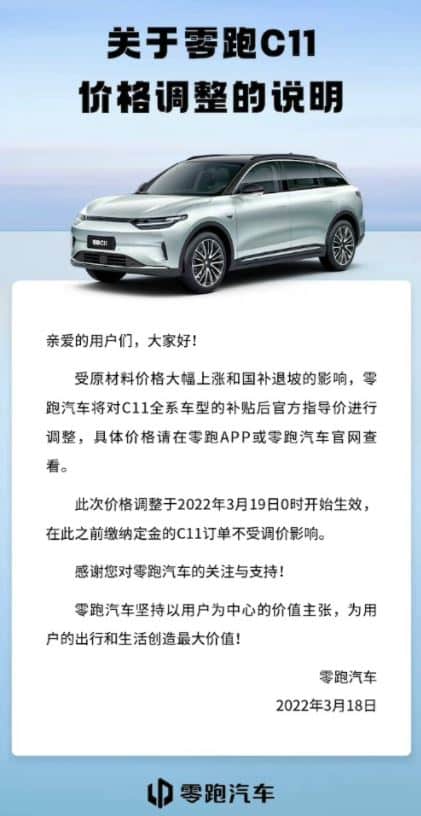 Similarly, Leap Motor said that the sharp rise in raw material prices and a decline in electric vehicle subsidies would increase the cost of all C11 models after subsidies. This price increase took effect on March 19. The price information on Leap Motor's official website shows that the price increase of the C11 is as high as 20,000 to 30,000 RMB (3,000 – 4,700 USD). The previous price of the C11 after subsidies was between 159,800 to 199,800 RMB (25,000 – 31,000 USD). The price increase of 20,000 to 30,000 RMB means that the growth is more than 12%.
Furthermore, on March 17, Hozon announced that it would increase the price of all models by another 3,000 to 5,000 RMB (470 – 780 USD) starting March 18 after the first round of price increase on January 1. Tesla also increased the prices of Model 3 rear-wheel drive & high-performance versions, Model Y long-range & performance versions, and Model Y rear-wheel-drive versions by 14,000 to 20,000 RMB (2,200-3,100 USD).
Raw Material Price Increase Puts Pressure on Car Companies
On March 19, Li Xiang, CEO of Li Auto, said, "Currently, the brands that have finalized their contracts with battery manufacturers to determine the price increase of batteries in the second quarter have announced price increases immediately. The brands that have not finished negotiation will announce price increases immediately after negotiating. The rate of increase in battery costs in the second quarter is outrageous. Factors such as war, politics, and pandemic contributed to the price hike."
Earlier, Dong Yudong, CEO of ORA under Great Wall Motors, issued a document saying that ORA has brought huge losses to Great Wall Motors with the skyrocketing price of raw materials. For example, after the cost of raw materials rose sharply in 2022, the loss brought by a single Black Cat has exceeded 1,500 USD.
The cost of batteries accounts for as high as 30%-40% of the total cost of an electric vehicle. According to Huaan Securities, a China-based brokerage and investment company, the prices of raw materials, including lithium, cobalt, and nickel. In the second week of March, the cost of lithium iron phosphate, the cathode material of lithium batteries, increased by 3.7% week-on-week, and ternary materials rose by 8% week-on-week on average.
Contrary to others, EV startup Nio claims they have no intention to raise prices at this time. The keyword here is "at this time," so we will watch for how long Nio can maintain old prices.
According to the China Passenger Car Association (CPCA), despite the price hike, the sales of Chinese electric vehicles in February reached 272,000 units, an 180.5% year-on-year increase, and a 22.6% month-on-month decrease, according to the China Passenger Car Association (CPCA). The month-on-month decline is due to the first round of price hikes and a reduction in electric vehicle government subsidies. The retail penetration rate of new electric vehicles reached 21.8% in February, a 13% year-on-year increase.
About CPCA
CPCA is a non-governmental organization established in 1994 by SAIC Volkswagen and several other sedan manufacturers. Its original name was the National Sedan Market Data Fellowship Society. It is not qualified for automotive statistics or authorized by the government to gather and publish automotive statistical data. It is merely a data exchange platform between automotive companies by collecting data from the reports submitted by these companies.